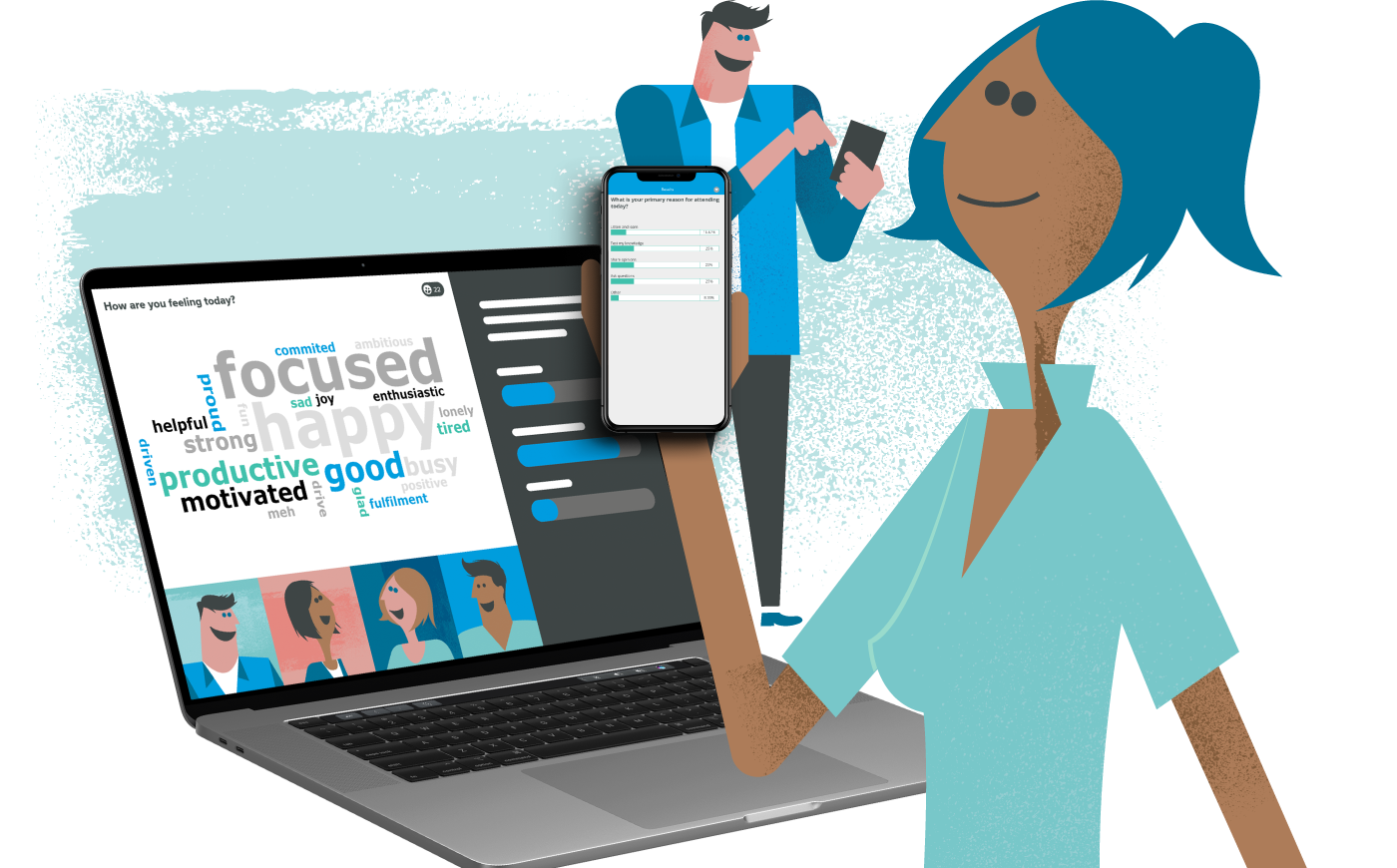 What is Vevox?
Vevox is the No.1 rated live-polling, Q&A and quizzing app on the market! The use of Vevox in meetings and presentations increases engagement and interaction through the use of live polls and facilitates discussion and inclusion via a Q&A board. Optional anonymity settings, controlled by the presenter or meeting organiser, give your employees and colleagues a safe space to give feedback or ask questions - allowing your organisation to value every voice.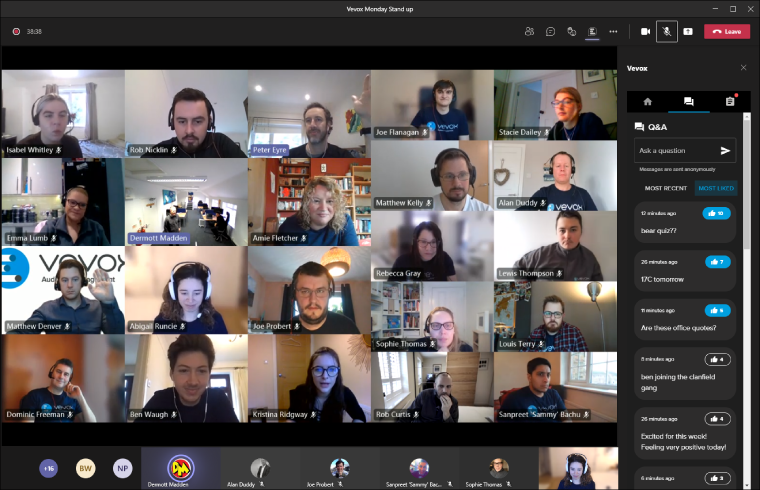 Vevox increases engagement and interaction in your meetings...within Microsoft Teams
Run anonymous polls, Q&A and quizzes...
The Vevox MS Teams 'sidebar' integration keeps your colleagues and employees focused and promotes collaboration and inclusion. With Vevox you can:
Run polls direcly in your MS Teams call to engage all participants - even the quiet ones
Manage anonymous Q&A seamlessly to collect instant and honest feedback
Host an anonymous quiz to provide a learning experience, or just for fun!
Find out more about how Vevox works and how to use it within Microsoft Teams by booking a 30min interactive demo with one of our expert and friendly team.
Book a demo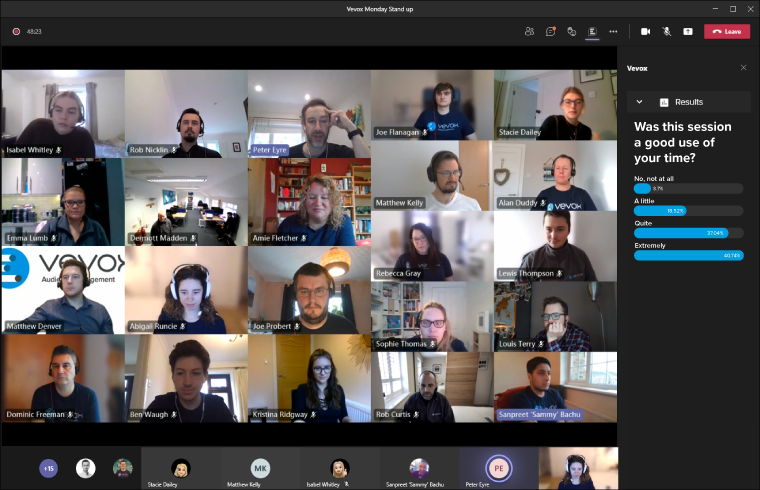 Because all voices deserve to be heard
Creating a listening culture might seem like a challenge, but with Vevox you can do just that, all from inside your MS Teams meeting.
Employees worry about being judged or feel anxious about putting their suggestion forward, but with Vevox they can contribute with confidence.
The Vevox MS Teams integration is a quick and easy way to listen to all voices equally and allow your team to feel heard..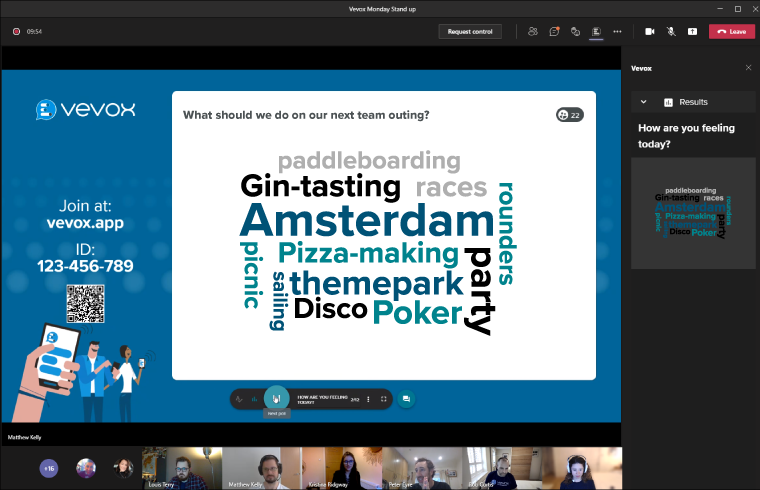 Hear every voice with live polling
Increase meeting engagement
Live polling is a really effective way to keep your meetings focussed and to provide tangible impact for both you and any attendees.
Vevox offers a variety of polling question types for all meeting types. Running a word cloud poll works perfectly for an ice-breaker activity, ask a multiple choice poll to facilitate democratic decision making, or try a numeric poll for meetings that are number centric.
Polling in MS Teams has never been easier!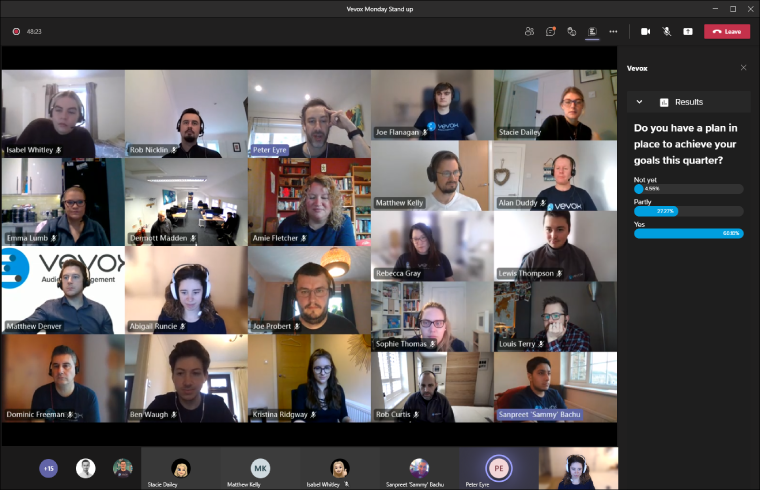 Anonymous employee feedback allows you to really listen
A fundamental function of meetings is to get feedback, which can sometimes be daunting for groups of colleagues. Vevox offers meeting organisers a range of moderation options and anonymity settings allowing you to provide just the right level of comfort, so that employees can feel safe to ask questions or contribute suggestions. The Vevox MS Teams integration offers the perfect balance of collaboration and confidence to speak up.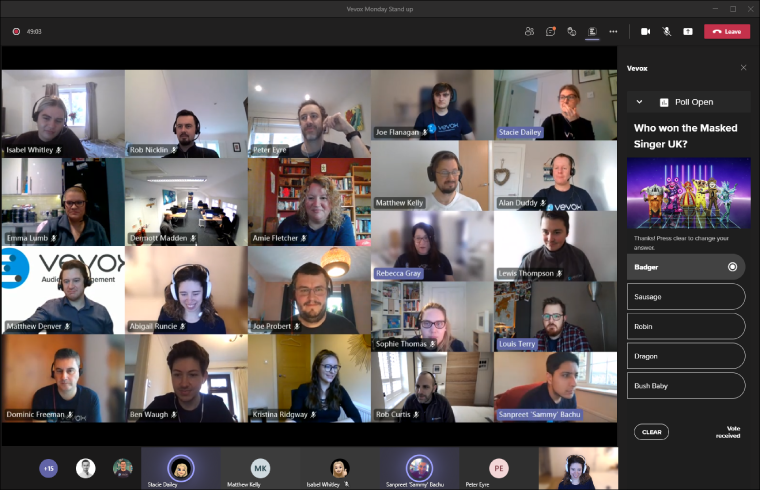 Team meetings can be fun with an anonymous quiz
Find out what your team know or understand and where there are knowledge gaps that need filling by running a quiz in your meetings or training sessions. Inject a little healthy competition and run your quiz in identified mode to see names shown on your Vevox leaderboard, or let the learning experience take centre stage by turning on the anonymity setting. Your MS Teams calls will soon become more than just another meeting!
I was able to use this on a staff meeting via Zoom and MS teams with over 120 members of staff. I used it alongside a presentation in order to gain some audience interaction which received really good feedback. I also carried out a staff quiz with all staff involved and the team found it really useful and impressive