This release, based 100% on your feedback, is packed with improvements designed to ensure Vevox is even easier to integrate, administrate and use within your organisation. From subtle improvements to entirely new features and integrations, this latest update not only means more engaged participants, but more options and an easier life for you.
Here's how…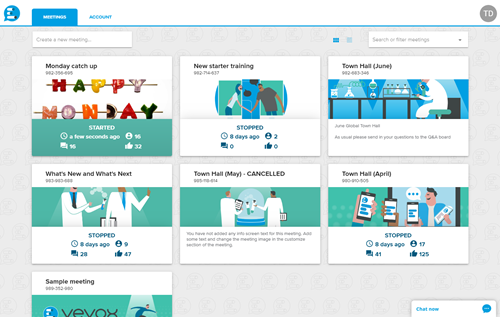 Meeting admin made easy… When you first step inside your Vevox account, you'll notice the new dashboard view which allows you to view all your meetings and their key information at a glance. For those managing a large number of meetings, there's also new searching and sorting options.
These nifty new additions will help you find, administrate and run your meetings more easily than ever…and if we say so ourselves, it looks super smart! Watch the short video tour…
Looking good… Branding and theming the Vevox app has always been a popular stand-out feature, but it's had a tune up. Now with simplicity and speed, one click is all it takes to rebrand every participants app. Go and try it out…
Trouble free clouds… You told us you love creating word clouds, but you don't like having to explain to participants how to compose their responses. You were right, we'd left too much open to interpretation, but not anymore. Now you have the same awesome looking word clouds, but participants can ONLY submit valid contributions. For those not aware of it, our profanity filter and live moderation has proven a big hit in avoiding any unwanted on-screen surprises! Try it for yourself and let us know what you think.
Integrations and administration… We've seen an increase in requests to integrate Vevox with existing systems. This platform update sees a new integration with the Canvas LTI, widely used in universities. We also have a new solution allowing Vevox functionality to be embedded in almost ANY event app using a dynamic URL. Something we've been working on with our Partner Network members at Cvent and CrowdCompass.
Enterprise… We've always been a popular choice for educational institutions and enterprise level customers, and we continue to focus on serving these markets as a priority. As well as enterprise administration tools and custom support, all institution and enterprise customers can now skip the requirements for entering passwords and access Vevox with Single Sign On (SSO) using your organisations details.
This new functionality continues to meet strict security standards whilst also saving you time, helping to remove any barriers to you accessing your Vevox account.

With regards to data security, we're now able to offer further assurance and help to streamline procurement processes... Auga Technologies LTD (which Vevox is a subsiduary of) is now an ISO/IEC 27001:2013 certified provider, meaning our Information Security Management System (ISMS) has received third-party accreditation from the International Standards Organization. For more on this and our data security policies and practices head to the new dedicated page.

How tall is Mount Everest…? If you wanted to ask this question to participants in the past, you'd have needed to come up with a bunch of options. Save yourself time and effort with our innovative numeric response question type.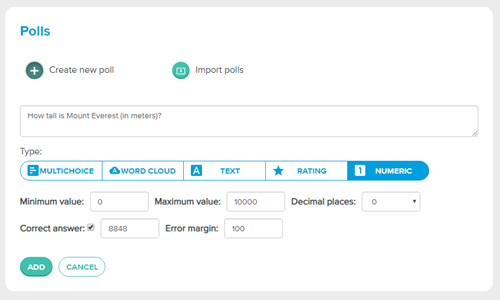 Set a correct answer (and a margin for error if you wish) and let the audience make their guesses then marvel at the dynamic display! Watch the short video
Big screen displays… There's now more options and a seamless process to see your Q&A boards and poll results up on the big screen and looking great. Simply hit the new 'Present' button and follow the prompts.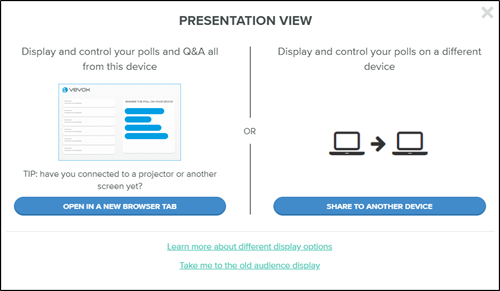 Double up without the trouble… Your meetings, classes or surveys might need to overlap, and previously you would have needed to stop one Vevox meeting to start the other, as no more than one meeting can run at a time. For our enterprise and institution customers, we've adapted the licensing model so there's now a better way. Have a chat to your account manager to find out more – get in touch.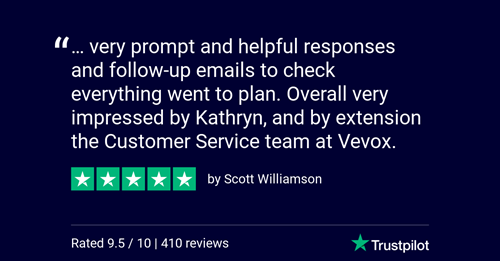 Sharing the knowledge… We're happy to provide ad hoc training and support to customers and it's the subject of many of our 5-star reviews.



However, it can be hard to coordinate larger groups, or time may be at a premium, so we've been piloting 2 schemes we're now pleased to be able to offer more widely:
The Vevox Academy. Here you'll get access to simple 15-minute video and multi-choice question online training modules that cover how to use the Vevox platform in general and how to get the best from using our PowerPoint integration. Enter your email address at the end to get a 'Vevox trained' certificate.

Custom training sessions. From technical set up through to choosing the right questions to ask, you can now purchase a custom training session with one of our Vevox experts. Delivered via webinar or face to face, at your offices prior to your meeting, and/or on site at the meeting or event. If this sounds like something you would find useful then get in touch to find out more, including pricing.

As ever, we continue to focus on listening to the feedback from our users to ensure we continue to provide the sharpest tool of its kind for those in higher education and the corporate space. If you have a suggestion that would add value, improve or expand your use of Vevox then we would love to hear from you – drop us a line to feedback@vevox.com

If you missed our 'What's New & What's Next' webinar, watch the recording now.