Live quizzes are a great tool to bring teams together, especially in times when we're all working in different locations and whole workforces are dispersed more than ever! Virtual quizzing has become very popular during these challenging times with companies taking to running their own live quiz over Zoom and other video platform to create some much needed sense of community, fun, interaction and camaderie.
But how exactly can you run a live virtual quiz to really improve your employee experience and drive employee engagement in your company meetings? Here's our top 4 tips for using live quizzing to help increase your team's morale and collaboration.
1. Make it personal
To make your employees really invested in your quiz and to learn more about the colleagues you work with, it's good to run a quiz that relates to your team members or department. This works really well in smaller teams when you want to encourage more collaboration across a department or a function of a business.
To do this you will need to survey your employees through a digital survey tool to collate all the employee answers to your questions. Example questions might include: Which colleague out of the finance team was once famous for dancing? Who has a cat called 'snuggles'? Which team member's favourite band is ACDC? Questions that are based on employees not only helps people to learn new things about who they work with, it also creates more fun, team building and a sense of community as people will want to carry on the dialogue after the quiz. Also, everyone will feel much more invested than if the quiz was based on random topics that they don't know anything about. Crowdsourcing these answers also helps to take some pressure off the quiz host!
Tip: Why not give people the option to turn their cameras on to see everyone's facial reactions to the quiz questions and to create that face-to-face feeling?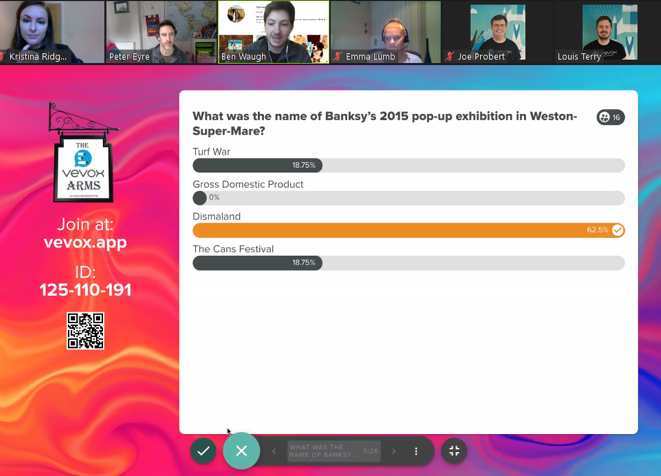 2. Make it inclusive
Ensure that everyone can be involved and WANTS to be involved! First of all, you should ensure that the tools you are using for virtual quizzing are accessible, reliable and are easy to use so every employee can participate wherever they are. To encourage people to want to be involved in the quiz there are several steps you can take, such as:
Ask several people to host a round of the quiz on a different topic or theme. This could be based on feedback from your employees or the personal interests of the quiz host. You could even get people to vote for what the next quiz round should be. This way there should be a topic for everyone!

Run an anonymous quiz using a platform like Vevox. An anonymous quiz allows you to keep track of your own score in relation to others, but hides your identity from the group for those that are worried about their quiz performance and don't want to reveal their score.
To ensure everyone is on the quizzing app you should run a test quiz question or a word cloud poll to break the ice which will enable everyone the chance to see how it works before diving in to a real quiz question.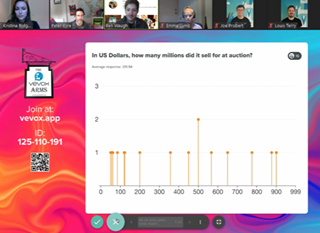 3. Make it competitive
Quizzes need to find the right kind of difficulty level that your employees desire. If it's too easy, then everyone will do well and it will become boring after a while. Too challenging and people might want to give up and become disengaged. Challenging quizzes are great for making a quiz competitive but do make sure you pitch your quiz questions at the right kind of level and have a mixture of topics. To really encourage people to be invested in your quiz, give out a reward for the winner(s) and perhaps make it personal to the company such as branded merchandise or an extra day off work. By bringing out some competitive fun in your team, you will create a more engaging atmosphere and it will bring a new dynamic to the quiz.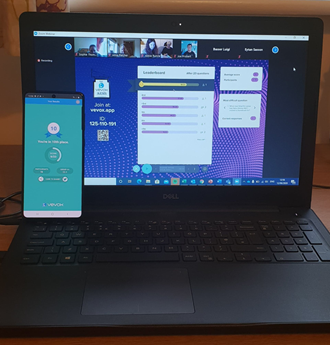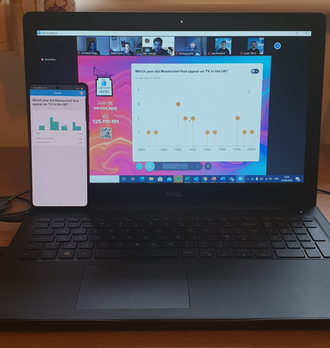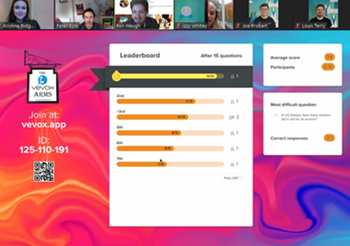 4. Make it fun
It's not all about the winning (well, that's what they say!). Quizzes should be entertaining, fun, collaborative and bring people together! It's great to have some friendly competition and to have prizes but add some extra fun into the quiz by getting people to send in their best one-liner jokes via the Q&A, inject some humour delivered by the quiz hosts, perhaps play some background music or add in some crazy facts about the quiz questions so it will keep everyone enticed and wanting to learn more.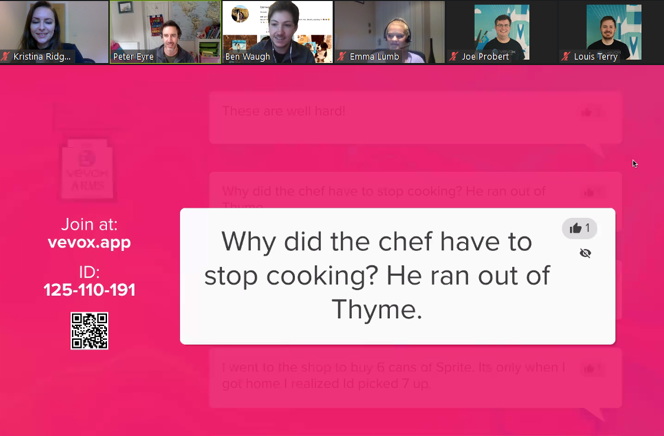 Finally to ensure you're always delivering quizzes that are enhancing your employee experience and helping to bring teams together, always ask for anonymous feedback and take action on the feedback you get. These recommendations could be subtle but it makes all the difference. For instance, making the quiz slightly longer or shorter or even including a new quiz topic can really change someone's perspective on the experience. If you have any quiz tips, then why not share them with us on Twitter or Linkedin?
Want to see how our live anonymous quizzing app works? Then request a demo with us here.
Live quizzing tips & resources