Our customers often ask us for a top tip when using Vevox... so, to settle an internal debate we decided to run a few
webinar
s
based on our top tips and asked our customers to vote on what they thought was the best tip.
All of these tips are very useful to our Vevox users and made the top 10 countdown, but what made the
number 1 tip
? Well, I suppose you'll just have to read on...
10. The Meeting ID
In at 10, the Meeting ID. When creating a meeting in your account, a 9 digit number will be generated at random. This Meeting ID is crucial, as your attendees will have to enter this into the Vevox app to access your session. Therefore, it is important that you make sure to communicate to participants what the ID is used for and to share it before your session to boost participation rates for the polling and discussion section of your session.

9. Host Messages and Info Screen
The Info Screen and host messages are a great way to encourage people to join in, send in their messages and questions, but to also respond to polls. Remind your participants to contribute and how to do so with a message on the Info Screen, for example 'Please go to the message board to take part in the discussion'. If you send a host message at the start of your session (and during) with details on how to participate, this will help give people an extra nudge to send in their feedback or comments.
8. Bookmark Your Login Page
This might be an obvious tip, but a very useful one that will help save you time, especially if you're just getting started with Vevox. When setting up your Vevox account you will need to take note of your unique weblink to your account (eg. https://xxxxxxxx/vevox.com/login). It's very easy to forget login details or to lose a link, so to save time by not needing to look through old emails, make sure to open your unique weblink and bookmark it by using the star icon or bookmark tag in your browser. More information on how to bookmark pages. To simplify things, our development team are working on a new 'single login page' feature. As this progresses we'll keep you updated... watch this space! **Login page can now be found here and you can now change your password or sort any login issues here**.
7. Projector Display
The 'Projector' display in your Vevox dashboard is a useful way of sharing Vevox results and content with your audience. The content is dynamic, and allows the host to sort messages or comments by the number of likes or generate exciting word clouds from responses to Open Text polls. Word clouds are a great way to visualize all the different words and ideas that your participants are thinking in the moment and can prompt further discussion. The 'Projector' is web-based, which means it can be launched on any browser or device, allowing for multiple or remote displays. We have seen customers using the 'Projector' display in a variety of ways and it has proven especially effective in a conference environment where event-specific messaging has been relayed and displayed on multiple screens around a venue.

6. Use a Checklist
It's surprising how in the moment of preparing for a webinar or meeting it can be all too easy to forget something. No matter how much experience you have, it always helps to have a checklist to ensure you are well prepared. Whether it's a reminder to start the meeting, or even something as simple as remembering to have a glass of water to hand, your checklist can be as detailed as you like. A simple checklist can greatly reduce any mistakes or human errors that can happen during your session and will leave your mind free to concentrate on the task at hand.

5. Instruction Slide
This tip is related to the Meeting ID tip, it's really important to clearly communicate how the participants can access the app and to have clear visual instructions. This could be a slide that you use at the beginning of your session to introduce the app and provide some basic instructions. Some of our customers even send these instructions in advance of the session itself. This will enable you to make sure your participants are all accessing the app to maxmize participation. You can also use the built-in instruction slide which is automatically generated in the Vevox PowerPoint® add-in when you select the instruction slide option.
4. Vevox YouTube Channel
It was not a surprise to us that the Vevox YouTube channel was in the top half of the tips leader board. We have often been told by our customers that they find the video resources that we have on our YouTube channel invaluable. We have created 'how to' tutorials, videos explaining Vevox features and included different playlists of webinars that give hints and tips for using Vevox.

To receive these useful Vevox video updates, subscribe to our YouTube channel here.
3. Use Text in the Info Screen Image
When using the info screen it is helpful to display all the necessary text information in the image itself. You can create a really impactful opener to your meeting or lecture by using a tall image to fill the entire info screen and give the effect of a 'poster' or advertisement. To get the most out of the Info Screen try a few different options and monitor the effect it has on your sessions.



2. Include a Weblink to Join the meeting on Every Slide
One of the great things about the Web App for Vevox is that you can append the 9-digit Meeting ID at the end of the URL to jump people straight into your session, so they can access the app and participate immediately. This means that any latecomers or those that choose not to participate initially have the information they need to join in at a later stage. To drive home the importance of participation in polls you could create a slide containing only the web link and show this before using any polling slides. This can act as a reminder that they will soon be asked to take part in a poll. You could even add some text like "get ready to vote" to further encourage participation.
1. Pause Points
Drum roll please... our winner is pause points! This tip allows you to ensure that no valuable comments or questions are lost in the business of the discussion board. This tip can be used in many different types of sessions and has worked very well for Lecturers and Educators who often choose to plan in two or three pause points during their session to invite students to review the questions/comments already posted and either like ones they agree with or to add to the discussion. The Educator can then review them, sort by number of likes and respond as required.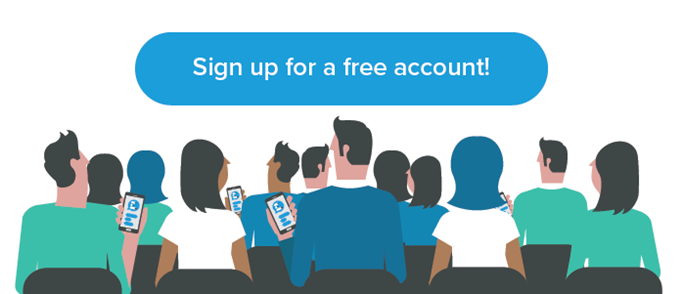 PowerPoint® is a registered trademark of Microsoft Corporation in the United States and/or other countries