Delivering presentations and communicating a message to your audience is often said to be meaningless if you do not gather feedback to understand the effectiveness of the communication. Gathering this insight and feedback is the only way to truly see if this communication was understood by your audience and to find out what worked and what didn't work.
Feedback is an intrinsic and indispensable part of any communication process including scenarios such as internal communication events, employee comms meetings, lectures and presentations for a range of different audience sizes. A common way for presenters to gain feedback in these scenarios is to use a PowerPoint voting tool or polling software... but when looking and using technology like this it can be easy to fall into the trap of trying to do something flashy or gimmicky rather than focusing on using polling features that will deliver the vital feedback you need in your sessions. That's why we have put together a short list of the 3 most effective voting types to use in your PowerPoint slides to get this all-important audience feedback... we hope this helps you for your next presentation.
1. Multiple choice polls
This is a very well-known poll type for gathering and understanding the thoughts of an audience live in the moment. MCQ (multiple choice questions) polls are great for getting an instant visualisation of what an audience thinks and can be used to determine what is the most popular choice. MCQ poll data can also help you to make decisions and to clarify if your audience has clearly understood your communications and presentation content.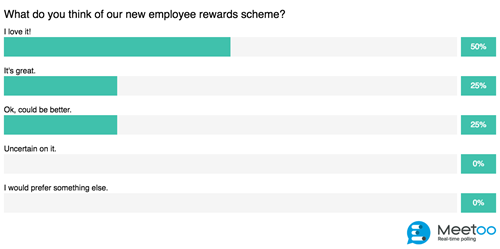 An example of an MCQ poll for collecting evaluation feedback live in the moment.
2. Word cloud polls
If you're wanting to get text feedback from your audience in your PowerPoint presentations, then word cloud polls are a great crowdsourcing tool to instantly populate this feedback in a matter of seconds. Audiences can submit one word text responses that gives you the presenter an indication of what they are thinking in response to your question.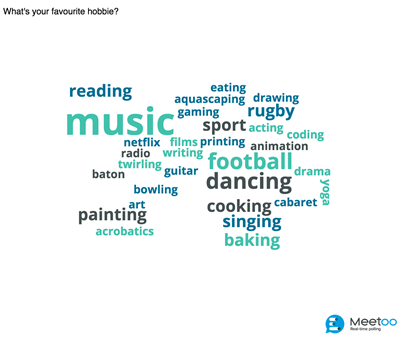 Most importantly the audience responses in the word cloud are displayed by 'most popular' which means the words that have been submitted the most will be the enlarged to reflect the popularity as shown by the image. For presenters, this enables valuable insight into the reactions of your audience and summarizes the general feeling towards the questions.
3. Comparison polls
Before and after polls, otherwise known as comparison polls or opinions polls are very effective for measuring a shift in opinion or understanding any feelings that might have changed over the course of your presentation. This feedback method is also beneficial for reviewing what information was retained by your audience and serves as an indicator for knowing what messages resonated with your audience the most.
Our final tip if you are looking for a polling or feedback tool is to consider the answers you need to know, the questions you might ask and the deliverable actions you might need to make of the back of this data. Choosing the right feedback solution can be a challenge given the amount of options and tools available to users. That's why we recommend that you test a collection of tools to know what is fit for your purpose, so you can actually experience the product before using it in the live presentation. It's only through this process that you will truly find what will work for you on the day to capture the data and answers you need.
Are you looking for a PowerPoint voting tool? Try it out for yourself here!