In these uncertain and highly disruptive times an increasing number of people are working and studying from home, and meetings, classes and events are taking the leap to online.
The good news… using Vevox for an online meeting is no different to using it with an in-person audience.
For those of you that are not already using Vevox for virtual meetings, here's our simple 3-step guide…
Choose your webcasting or online meeting hosting software and invite your participants to attend your meeting.
Tip: Zoom, GoTo, Webex are probably the most popular choices and have free accounts to get you started. In response to COVID-19 Webex are now even offering free full business licenses for 90 days.
Invite your audience to participate, and view results on their phones or laptops by sharing the Vevox.app link and 9 digit ID number.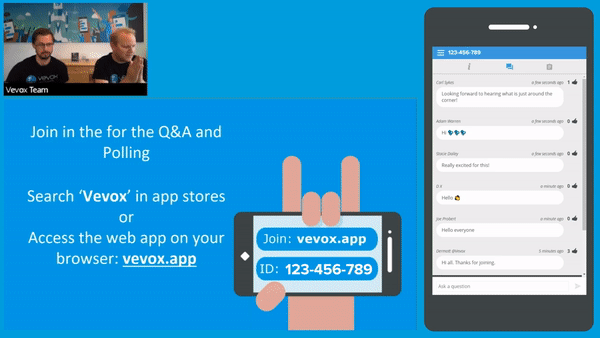 Tip: Include this information in the email or meeting request containing the video conference/online meeting instructions. Showing the 'Present View' or PowerPoint polling slides on screen also shares the link and ID with your audience as shown in the word cloud image below.
3. Engage them with your awesome presentation including live polls and Q&A as you usually would!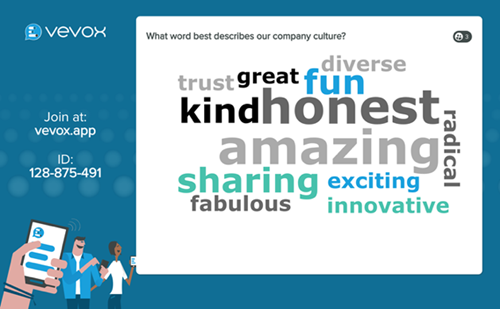 Tip: Everyone loves a word cloud!
Being remote and dispersed doesn't have to mean disengaged. If we can help, or you would like any or advice or guidance moving your use of Vevox to online/virtual, just drop us a line we're here to help.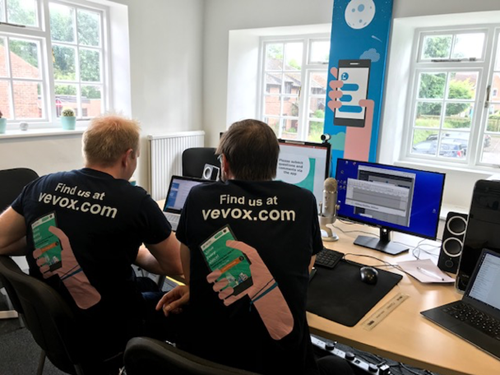 Running an interactive online webinar at Vevox HQ

PLEASE NOTE: In response to the challenges presented to educators by COVID-19, all Vevox free education users can at no cost upgrade to a full Individual plan allowing up to 1500 participants per class until 31st August 2020. To upgrade immediately email education@vevox.com.
All other businesses and Vevox users effected by COVID-19, if we can help, we will, please just drop us a line.
Helpful reads: