Word clouds can be a highly effective tool to boost interaction in online, hybrid or F2F lectures or meetings. This visualization tool collates words that audience participants have submitted via an ARS (online audience response system) and enlarges the most popular words that have been sent in. Therefore, making it easier for any presenter to understand what the audience is thinking.
Word clouds can be used in many ways to engage an audience and for collecting feedback, but here are 6 effective and popular ways to utilize word clouds.
Find out how to run live word clouds polls in your presentation here.
1. Crowdsourcing
A very popular way of using word clouds is to gather ideas from your audience and to visualize the most popular responses as voted by the 'crowd'. This approach can increase collaboration and interaction, as well as provide a great starting point for discussions.
Diversity is great for creativity, so putting forward a question to your whole audience that will allow you to see innovative ideas and various suggestions in a word cloud format is a highly effective way to brainstorm.
Tip: Why not use word cloud polls via an audience response system like Vevox, as it's easy to utilize crowdsourcing in this way. Simply, once you've pushed your word cloud poll live, the audience can respond using their smartphone or via any web-enabled device. Once ready, you can then display the word cloud back to your audience. This will then spur those 'oohs' and 'ahhs' from your audience, as they will love the instant gratification of seeing their responses in real-time.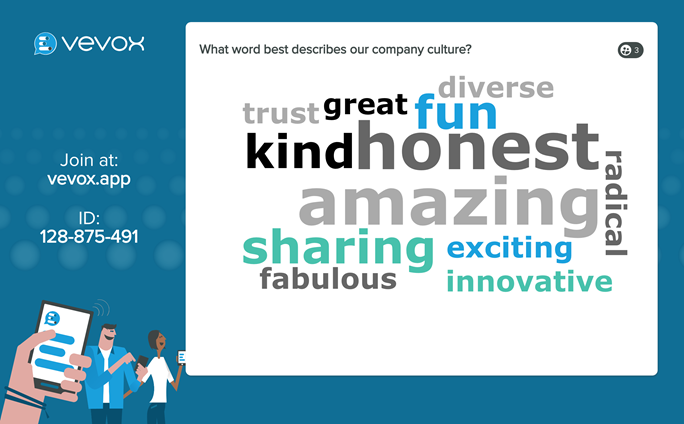 2. Entertainment and humour
We all want our presentations to be memorable and to make an impact on our audience. 'Death by PowerPoint' is unacceptable and can easily be avoided by using some of these word cloud techniques to increase interaction with your audience. Using humour in the right way has been shown to have a positive impact in increasing attention and audience engagement.
Word clouds can be helpful to create memorable moments as you can ask humorous or topical questions. For instance, a lecturer from Liverpool John Moores University used Vevox's word cloud to ask a humourous question on Donald Trump - "Describe Donald Trump in 5 words". As you can see by the word cloud image below, the responses certainly caused a reaction from the audience and made this a presentation to remember.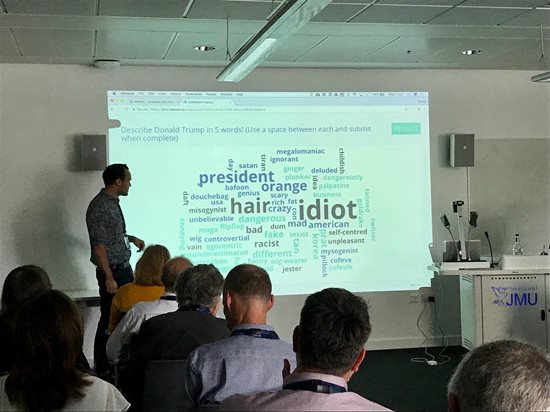 3. Icebreakers
Using word clouds to break the ice before you get stuck into your presentation content is key to setting the scene and putting your audience at ease. It also allows you to test your word cloud in a more relaxed environment and makes your audience familiar with the app before running any other polls in your session. This way there are no surprises and you've instantly started your presentation on the right foot.
There are plenty of brilliant icebreaker questions that you can ask your audience, but our advice is to make the question simple and relevant. For instance, "how did you travel here?" - this question is relatable, it brings everyone together and it's easy to answer which is perfect for breaking the ice.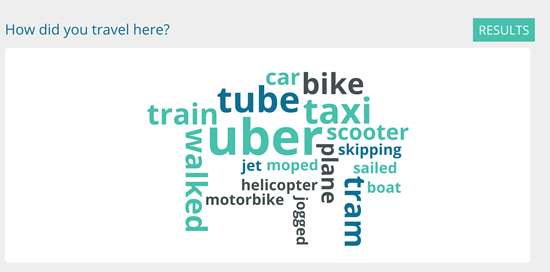 Tip: Think about choosing questions that will give you multiple responses from your audience as if there is only one or two expected answers then this will not populate a beautifully looking word cloud display.
4. Quizzing
Testing your audience on what they have learnt during your presentation is useful for measuring knowledge retention levels and for identifying the impact of your different sub-topics.
Utilizing word clouds for quiz-style questions can also help make your session more interactive, fun and inclusive. If you wanted to, you could even gamify this quiz question by rewarding the individuals that got the question(s) right.

5. Collecting feedback
Attaining live feedback is useful for several reasons. Instant feedback can help you understand what your audience is thinking at that point in time allowing you to adapt your session based on this audience feedback.
Word clouds help any presenter by giving a snapshot of live feedback from your audience in seconds. By using word cloud polls that are anonymous and are live this helps to give a clear indication of what your audience is really thinking. Anonymity is well-known for gaining honest, uninhibited feedback because a person's identity is private.

Please note: Prior to 21st March 2019, Vevox was formerly known as Meetoo.
6. Summarizing
If you're wanting to extract particular ideas from a general topic or to find out what the audience wants to focus on, then word clouds are great for doing so. For presenters, this enables valuable insight into commonly perceived audience responses and their reactions to the topic. You can then breakdown the discussion into chunks by concentrating on the popular key words.
Tip: If you're asking your audience for more than one word in their responses allow them to have some extra time to deliberate over the question. Plan your timings (opening/closing polls) so you feel comfortable when to close off the word cloud poll to display it back to the audience.

Other word cloud content:
"What is a live word cloud and 7 of the best word cloud generators"
"5 reasons why word cloud polling is popular"
Considering using a word cloud tool to increase engagement and interaction in your next presentation? Then why not try the Vevox App!