When contemplating the use of engagement technology, one of the main considerations is whether the mix of the chosen technologies work together. The great news for anyone thinking of using Vevox for their audience engagement platform is that Vevox can be used in combination with many other 'event tech' essentials.
Here's some real-life examples of how Vevox complements other technology:
Remote or Virtual Connections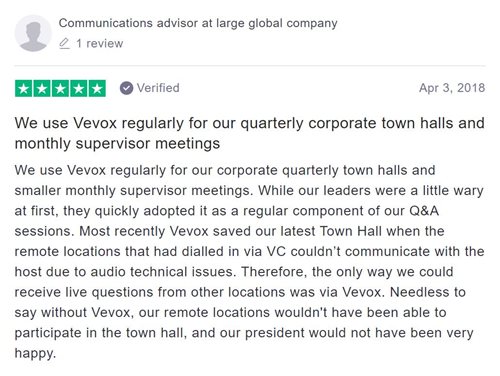 Modern employee townhall meetings are often broadcast via live stream through a video conferencing platform so their remote or dispersed workforce can participate. However, when running a live video stream with a large number of attendees, it can be hard to know how your remote attendees are reacting to the presentation. This is where Vevox is invaluable. For meeting organisers presenting live to several locations, geographical distance is no longer a barrier to participation in meetings with Vevox.
Many of our customers have used Vevox in conjunction with GoToMeeting, Skype, Adobe Connect, Zoom and more to offer:
Remote meetings: By offering an online solution for attendees to vote on live polls or ask questions in virtual meetings, remote employees are as engaged and involved in the meeting as an attendee in the room.

Online lectures or training: Educators might choose to use a flipped learning approach to help encourage engaging discussions. Using a real-time feedback and live polling tool such as Vevox helps the presenter or lecturer to gauge the level of understanding from their students. Some universities welcome guest lecturers who present remotely and use Vevox to communicate digitally with the students in real-time through Q&A and live voting.

Webinars: Webinars are a great platform for knowledge sharing, however it can be difficult for presenters to understand if their session is resonating with the audience, particularly if they are not using a means of gathering feedback or taking questions. By using Vevox as a back channel to collect questions and comments, participants feel more connected to the session. If the webinar includes Q&A, the Vevox Q&A board is the perfect place to gather questions throughout the presentation so there's no awkward silences or time wasted by waiting for questions at the end.
Watch this webinar for an example of how Vevox is run alongside a VC platform.
'In room' or IT Integrations
There are instances when it can be beneficial to integrate technology within your current organisations main IT system, organisation app, web platform, intranet or an event app. There are many reasons why organisations might choose to integrate a live audience feedback tool like Vevox and here are just a few:
Educational establishments: Universities such as Liverpool John Moores University and University of Southampton have created certain areas on their own website help platforms and intranets for lecturers and students to find more information about Vevox. By pointing people to the right place with hyperlinks of Vevox resources or the app itself, it helps with the adoption of the tool and to answer any questions that one might have.

Events Team: For organisations that run lots of events and already have an event app solution, it can be easier to have a 'lite integration' of Vevox's polling and Q&A. This way there is only one set of instructions and one app for participants to download or join and it can help to add even more value to the event app. It can be as easy as adding a link in to your app, feel free to get in contact with us if want to understand more about how this can work.

Corporate businesses: In some cases, organisations decide to 'white-label' the Vevox app and have their own fully branded instance. This is usually an option for larger organisations who want a communication channel to look and feel like their own product. We've seen great results from global organisations taking this approach as part of their communication strategy.
Whether you're looking for a dedicated communication channel or a tool to increase audience engagement at events or during presentations, by being a standalone tool Vevox offers true flexibility AND compatibility.
Further reading: