Amongst the acronyms that make higher education (HE) lecturers nervous, MOOCs (Massive Online Open Courses) appears to be a term that we have an ongoing, uncertain relationship with. MOOCs are an exciting opportunity for levelling global learning inequality; opening up quality learning experiences to those around the world with the least easily accessible HE opportunities. However, in an environment of government cuts and tightening budgets, MOOCs can feel like a very real threat to traditional HE jobs.
Now that global top-ranking institutions such as Harvard and Oxford University embrace such courses (often with no tuition fee attached) there is a growing need for lecturers at bricks and mortar universities to adapt their teaching practise to keep up with student expectations.
BBC Radio 4's 'My Teacher Is an App' (2014) series examined many of the benefits of MOOCs and what struck me was that it wasn't just their potential global reach that made MOOCs an exciting opportunity, but also their interactive nature. Whilst students of MOOCs are sat remotely at laptops and are not physically in a lecture theatre, they can still ask questions to the lecturer, still contribute to class discussions and still answer questions the lecturer asks of the students.
Whilst this on its own is nothing revolutionary, there is great added value in the fact that, instead of students raising their hands, (as they would in a bricks and mortar lecture theatre) students simply type their responses from their laptops. When listening to this report I began to reflect on the atmosphere in my own lecture room; Am I creating the correct learning environment? Why do the same one or two confident student's hands go up to make lecture contributions? The added benefit of such online interaction is that students enrolled on MOOCs appeared to have less fear or anxiety about getting something wrong or being publicly humiliated in front of their peers. For the student, online interactions provide a protective layer of anonymity.
Subsequently, I have started looking into the effects of incorporating such TEL into the lecture theatre. Upon discovering Vevox and realising that my institution had access to it I saw the potential to recreate the protective veil of anonymity that students benefit from whilst engaging with MOOCs. Yet there was an opportunity to do so outside of the purely online environment; within a blended learning experience taking place in a real-life lecture theatre.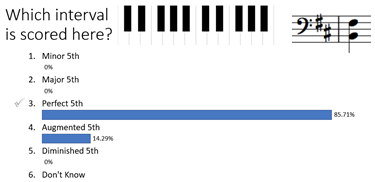 Vevox is a web-based polling tool that allows students to easily interact with a lecture. Students can use any internet enabled device (smartphones, tablets, laptops etc) to tap answers in a quiz or poll, contribute ideas to a word cloud or make comments to class discussions.
With its complimentary PowerPoint plug-in I have started to utilize Vevox's features in music theory lectures with Level 4 (first year) music students.
Vevox allows me to teach a topic for say 20 minutes and then afterwards immediately test students understanding levels with a quick question or two. I can quickly create a multiple choice quiz, with the question pushed to student's devices and then subsequently have their answers and results pushed back onto the projector display in the room (see example).
This visual data is useful in a number of ways. The results empower the student, as they can immediately see if they understand a particular topic and whether they need to do any further private study to consolidate knowledge. But, perhaps more importantly, it also empowers the lecturer, allowing me to gauge the level of understanding in the room, and become more critical about my own teaching; have I taught it too quickly? Perhaps my explanation wasn't clear and I can explain it in a different way? This allows me to become more reactive and adaptive within a lecture, providing stronger explanations that can hopefully improve understanding levels.
Student feedback on the use of Vevox software in lectures has been overwhelmingly positive. From surveys carried out with my students I have found that, 97% of students found Vevox user friendly and 80% of students thought that Vevox helped them stay engaged in lectures. Perhaps the most interesting finding is that 85% of surveyed students stated that they strongly agreed or agreed with the statement "Vevox is useful for helping me improve my own learning", showing that using technology in the classroom is not only a useful tool for the lecturer but also the students to take control and responsibility for their learning.
Beyond polling Vevox allows me to involve student ideas into a lecture instantly. The word cloud feature (see example below) lets the room collaborate together to form ideas. The words that more students use simultaneously appear larger on the word cloud to clearly indicate what students think is the most appropriate way to describe or define an idea – whilst still leaving space for rarer or more creative ideas.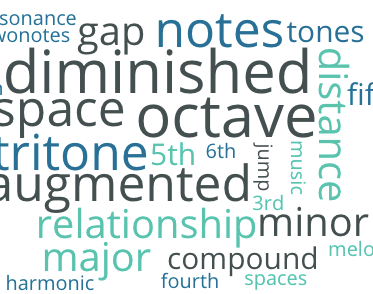 Vevox therefore allows us to adopt the 'best of both worlds' approach to lectures. Interviews undertaken by the Office for Students looked at what students valued as teaching excellence. One area that students valued highly was the fact that teaching staff could 'look after you, make sure you're on track, and know what you're doing, engage 1:1, with lots of feedback'. This is where the traditional bricks and mortar universities still hold the advantage; we know our students well.
Combining this personalised approach with the interactive and engaging potential of MOOC style technology could lead to a much enhanced learning experience for digital-age students.