Over 150 delegates attended a one-day conference about Employment Engagement on the 30th November 2016 at De Vere Venues in London. The conference covered many different themes such as how to harness the power of social media, new tools & channels, drive change, win over senior stakeholders, develop leaders and demonstrate bottom-line impact.
Over 34 speakers used the Vevox app to engage attendees and to gain insightful data on the challenges to employee engagement. The conference speakers had their own stories to tell based on their individual sectors and backgrounds. Speaker sessions were given by senior figures from the likes of: The BBC, Santander, House of Lords, Rolls-Royce, ITV, Network Rail, Cancer Research UK, Co-op and Virgin Trains.
Throughout these sessions Vevox was used to engage over 150 delegates through live polling and messaging.The app allowed the delegates to ask questions whenever they wanted through the messaging board and view or reply to other people's comments and ideas. These are just some comments that were posted through the discussion board on the day:
"Considering using Vevox as part of training evaluation - pre-and post to ensure key learning points are achieved for both delegate and trainer perspectives."
"Is there a cost to use Vevox, it has so much potential that we could utilise it for."
"Great, I've just signed up for my free trial with Vevox. Let's see how it goes."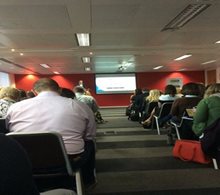 The recurring theme throughout the conference was how do you develop the right engagement strategy to support the goals set by an organisation and how to measure employee opinions and engagement to deliver accurate and actionable insights. The importance of engaging employees was summed up nicely by the Director of Internal Communications at The BBC, Heather Wagoner. Heather said: "We are finding that more and more that internal messaging drives external, investing in quality."
What is clear from the conference is that employees that are engaged are typically happier and the organisation benefits from listening from people's ideas. In addition, the decision maker needs to consider the method that will help you collect data on these discussions and allow people to express their opinions without feeling uncomfortable or restricted to do so. If you would like to explore the Vevox app for yourself click here.