As stated by numerous academic sources student success and 'unmissable classes' is often defined by how engaged students are and the effectiveness of their learning progress.
"The current emphasis in the pedagogic literature is that teachers should try to encourage 'active learning' in order to make lectures 'unmissable' (Race, 1993). Active learning refers to the idea that students are actively engaged in the learning process, rather than passively absorbing lectures" - Revell & Wainwright, 2009.
Universities are keen to improve 'active learning' in lectures for many reasons including enhancing the overall learning experience and increasing student success. Education establishments are often looking for engagement tools like Vevox to enhance the learning experience as well as maximize knowledge retention. In this article, we will share some examples of how universities have used Vevox's live polling and Q&A features to increase student success.
1. University of Chester
Dr Neil Pickles, Deputy Head and Senior lecturer at the University of Chester wanted a solution to improve participation and student engagement in every lecture. After experimenting with different SRS (student response systems) tools, he found the perfect solution aka Vevox App when experiencing it at a conference.
As a result of using Vevox's Q&A and group discussion features in lectures, engagement in lectures soared from 20% to 100% in classes of around 250 students. Astonishing! Students had been using the digital Q&A tool via the app to submit questions or comments on discussions throughout the lecture to make the conversation flow easily.
2. University of Southampton
The use of Vevox's polling and Q&A at the University of Southampton has enhanced interaction in lectures. Sensitive discussion points can be handled in a non-confrontational way and Vevox allows students to voice their views anonymously whilst the lecturer still has full control over the session.
Student research collected from the University of Southampton showed the hugely positive impact of using an anonymous feedback and Q&A tool as "96% of students said Vevox increased the likelihood of them asking a question in class". As a result of the overwhelming positive feedback "100% of students said they would like Vevox used more in classes".
One lecturer also commented on Vevox saying, "With Vevox, the contribution rate is nearly 100%. This is unprecedented".
3. University College London, Medical School
In a UCL medical school student survey, before using Vevox, "92% said they would feel too intimidated to ask a question in a lecture with more than a 100 students in".
Dr Emily Farrow, Medical Educator shared her insights on this: "Lecturers will often allow students to ask questions at the end of the session, by which point students may have forgotten their question, no longer find it relevant and time may simply be short. Where students lack individual contact with their teacher they may be left with a poorer grasp of a topic and dissatisfied with their understanding. Using the very intuitive technology of Vevox helps provide a bridge between students and lecturer".
After implementing Vevox in lectures "89% of students felt that classes at the UCL medical school could be improved by using the technology".
4. University of Central Lancashire
In a student survey poll "92% of all UCLan students agreed that Vevox has helped improve their understanding in lectures".
Mick Wood, Learning Technologist from University of Central Lancashire stresses the importance of student collaboration and a welcoming class environment as he states, "We have a responsibility to these students to help them to succeed and SRS tools like Vevox can play a key part. They can be used during the initial welcome weeks, maybe to have a quiz, can be used during lectures to reassure students that they are doing OK and, if not, as a sign-post to encourage them to get help and advice, they can be used as a revision tool and for many other uses."
5. Liverpool John Moores University & LIPA
Recently we had the opportunity of attending the Teaching and Learning Conference at the Liverpool John Moores University to learn more about their teaching experiences and how they are using Vevox. Over the course of the conference it was apparent how valuable the app has become for lecturers and staff at the university for collecting student feedback and for enhancing lectures. Vevox's live polling and Q&A was even used in numerous sessions at their own staff conference.
Results of a student survey run by Lecturer, Simeon Scheuber-Rush showed that "85% of all students agreed that Vevox helped improve their own learning", which is a resounding success!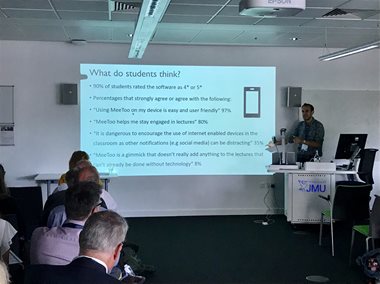 "I'm not a salesman for Vevox but it's changed everything that I do" - Simeon Scheuber-Rush, Lecturer at Liverpool John Moores University
Download our guide on '5 universities that are making their classes unmissable' to see the full report findings detailing how these education establishments have used Vevox to increase student success.