With 115 million daily active users (up 50% from six months ago), it's fair to say that MS Teams is having its day and has become a go-to tool for many in the office and those of us who are adjusting to longer term working, teaching, and learning from home.
To become even more appealing to its user base, Microsoft have spent time developing ways for more third-party software providers to integrate with Teams. As part of this development, we have worked hard to embed the benefits of Vevox into the MS Teams experience. This powerful new Vevox MS Teams integration is now available - make sure you are running the latest version of MS Teams.

How it works
With this new integration, live-polling, managed Q&A and quizzing will be available in the Teams window during any live Teams call/session, allowing for deeper interaction than the native Teams chat options.
For participants in MS Teams sessions, this offers multiple benefits for a simpler and more engaging experience.
Single screen - With this new integration, participants can use Vevox from within the live Teams window, so there's no need to open another tab or browser to access the Vevox web app or pick up their phone. Their focus is on one screen or window, which is especially helpful to see fellow participants faces and feel connected or to watch any screen shared content.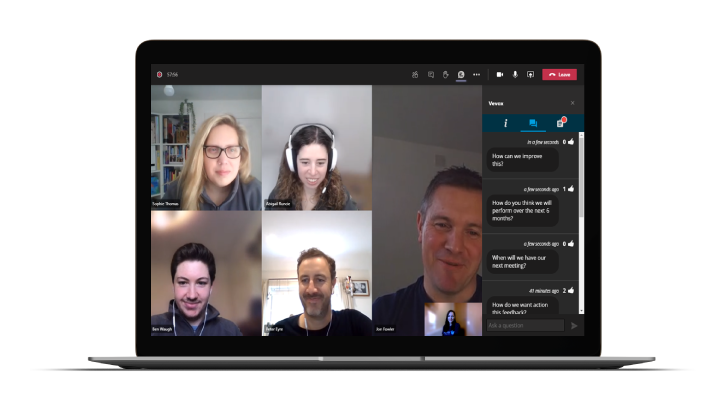 No session IDs - There is no need for participants to enter the 9-digit Vevox ID to join and participate. All Vevox functionality is ready and waiting in your Teams session with the click of a button.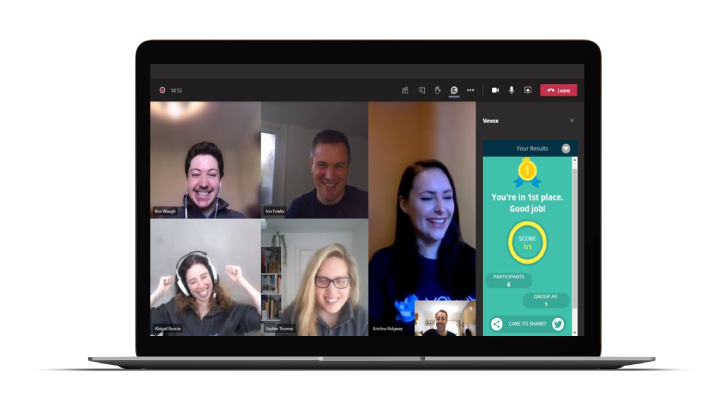 Full functionality - During a session, participants can answer polls, including word clouds, as well as access the Q&A board, see their quiz scores or respond to a survey at any time, all from the same window. All poll results will also display in the participants MS Teams window.
Presenter benefits
As a presenter, you can be sure that everyone's attention is where it should be. As with any other Vevox session, you control all live-polling, Q&A or quizzing activity from your Vevox dashboard. Thanks to the power of this integration, participants will see poll questions appear automatically in their Teams window, so there is no need to share your screen or the Vevox Present view.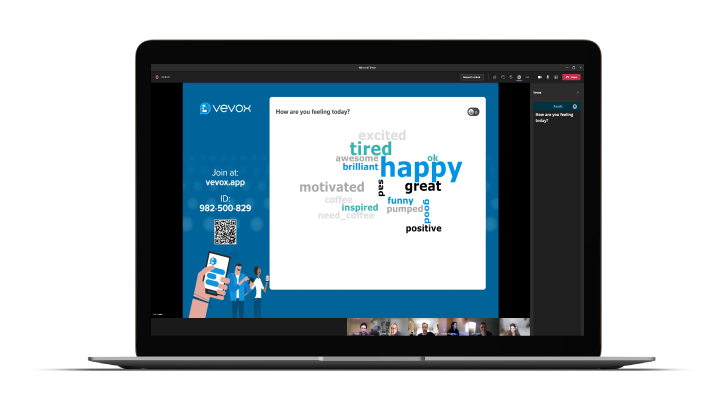 If you are using PowerPoint to run your polls or want to display Word Clouds through Present view, then you can - simply use the 'share screen' functionality that already exists in MS Teams and everything is visible to your participants in the same Teams window.
Fear-free anonymous communication
As we've all experienced, MS Teams has been one of the most popular ways for us all to stay in contact with each other, see each other's faces (and pets!) and collaborate at a distance. One of the main reasons why people choose to use Vevox in their meetings or classes, is the option of anonymity.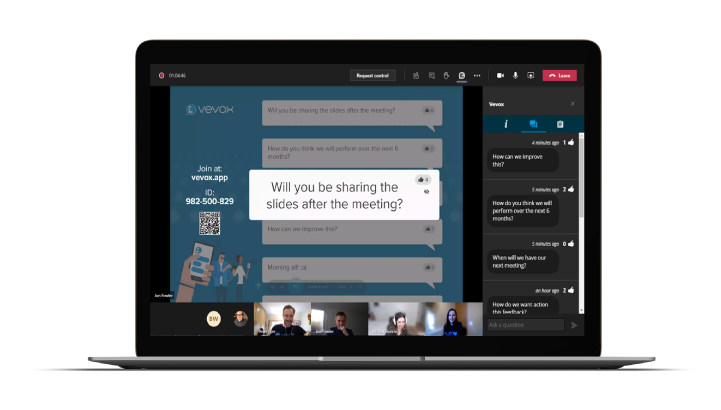 Especially in these challenging times, community and having voices be heard has become more important than ever. However, all the virtual conferencing software platforms that are typically being used by organisations and institutions require participants to be identified. What's unique about this Vevox and MS Teams integration is that we've been able to bring the anonymity Vevox allows, into the MS Teams experience.
We know how valuable anonymity is for Vevox users and session participants, and now, people can commune virtually AND contribute freely and honestly, or cover sensitive subject matter, at a time when togetherness feels quite different from what we're all used to. Whether you're running live-polls, collecting feedback through Q&A, or running quizzes, you can see who is present in your session, whilst simultaneously preserving a fear-free environment for all.
How do I find out more?
As ever, we'll be running a webinar on 25th November 2020 at 3pm GMT to show you around this new MS Teams and Vevox experience. If you're using MS Teams in your organization or institution, we highly recommend you register to attend, even if you can't make the session live on the day, as we'll be emailing out the recording to everyone who registers. Email us hello@vevox.com for the recording.