Yes… ANOTHER update to the platform is winging its way into your Vevox dashboard ahead of the upcoming term/semester/quarter…

If you've ever wished you or your audience could respond by marking a point on a map, photo, diagram or any other type of image you're going to like this one.
Our September release has been crafted in close consultation with some of our most active users in both higher education and business. The result is the addition of two intuitive and highly effective image-based poll types.
Type 1 is the 'Pin on Image' Poll
Essentially this poll type allows an image to be presented to participants with them able to 'Pin' a point anywhere on that image for example a point on a map, X-ray or technical diagram.

The presenter can then see the placing by all audience members and if appropriate set a zone or 'hot spot' as the correct answer.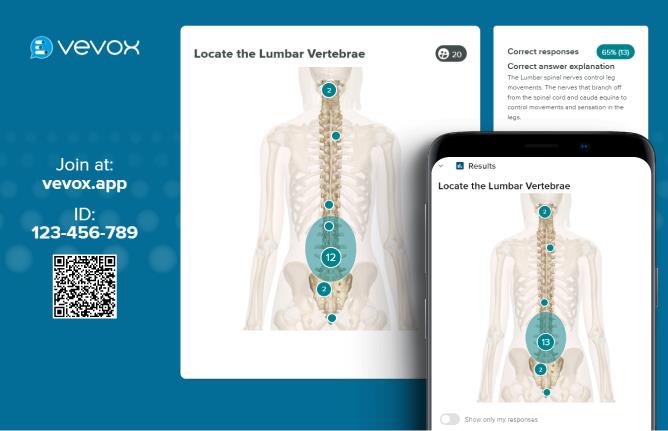 Type 2 is the 'Multichoice on Image' poll
This functionality has been added to the existing 'multichoice poll' within your Vevox dashboard meaning presenters can now plot their pre-defined response options onto an image for participants to select. Correct answers can also be allocated, with the option for participants to choose more than one option if required, as with standard multichoice polls.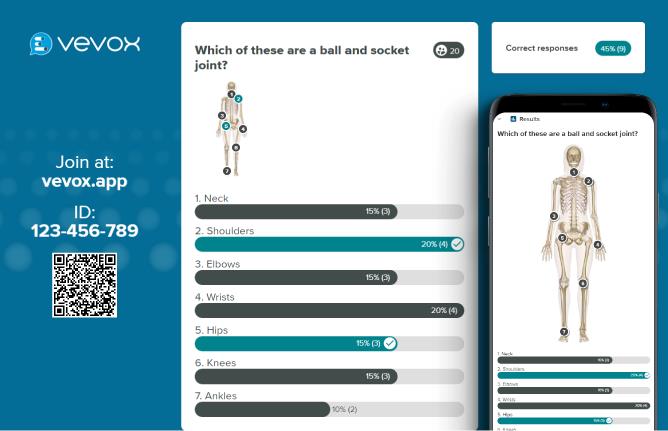 So, how do you get your hands on this new functionality? Here's the essential info…
Release date: 13th September 2021. Please note - The new functionality will automatically appear in your dashboard by the end of this day, you don't need to do anything.
Available for: All users with a paid/institutional/enterprise Vevox plans.
Learn more:
And that's not all…
New FREE Vevox training options

In dashboard tutorials: To help users get the most out of the system we're excited to be rolling out new interactive tutorials for users directly in the Vevox dashboard. These will appear firstly for new users in the coming weeks and for existing users soon after. Keep an eye out for a notification in your dashboard.
Live training: We're also pleased to be offering a weekly live webinar for new users, or those that have not used Vevox for some time. These 15 minute 'Zero to Hero' sessions every Tuesday at 2pm (UK time) will have you filled with confidence in no time and we will offer plenty of time after the training to put your questions to one of the experts from the Vevox Customer Success team. Register for a session date that suits you.
And finally…
These changes and additions are in response to your feedback, uses cases and requests. We LOVE to hear your ideas so please keep sending them through, either via your account manager or through our website.