Can you believe it was only six weeks ago that we introduced our star rating question type in our last product update blog? Six weeks goes by in a flash, especially for the Vevox Developers but each time we release an update to Vevox we work hard to bring you a sought-after feature or new functionality. In our 2018 Spring release we've decided to bring you something a little different.
Everyone likes a freebie…
When you're crafting your seminar, internal comms meeting or speaker session it can sometimes be challenging to start with a blank page, whether you're new to Vevox or an avid user. Some days inspiration fails to strike or perhaps you have so much to say that you feel overwhelmed. Whatever the scenario, we've created some sample content to help get you going. Over the year's we've been a part of thousands of presentations, meetings and seminars, so we've experienced first hand the most successful questions that get the answers or results you need.

The content we've created comes in the form of ready to use surveys and polls for you to import into your Vevox meeting. In our surveys category we've created useable sample surveys specifically for educators, internal comms managers and HR professionals, as well as more general evaluation survey's that can be used in almost any setting. In our polling category we've created some icebreaker polls to start your session, polling questions to measure progress and understanding throughout and some classic evaluation polls to close your session.
How do I get access?
There are two ways to get access to these resources that we have created for you. Once you've set up a new meeting you'll see a prompt in your meeting dashboard to browse the sample content, you will see this prompt each time you create a new meeting. Once you've selected your chosen content you can opt to import as many or as few polls or survey questions as you wish.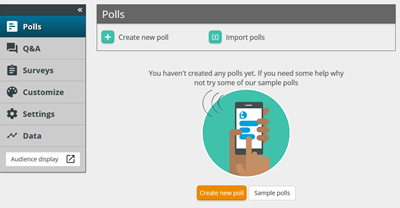 If you already have a meeting that has existing polls or surveys, you won't see the prompt to browse our sample content, but you can access it by clicking the import button in your meeting dashboard and selecting the content you wish to import.

Our ready to use sample content is fully customisable, so once you have imported polls or surveys into your Vevox meeting you can edit both the questions and the response options to completely tailor the content to your needs. Alternatively, if you prefer to use Microsoft PowerPoint we have created the same ready to use content for you to use with our native PowerPoint add-in. Download our Icebreaker session slide deck here.
Why should I use your content?
We've created these sample polls and surveys for you as a starting point to give you inspiration. Vevox can be used in countless scenarios and based on our experience of what works, we've put together what we think are some of the most effective questions to help make your session a great success.

Sometimes coming up with ideas for polls or surveys can take longer than anticipated, so hopefully in doing a little of the leg work for you, Vevox can help you get the job done quicker – we're nice like that!
And finally...
Before you go, we'd also like to mention a small and subtle tweak that we've made for our web app users. Many participants join a Vevox session using their smartphone or tablet and we work hard to make the user experience looks awesome for mobile. In this product release we've also optimised the web app experience for desktop users by scaling down the display dimensions, making it easier and quicker to navigate as we've brought the web app elements closer together. Give it a try and let us know what you think!

Our email inbox is always open, so please do give us your feedback about our sample content or anything else regarding your Vevox App experience. Drop us an email at hello@vevox.com

Each month we dedicate a lot of time to creating resources for Vevox users. Make sure you subscribe to our email updates to get notified about all the latest Vevox news, blogs and resources.