Back in November we introduced some tweaks and a new tool into Vevox dashboards and today we have also made further updates that also include some modifications to the app which makes our Winter Product update complete.

Before we dive into explaining the main features in the Winter product update we wanted to give you a quick update regarding the Vevox account sign up process. We recently made some improvements to the sign-up process and the majority of the feedback we received was overwhelmingly positive – it's now easier and quicker than ever to get started with Vevox.

As ever we actively encourage your views, and some of you told us that our increase in the required password complexity for creating an account was frustrating. We listened to your feedback and have now reduced the necessary complexity for account passwords to 8 characters of your choosing. No stipulations on case sensitivity or special characters, just 8 characters – you can decide on any combination or complexity…just make sure its memorable!

So, on to the new additions to the dashboard…

Import/Export polls and surveys
When we got confirmation that this functionality was making it in to this mid-cycle release we were all really excited and we're sure Vevox users will be too! From today you will be able to select individual or multiple polls and surveys from a meeting in your dashboard and export them for use to import in to another of your own Vevox sessions or share the file with a colleague for them to use in their Vevox account. We know this feature will be really helpful and will hopefully save Vevox users some admin time! Watch our short video on the import/export feature here. In addition to the import/export feature, we have also added other handy 'bulk actions' options, allowing dashboard users to select multiple polls or surveys to delete or clear results for.

Exporting a poll: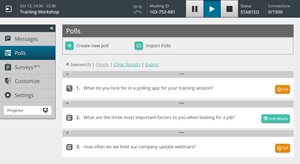 Importing a poll: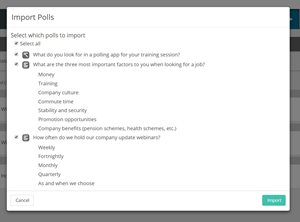 Dynamic Survey Results
Our Autumn release saw the much-anticipated arrival of our Survey feature. You might remember we released this as a BETA feature, as we knew that the feature had room to grow and change as Vevox users made suggestions and the Vevox development team tested out their ideas. In this product release we have improved the way survey results are displayed in the dashboard by making it dynamic; Now the results are displayed in real time as they arrive, with no need to refresh the page.
Survey Badge Notifications and Survey Description
Earlier in the year we introduced badge notifications to help meeting participants to easily see when new messages, comments or questions had been left in the message board. We have now extended this feature to work with surveys. When a new survey is available, app users will see a red badge notification against the survey tab icon. Once the survey has been viewed or viewed and partly completed the badge notification colour will change to orange. Once all the questions in the survey have been answered the badge notification will disappear.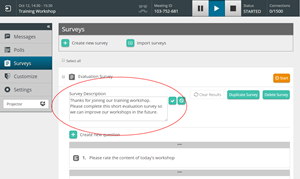 When our survey feature was first introduced we added a default description underneath the survey title. Now that the survey feature is being used, it has become clear that this description field should be editable to allow the survey creator to add their own message or instructions. We'd suggest keeping these descriptions brief to allow participants to get straight down to completing your survey.

The Survey feature is still being developed as promised, but has already undergone a lot of work from our development team. As such, we're pleased to say that the Survey feature is now no longer in it's BETA phase but do keep your feedback coming by emailing
hello@vevox.com
Polling Updates
Understandably we have had a lot of focus on our Survey feature but we haven't forgotten about polls! In this product update we have made improvements to the instructional text for each of the different poll types that appears for participants. This text is dynamic and will change once a participant has responded. We have also now added the option for participants to edit or clear their answer for an open text poll…we've all experienced poll'ers remorse…the best answers always come once you've hit send!