The 5 killer questions for employee comms meetings people will want to attend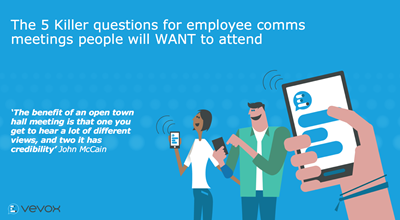 Interactive 'Town Hall' internal comms meetings using real-time Polling and Q&A apps have fast become not only popular, but expected by workforces. This guide reveals and explains the 5 most common question formats that organisations holding engaging, effective and interactive town halls use.

Want to learn how you can utilise live polling and Q&A to increase engagement in your internal comms meetings? Then press the book a demo button to speak to our customer success team.