Successfully interpreting data & outlining post-session priorities

Our webinar series, 'The Complete Vevox Experience' which has been run by the Customer Success Team here at Vevox, started on the 5th April and its fourth and final episode took place on Thursday, 7th July. All four episodes are available, in full, on our YouTube channel.

In the final episode of the series, the team focused on everything post-session - including data, analytics, and surveys to gain feedback on session effectiveness. We'll be providing you with some of the key takeaways and highlights from the final episode, but if you'd like to watch the webinar episode in full, you can do so by pressing play below!

1. Schedule a meeting follow up to highlight commitment

No matter the type or size of session you're running, it's always vitally important to book in a follow up meeting. Scheduling a follow up session shows commitment to doing any actions that may have been raised in the meeting, while also showing how much you truly do value all of the questions, suggestions or feedback that may have been given during the session.

By following up on the original session, you will create an increased level of trust between yourself and the attendees. This building of trust will ensure that attendees become more honest and open, and additionally will help to keep them accountable too, as they will want to pay back the commitment you have shown by running a follow up session.

2. Highlight transparent communication through responding to the Q&A

After a large meeting or event session, it's likely that you'll have lots of questions and suggestions in the Q&A board that you simply didn't have time to answer during the live session. Luckily, it's super simple to download the data report from your session and transfer into an excel document.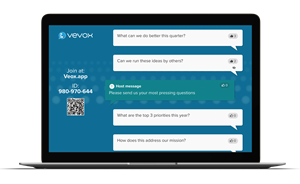 This'll provide you with a full list of the comments submitted into the Q&A board during the session, allowing you to go through post-session and provide answers to every single one of them. You can then send out a document with all of the answers included, meaning everyone has their answers, no questions were ignored and everything was addressed.
3. Push out an engaging survey to receive meaningful meeting feedback

A further way to get more from your data is by putting out a survey after your session to get feedback on how participants felt the session went. This will allow you to understand whether the meeting was a success, and learn which parts of the session people most enjoyed and which parts they felt could have been improved upon. As a result, you'll make sure that any future sessions are more productive and much more effective.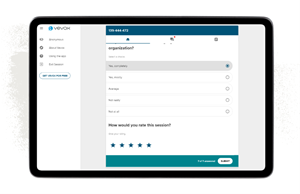 A top-tip to help ensure participants engage in your survey is to push out the survey before the end of your meeting, while people are still on the live session and engaged. This will enable you to receive a much higher response rate.




• Get started today with a free Vevox account
• Learn how to use Vevox surveys to receive great feedback
• Read our eBook on hybrid meetings