"To win in the marketplace you must first win in the workplace." – Doug Conant, Former CEO of Campbell's Soup

Companies are always looking at ways to improve the performance levels of their employees and increase the workforce output. According to The Mckinsey Global Institute 'productivity improves by 20-25% in organizations with connected employees' (see graph below). Productivity and employee engagement has been cited as still being a main challenge for most organisations. With this in mind I will share three essential ways to increase employee productivity.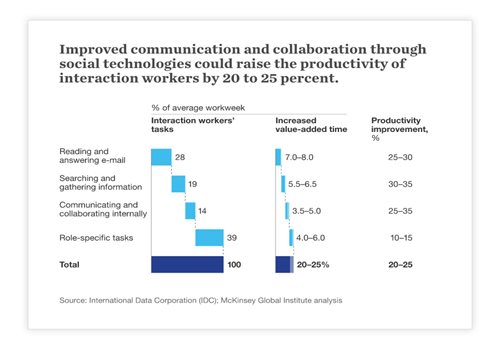 1. Employee Goals and Rewards
Every employee should be set targets to achieve, to help with productivity and motivation. A manager should have regular catch-up meetings with their employees to see how they are progressing, to assess and understand their achievements and challenges, but to also give them helpful feedback. Setting KPIs (Key Performance Indicators) enables an employee to have a clear focus and helps with time management. It also allows a line manager to measure the performance of their employees as individuals, across a team or even company wide. With regular progress meetings, Managers can understand whether employees need more training or guidance to help increase their productivity and skillset.
Look for ways to encourage your employees to take pride in their work. A happy workforce is more often than not a motivated workforce, and motivated staff tend to produce better results. Initiating a reward program or using incentives can make a positive impact to employee productivity as it helps to make employees feel valued and know that their work is appreciated.
"Always treat your employees exactly as you want them to treat your best customers." – Stephen R. Covey, Author and Businessman

2. Employee Collaboration
Increasing a greater sense of togetherness in the workplace will allow your workforce to feel part of something special. When an employee feels like their voice matters, they are more likely to positively contribute, both their opinions and in their efforts. A manager should positively encourage employees to contribute to team discussions. A communication or engagement tool like Vevox can also help facilitate these discussions, allowing everyone's voice to be heard whilst keeping meetings focussed and timely. Teamwork is crucial to employee satisfaction and their attitude to work. Collaborative working can improve the overall workforce morale and also help with resolving problems quicker.

"When people are financially invested, they want a return. When people are emotionally invested, they want to contribute." – Simon Sinek, Motivational Speaker and Author

3. Understand Your Employees
To actively increase employee engagement and realistically measure productivity, employers need to understand their workforce and their ideas. "44% of companies feel being able to voice thoughts openly is crucial for successful meetings" according to a Net Impact Survey. Employees should be able to express their ideas and views within the workplace. If an employee feels stifled and unable to communicate through the right channels then this can affect their state of mind and can cause discontent in the workplace.
A live polling and messaging app like Vevox can help facilitate both real-time and anonymous feedback that can help create and support an open environment for employees to share their ideas or respond to employer decisions and suggestions. This means that employees feel valued, that their opinions matter and that they have some control of their work environment which increases engagement.
"Highly engaged employees make the customer experience. Disengaged employees break it." – Timothy R. Clark, Founder of TR Clark Associates
Conclusion
Numerous research studies explain the strong correlation between the engagement of an employee and the quality/quantity of work that they will produce. By improving your workplace communications, environment and employee engagement this will positively affect your workforce productivity and customer satisfaction.
Download our employee communication and engagement infographic to see some startling employee engagement statistics and understand how employees really feel about today's workplace.