Word clouds (otherwise known as a tag cloud or weight list) are recognized as being an image composed of words used in a particular text or subject, in which the size of each word indicates its frequency or importance. This seemingly simple method of displaying information is incredibly versatile, especially when combined with live polling.
Word cloud polling has made the use of word clouds a more interactive experience and an easy and useful way to display live feedback from an audience in a visually stimulating manner. Word clouds have seen a resurgence in popularity in classes and meetings as they can now be generated using audience or student response systems. This year, here at Vevox we launched the option to run word cloud polls through our popular PowerPoint add-in.
We think there are 5 main reasons why word cloud polls are being used so vastly and why they have become loved by presenters and audiences all around the world…
1. Revealing popular responses
One of the main reasons that presenters love word clouds is that it's useful for understanding what your audience is thinking. Crowdsourcing and collaboration is useful for sharing ideas, but it can be time-consuming and impractical if discussing verbally or using non-digital tools. This is where generating word clouds live via a polling app is beneficial as all the one word responses, ideas or suggestions are instantly populated as a word cloud image.
The word cloud will reveal the most popular audience responses by enlarging the size of the text. Here's a great example of a word cloud poll which was run at the ALTC conference in September, as you can see the words "staff", "learning" and "new" were the most popular word submissions in response to the question. The audience love word cloud polls as they get an insight into the views and opinions of their fellow audience members.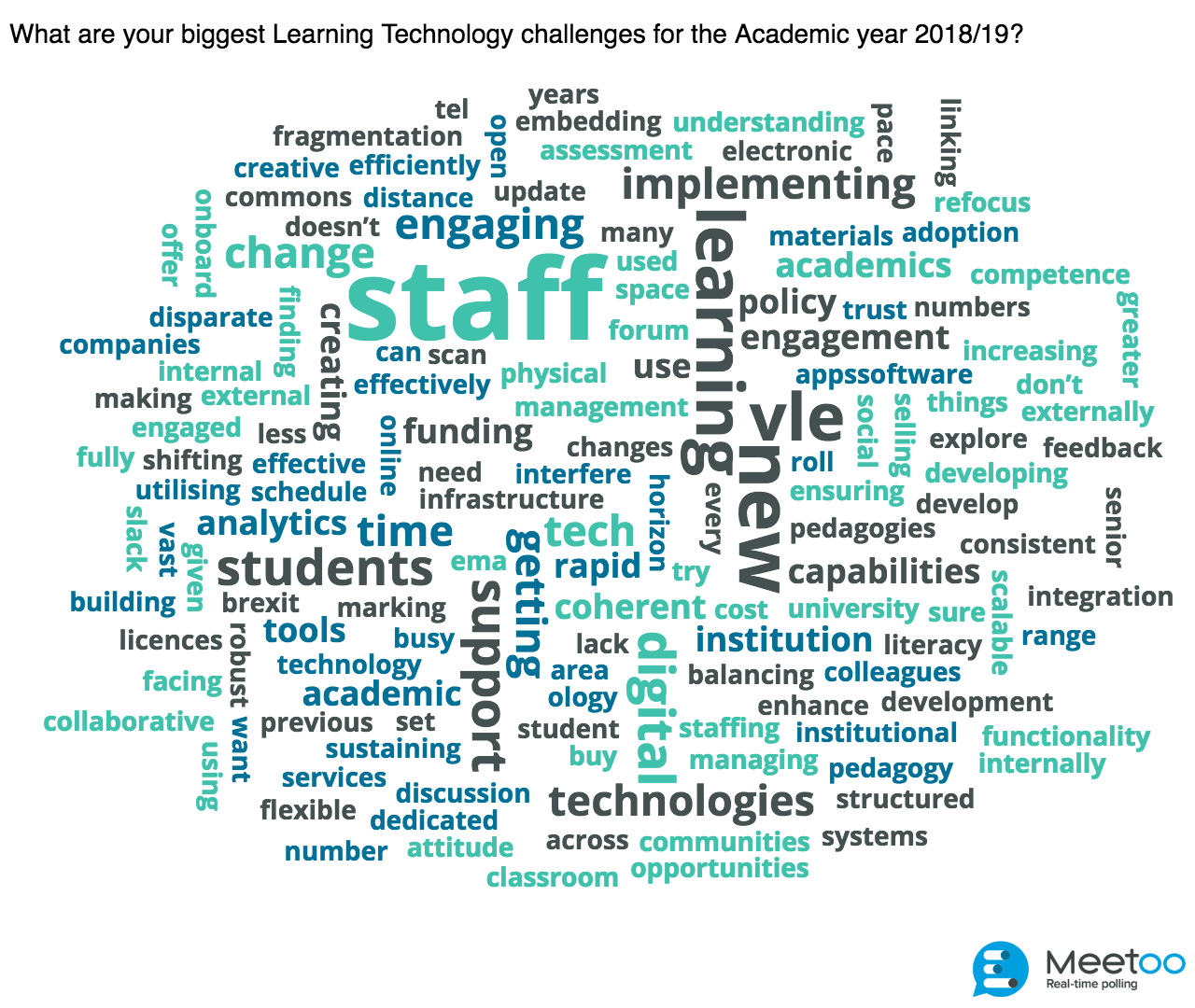 Please note: On 21st March 2019, Meetoo became Vevox
Tip: Make sure your questions are focused on getting one word answers so the word cloud is more impactful – multi word answers are best suited to open text polls or to a digital Q&A. Using questions that start with "In one word" helps to remind the audience.


2. Instant visualization
One aspect that makes word cloud polls impactful is that they are super quick! If you're looking for a tool that can collate real-time feedback into live visualizations and can increase audience interaction rapidly, then word clouds are perfect for this.
Running word clouds is easy with Vevox. Once you make your polling question live, your audience will see this poll on their own devices (mobile, laptop or tablets) and they can submit a word to be included in the word cloud. You can then review these words before showing the word cloud display (if you wish) by filtering certain words in an easy and manageable way that shows you the frequency of specific words. Vevox also has an automatic profanity filter to give you the peace of mind when presenting. Then you can simply close the poll to push the results back to your audience to wow them!
Word clouds can also be customized to your colour scheme that you choose which makes it easy to see the different words. The font size, image production and spacing of Vevox's word cloud makes it so much easier to differentiate between the words and helps with the quick visualization of the data. Perfect for a lot of us that thrive on visual learning! You can learn more about how to run word cloud polls with Vevox here or in PowerPoint.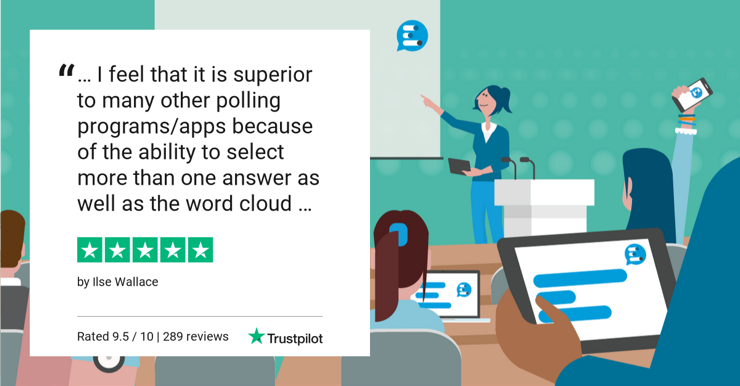 3. Crowd-pleaser or Ice-breaker
Word clouds can be great for livening the mood or breaking the ice. Use a polling question that will spark a reaction, start a friendly debate or a competitive response from your audience. Your audience will be on the edge of their seats wanting to know the end result of the most popular word cloud responses. Here are some fun example questions that you could use or gain inspiration from:
What sports team do you support? Good for building solidarity or some friendly competition.
Use one word to describe your team/department.
Who is the best student/learner? Quizzing and polling can naturally increase competition leading to more engaged students and employees.
Who would you nominate as employee of the week/month?
In your opinion, what is the best capital city? This could be used as an icebreaker poll to make your audience naturally inquisitive to what their peers are thinking and to ease everyone into a group discussion.
4. Emotive and engaging
Certain questions can be emotive and help to bring audience members together. Combining this with an instant word cloud of everyone's thoughts and experiences can really make an impact. Running word cloud poll questions such as:
What is your favorite holiday location?
In one word, what is your favorite memory?
What's your biggest goal for next year?
Why did you want to study this course?
What's your favourite season?
What's your favourite food?
What was the name of your first pet?
What's your biggest fear?
All of these questions invoke memories and emotional attachments. Audiences engage with presentations and to content that they can relate to. The combination of using personalized and relatable experiences with a visual tool such as a word cloud poll makes it so much easier for your audience to remember your presentation and to be engaged from the outset.
Tip: Using an emotive polling question can be powerful. Make sure it is relevant to your presentation topic or the reason you and your audience are gathered together.
5. Adaptable
Our customers love to share examples and stories of how they use our product and one thing that we find with word cloud polls is that people love to use them in different ways to collect and display live feedback. Word cloud polls are flexible, adaptable and can be used in many forms such as icebreakers when introducing a presentation, to create humour and fun, to crowdsource ideas and to provoke discussion, to create competitive quiz polls to name just a few.
Some of these use cases of word clouds are explained further in our blog "6 effective ways to use word clouds to increase audience engagement". If you're looking for further inspiration for word cloud questions to poll your audience then take a look at our 'ready to use' questions. You can find usable polls and surveys in your Vevox dashboard when signing up to a free account.
Want to try out a live word cloud poll in your next presentation? Then why not try the number 1 rated live polling app out there!
Other word cloud content:
"What is a live word cloud and 7 of the best word cloud generators"
"6 effective ways to use word clouds to increase audience engagement".