Organisations are being called on 'to do more' and help communities around the world due to the power and influence they have. Corporate social responsibility (CSR) is the term that is often used to describe the philanthropic actions of a company and you can learn about the definitions of the term, CSR's purpose and why organisations should care about it in this article here.
More and more businesses are taking it upon themselves to involve themselves in
CSR and the ones that are doing it well are reaping the rewards. So, what does it take to get CSR right? Read on to learn more about 4 types of CSR and the companies that are engaging their workforce in the process.
1. Sustainability
Organisations of all sizes are wanting to help create a more sustainable world. All types of industries are hoping to phase out single use materials and products, from the use of plastic in retail and the food and drink industry to packaging and paper materials in the medical and finance sector.
The
UN sustainable development goals (SDGs)
have set out a vision to end inequality, poverty, hunger and to protect the Earth's natural resources by 2030. There are 17 SDG goals that will help to combat these issues and they are listed in the video below.
Governments and organisations around the world are working towards achieving these 17 sustainable goals with certain companies like GSK stating that they can greatly help with specific goals such as N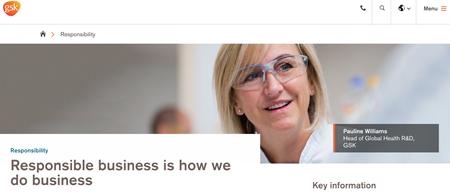 o. 3 'Good health and Well-being'. This is because they are one of leading global healthcare companies and that's where they believe their most important contribution can be made. GSK have also produced an SDG factsheet to show the positive contribution that they are making to each SDG goal. Corporations like GSK have received awards (Business Charity Awards) and ongoing public recognition for their devotion to creating a more sustainable and egalitarian world. Actively working towards a vision of an equal world and creating a positive ethos in the workplace helps to form camaraderie within a workforce.

2. Employee Welfare
CSR can be very beneficial to the welfare of your employees. Employees want to work for philanthropic companies that are aligned to their own values. It helps workforces to connect to a bigger purpose and greater cause. In doing so, it helps to improve company culture and increase employee morale as they feel satisfied working for a company that is doing positive work to help the wider community. First of all, organisations need to make sure that they are providing their own workforce with a safe, transparent and connected workplace that makes employees happy to work for them.
Salesforce (voted number one UK workplace) is just one organisation that prides itself on looking after their employees and engaging them in CSR by asking them what is important to them, such as: what charities should they be donating to or setting up themselves, and what social i

mpact should the organisation be making. Salesforce even have their own product that organisations can use called "philanthropy cloud" which aims to connect every employee to the causes they care about most and leverage their individual passions to the world.
Our clients use our product Vevox, an audience polling and Q&A app, to capture live feedback from their employees to better understand what is important to them. Employee feedback is vital to improving company processes and culture. But to ensure feedback is uninhibited and honest, anonymity is crucial to removing any obstacles for employees. Why not try using a voting app out to poll your employees on what CSR project you should work on next?
Ensuring employee wellbeing is at the top of agenda can only help your business by motivating staff to do their best work and to attract the best talent out there. Quite a few of our clients were listed as the UK's best workplaces and we look forward to working with existing and new clients to continually help organisations improve workplace communications and employee engagement. If you are interested in improving your workplace communications with a live polling and Q&A app, then contact us here.
3. Environmental
There has been a huge cultural shift in the world to place importance of making sure organisations are being eco-friendly. From recycling more often to using less plastic and reducing carbon emissions, the time has come for many organisations to join the mission to protect the environment.
The French car manufacturer Renault is just one example of a transportation organisation that is actively trying to limit their impact on global warming as their CSR page states that their goal is to "reduce their carbon footprint by 25% by 2022 and to be a positive contributor to the fight against global warming". Many other organisations are also doing more to lead the campaign against global warming such as Volvo, as they become one of the first to go all electric.
CSR Hub is a tool that helps consumers and organisations to see the overall ranking of a company based on their CSR activities (internally and externally). Consumers are making the switch to more economical products and solutions already. Governments around the world are also having their influence as by 2030, the UK government have targets for three fifths of all cars sold to be electric with 2040 being the target for the sale of diesel and petrol cars to be illegal. Employees want to work for companies that are laying down the groundwork to protect the enviroment. It is no surprise that some of the most engaged workforces are those that have a strong company ethos and set CSR values.
Clink clink! Check out our new Vevox branded @Chillysbottles We're huge fans of helping the environment (and keeping hydrated!) and the team love them 💦♻️ #stafftreats #EmployeeEngagement #reducereuserecycle pic.twitter.com/wLzbQsTy4o — Vevox (formerly Meetoo) (@VevoxApp) April 11, 2019
At Vevox, we also do our bit by using recycling packaging and we have given some of our customers reusable cups to avoid single-use plastic cups! As well as recycling old branded marketing materials and old office technology (which the money goes to local charities), we've donated reusable cups to our local coffee shop, which they were over the moon with as they were planning on getting some. Not only have we given reusable bottles to our customer champions, every employee has a reusable cup and bottle, so we can enjoy our drinks knowing that we are not polluting the world with non-recyclable plastic.
#TBT To this time 2 weeks ago when we officially became Vevox! Everyone is loving our new name and our branded bamboo fibre cups are still as popular as ever... #newname #reducereuserecycle pic.twitter.com/rSDENJCKim

— Vevox (formerly Meetoo) (@VevoxApp) April 4, 2019
4. Social causes and community support
We are seeing more and more organisations wanting to actively support social causes to help communities around the world. This kind of CSR can be particularly harmful if your customer base (or indeed your workforce) does not agree with you or if they think that your campaign is not authentic or done in the right way. Companies that strongly believe in certain values will show that they are willing to stand for what they believe is right.
One example of this type of CSR was shown by Nike when they chose NFL star Colin Kaepernick to feature in their 30th anniversary of their 'just do it' campaign. Kaepernick decided to kneel instead of stand for the American national anthem when it was been played during an NFL game to take a stance against racial inequality and for many more reasons. His actions caused controversy amongst the media and public channels.

After an initial boycott from some customers after the Nike video campaign, Nike saw their stock-share increase and received new support (although there a number of other contributing factors for this). This type of CSR can be risky if the majority of your workforce or customer base is not aligned to your goals. However, if they are aligned to your values and believe in the company principles, this can result in an increase in brand loyalty and engagement.
"92 percent of consumers and employees have a more positive image of companies that support social issues and environmental efforts" – Source:

Digital Marketing Institute

.
Greggs are a good example of an organisation that are supporting local communities by "diverting 99.6% of waste from their manufacturing sites away from landfill and work with waste management partners to ensure that all waste stream are processed through the most sustainable routes". As part of this Greggs strive to donate as much unsold food to charities. They are committed to five areas of mai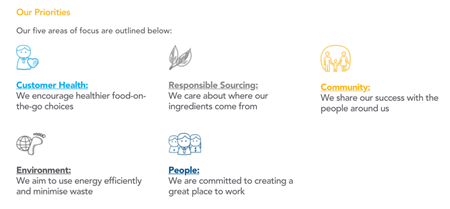 n CSR projects shown in the image and one of these is creating a 'great place to work'. When it comes to any projects (especially charitable causes), employees like open, honest communication that can keep them up to date. Informing your workforce with the progress of your CSR goals and how much the company has achieved only helps to unite your employees and bring them closer together.
Conclusion
Whatever your CSR project is based on from social to environmental work (and whatever scale), employees and consumers will only be onboard with the work if they believe it is truly authentic and your organisation is doing it for the right reasons.
If there is even the slightest hint of it being a campaign to 'piggy back' off a good cause (for financial merit or a publicity stunt) and the organisation has gone into the project with the wrong intentions, then the CSR work can quickly backfire and turn into a PR disaster. Organisations need to be transparent from the off and go into the project not thinking of it as a marketing campaign, but for what it is… a selfless act of proactively improving their work processes to help their employees, communities and the environment.