After a major update, Vevox's interactive audience display 'Present View' now not only looks like the kind of screen you'd be proud to present in front of, but it's got a bunch of new simple new features that makes it even easier and to manage during a meeting or class.
Here's the rundown…

Not in the mood for reading? Watch our short video instead.
Launched straight from the Vevox dashboard, Present View performs several roles, it…
Shares the joining instructions for participants to log in on their phones/devices.
Displays live polls and the Q&A board in 'Real time' to the audience.
Enables presenters to manage live polling and Q&A without switching screen or device.
Allows the audience display to be shared and displayed from another device.
All as you would expect right? But here's what makes it so special…
Look and feel. A more polished, intuitive conversational vibe with the ability to customise with your logo and colours in a few clicks.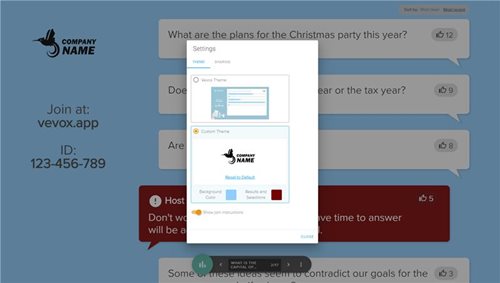 Q&A management

One click sorting. Show audience questions by 'most liked' or most recent.
Instant focus. Click a question to highlight and enlarge.
Question management. Hide/archive any answered or unwanted messages in one click.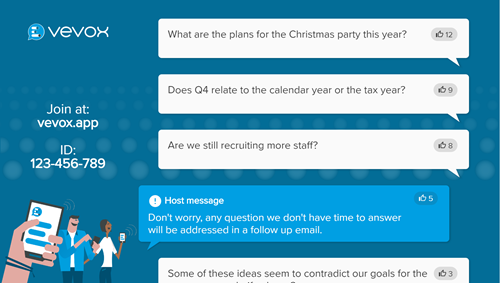 Live polls

An intuitive navigation bar for launching your polls is revealed by mouse movement.
Polling visuals include beautiful words clouds, an innovative approach to numeric responses, star rating charts and the classic multiple choice response bars.
A menu to revisit earlier poll results or jump to a specific one.
Show correct answers for quiz style questions.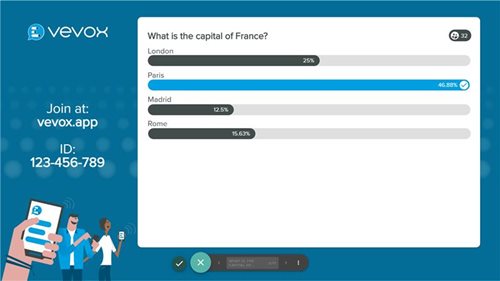 Remote control

Lucky enough to have an assistant activating polls or moderating your Q&A? A link can be shared allowing them to control Vevox remotely from their laptop or tablet. A 'locked down' version of the present view is also offered for remote displays where the interactive elements are not required.
Provide facilitators and presenters with a preview of the Q&A and the ability to moderate before the questions hit the big screen with our new mobile optimised version of the present view.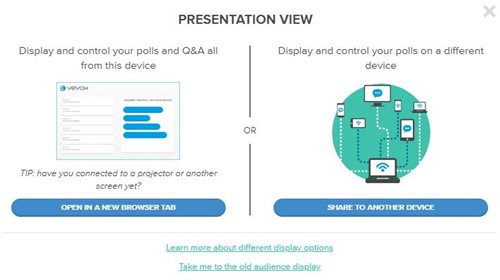 FAQ's
How do I get my hands on it?
The new Present View launches at the end of October. All Vevox accounts and dashboards will be updated automatically. You don't need to do anything.
Is the old 'Audience Display' still available?
For the moment yes, but we are working to include the functionality currently only found in Audience Display into a future version of Present view.
Are there any further developments planned?
Yes, new templates and display options are in the pipeline. If you have any requests, please contact the team at hello@vevox.com