Introducing the Vevox Microsoft Office 365 add-in (For PC AND Mac)

Some Vevox users prefer to run their live polls through a PowerPoint presentation rather than the Vevox 'Present view', allowing them to seemlessly integrate their polls into the deck and minimising interruption to their presentation. Until now, the ability to do this had only been available to our users on Windows with Mac users missing out... well we're pleased to say that's ALL changed...

Following a successful period where the new add-in was in 'beta', our new 'Microsoft Office 365 PowerPoint add-in' is available NOW in the Microsoft 'AppSource' store for both PC and Mac users!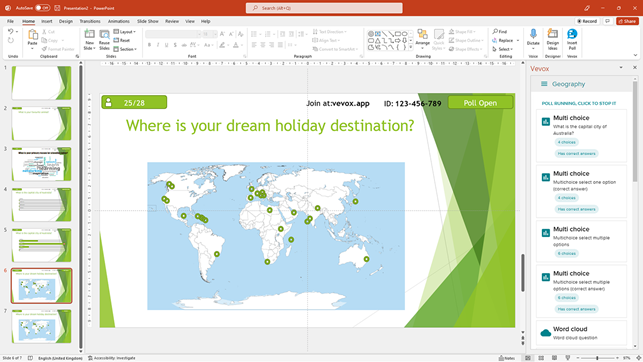 However... before you jump in to try it we recomened you take two minutes to read the information below, particularly if you are currently using our original PowerPoint add-in. They are very different to install and use, and are NOT compatible with each other...
Information and FAQs on PowerPoint polling with the Vevox Micosoft 365 PowerPoint add-in
Why the change?

PowerPoint and Vevox have significantly evolved in recent years. As a result, our much-loved orginal Powerpoint add-in does not have a long term future in terms of support from Microsoft or the capability to accomodate the expanding functionality within the Vevox platform. We have also had countless requests for Mac users to be able to run Vevox through Powerpoint, something we have wanted to respond to for some time.
What's so different?

The all new, 'Microsoft Office 365 add-in' has a very different look, feel and functionality so users of the orginal add in will need to take time to familiarise themselves with this new tool to ensure they're comfortable with the changes before making the switch.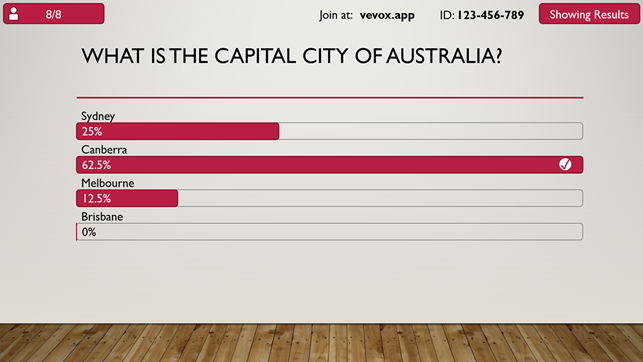 Can I keep using the 'Original' add-in?

Yes, to allow users plenty of time to acclimatise to the new add-in, the original PowerPoint add-in will continue to be available - however please note we will be retiring the original add-in by September 2024.
How do I access the new Microsoft office 365 PowerPoint add-in ?

The new add-in is free to Vevox users and available in the Microsoft 'Appsource' store. It's accessed within PowerPoint by hitting 'Insert > add-ins > Get Add-ins' and searching for 'Vevox'.

Please note: Some organisations may have restrictions on using add-ins from the office store, and in such cases the Office 365 administrator will need to assist in making sure it's available.
Which version of the add-in should I use?

We recommend all users to now use the new version of the PowerPoint add-in.
What's the difference between the orginal add-in and the new Office 365 version?

Microsoft Office and the way it integrates with other platforms has changed in recent years. Our new Vevox Microsoft Office 365 add-in is built on the latest API's and technology available for PowerPoint, designed to support all Vevox polling types and work across more platforms. What's more, the new add-in has been designed to be simpler to use, based on feedback received from Vevox PowerPoint users over the years.

Other key differences include:
All polls are now created and edited within the Vevox dashboard which can then be inserted into a PowerPoint slide
Formatting and design options will still be available in the Microsoft Office 365 add-in but will work slightly differently so will require familiarisation
For simplicity, the control and display preferences will be in one place now, within the Vevox dashboard rather than in the PowerPoint ribbon
Countdown clocks are currently only available using the older PowerPoint add-in however they will soon (late 2022) be available in both the Vevox dashboard and the Microsoft Office 365 add-in
Are there any benefits to the user in using/transferring to the new Office 365 add-in?

Yes, lots... these include:
More platforms: The new add-in can be used on Windows PC's and Macs. Please note it is not compatible with the online version of PowerPoint.
More Polling types: All* poll types included within Vevox can be used in the new add-in. (*Except for the ranking question which will arrive late 2022- exact date TBC).
Presenter view: A frustration with the older original PowerPoint add-in was the inability for it to support the PowerPoint 'Presenter View', which allows you to see your notes and the previous/next slide while presenting – the new Microsoft Office 365 add-in supports present view
Simple poll creation from the dashboard: Any poll created or imported into the Vevox dashboard can easily be inserted into PowerPoint slides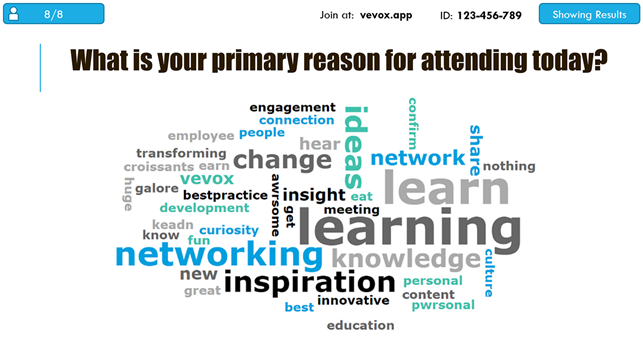 Can I use polls created in the old PowerPoint add in using the new Microsoft add in?

No, this will not be possible as they're not compatible and run in a very different way. You can however insert any poll from any time from your Vevox dashboard into a PowerPoint presentation using the new Microsoft Office 365 add-in.
Can I see a demo of the new Microsoft Office 365 add-in?

Yes, watch this short video or head to our

help site for further information.

Happy PowerPoint Polling! We'd love to hear from you in you want to get in touch or have any feedback.