We're a mere month into the new year, but here at Vevox the product team are hard at work putting the finishing touches onto our first product update of 2023! We've got some really exciting new features coming in this release that have been requested by you, the users! As ever, thank you for taking the time to share your feedback, reviews and ideas with us.

This release follows our previous product update in September, which brought in the ranking poll and other user management improvements. We've received plenty of positive feedback following the implementation of the new poll type which has been great. We love to hear success stories from customers using new features!

So, what's coming in this release? Here's the essential information you need to know:
Release date: 12th February
Key features: Improvements to Q&A & accessibility
Who's it for? All users, however some new features will be exclusive to those on Presenter plans and above

Now let's delve a little bit deeper into the details of what's coming in this update. We'll run through all the new additions and what they'll mean for your use of Vevox – including some added comment from our Product Manager, Matt Kelly.

The main theme for this release is additional improvements to the Q&A and enhancing the overall Q&A experience. There are two new features being added:
Q&A replies

The addition of 'Q&A replies' means that as messages are sent into the Q&A board from the audience, the host or moderator will not only be able to review, categorise and display those questions but be able to reply to them live too.

This will be a welcome feature at times when there is a high volume of messages flying into the Q&A, where it can be a struggle to acknowledge or reply to all of them verbally. The host will now be able to reply to all comments on the Q&A, as well as the answers that were touched upon verbally during a meeting or session.

Participants will also be able to filter their view in app to just see those messages that have been replied to on the Q&A, while also seeing if their own response has been replied to.

Product Manager Matt Kelly explains:
Adding Q&A replies will allow hosts to now answer more questions during a session. Q&A replies is the highlight of this release and its addition has been based on feedback and suggestions we have received from customers, with many saying that this is something they would really like to have included within Q&A.

We always listen to our users in a bid to understand the functionality that is widely wanted – consequently then implementing it into our product.

Please note: This is a feature that will be available exclusively to those on Pro and Enterprise plans.
Pausing the Q&A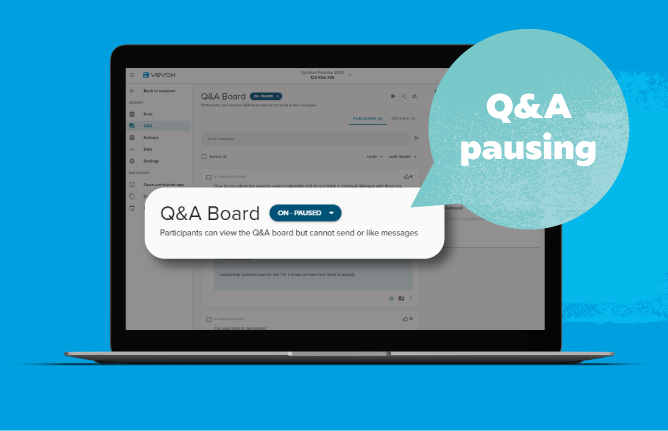 Another exciting improvement coming to the Q&A board is the ability to pause your Q&A sessions – you will now be able to essentially freeze the Q&A, so that participants will no longer be able to send in any more messages. Crucially however, they will still be able to see all of the comments that have been sent in.

Matt Kelly shares:
Q&A Pausing will be beneficial at times when comments are coming in at a high pace, whereby you may want to slow things down a bit so you can answer and respond to everyone's comments. Another scenario where this may prove useful, is in situations where you may be covering a sensitive topic – by pausing the Q&A, you can control the pace and manage the discussion to avoid any tension or misunderstandings.
Accessibility: Alt text for imagery

Ensuring an equal voice for all is key to Vevox's goals, with accessibility an important consideration for any update. We've added the ability to ad 'alt text' to any imagery that is uploaded within Vevox. When an image is uploaded, whether that be a custom image for the home screen or to add to your polls and surveys, you will now be able to add in alt text that will describe what the image is for those participants that are visually impaired and work with a a screen reader.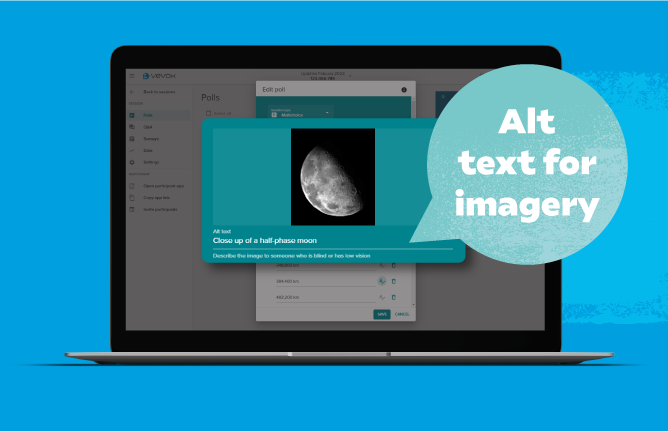 On this new feature, Matt Kelly said:
The Vevox team are always looking for ways to improve the accessibility of the platform. The addition of alt text for imagery is something we're very excited about adding in given the popularity of image-based polls.
Information security: Customisable data retention policy

A feature being added catering for larger enterprise or institution accounts, is the addition of a customisable data retention policy. This will now allow organisations to choose how long data from sessions is stored within Vevox.

Please note: This is a feature that will be available exclusively to enterprise and institution customers.
User experience: Navigation improvements

In addition to all these exciting features, there has also been some fine tuning in the dashboard and present view to make managing and running sessions even more seamless, simple and accessible. Whilst all the features you are used to are still there and look much the same, we recommend you take five minutes to familiarise yourself before running your first session.
More information and latest news

For help and further information about all the new features, take a look at our helpsite! There's plenty of great information on there about all the new features, in addition to all our existing features.

To stay up to date with the latest Vevox news, make sure to stay connected to all of our social accounts and subscribe to the monthly newsletter. You can also subscribe to our YouTube channel, where you'll find weekly videos including customer stories, webinars and plenty of Vevox top-tips!
Get in touch
We're always open to suggestions and feedback and love hearing what our customers have to say. You can contact us via either your Customer Success/Account Manager or through our website.