As the hot summer months come to an end and we draw nearer to the start of a new academic year, we're happy to share some of the brilliant new features and improvements coming to your Vevox dashboards this September!

This release follows our March update, which introduced self-paced quizzing & Q&A labels. Both features were often requested by users, so have been incre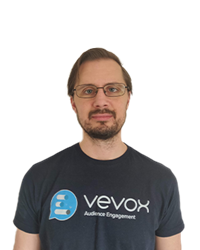 dibly well received. Please do keep sending your feedback, we are listening!

I sat down with our product manager here at Vevox, Matt Kelly, to discuss what's coming in this update.
So, Matt, when is this release happening and what are the main improvements & features our customers can expect to see?

We're building up to the release on the 5th September, so in the final stages of quality assurance testing now.

The biggest feature that will be dropping in our users' dashboards this release is the introduction of the ranking poll - another addition to our already extensive list of polling types. This is one that we're really excited about, and something that has been requested by our customers for some time!

Vevox is increasingly being adopted campus-wide at universities and company-wide across businesses. In continued support of this there will also be a series of improvements for user management, which will improve the way our larger accounts will be able to manage their users and invite new users to their dashboards. A big update for the LTI (Learning Tools Interoperability) is coming too, which will be a notable addition for our education customers – this will improve how they integrate Vevox with their various Virtual Learning Environments.
Why is the ranking poll such an exciting addition?

The ranking poll has been one of the most requested features for a while now, so it was time! (We're sorry for the delay on this one!)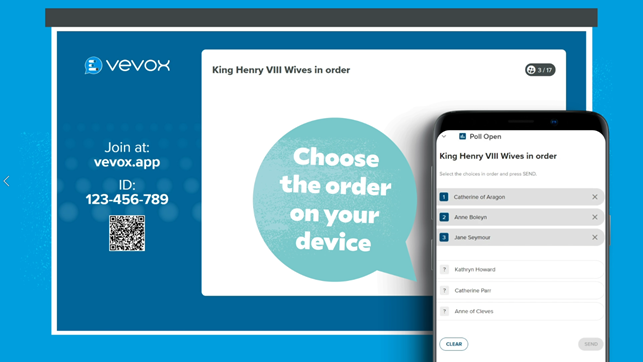 The ranking poll is a powerful tool for gathering deep understanding of an audience's preferences and completes our suite of core polling options. Our developers have focused on providing an intuitive experience for both presenters and participants alike and the reaction from those that have been trialling it would suggest they had achieved just that. We really hope you like it!
What plans will this new poll type be available in and how do users get it?

It will automatically appear in dashboards for all Pro plan and Enterprise users following release. Users on Free or starter plans will need to upgrade to access it, also getting access to all the other polling types available.
What's new for Higher Education users in this release?

September marks the start of a new academic year – so we always aim to include new features that we think will heavily benefit our education customers in a release at this time. As well as the ranking poll, the LTI (Learning Tools Interoperability) improvements will massively benefit teachers and lecturers, helping to improve and streamline the integration between Vevox and various VLE's (Virtual Learning Environments).
How do users find out more about these new features?

For help and information on how to use the new features, take a look at our helpsite! There's bundles of great information on there about all our new features, in addition to the extensive list of existing features. You can also watch our short teaser video below for a quick summary of everything new in this release!



You mentioned user management for campus/companywide Vevox users, can you explain what this is and how it helps?



The user management page has new improvements to help those administrating Vevox to manage users and understand usage levels, including...
Improved search
Filter by role, department, last login date & see users that have never logged in
Invitation monitoring and status (see who you have invited and the state of the invitation)
Will users need to do anything to access the new features on 5th September?

No, customers don't need to do anything to access these new features! All eligible users will find these features and improvements active in their Vevox dashboards on the day of release.
Following on from this release, when can we expect to see another round of feature updates, and can you offer any teasers of what users can look forward to?

Long time Vevox users will know we never stop evolving! We're already working on the next update, due for release before the end of the year. One new feature that we're really excited about is the addition of countdown timers to keep polls pacy and save presenters verbally counting down.
With so much happening how can users stay up to date with what's happening with Vevox?

The simplest way is to connect to our social accounts and subscribe to our monthly newsletter. You'll be the first to hear when new features, events or resources launch.

You can also subscribe to our YouTube channel! We've got new videos every week including customer stories, webinars and plenty of Vevox top-tips.
You talk a lot about user feedback driving the evolution of the product. What's the best way to feedback or suggest ideas?

We're always interested in hearing any thoughts or suggestions from our customers. You can contact us via either your Account/Customer Success manager or through our website.