It's less than three months into 2022 and we're already preparing for the launch of our first product update of the year! The product team here at Vevox have been working hard behind the scenes to bring you some new features and we're delighted to announce some features that'll be dropping into your Vevox dashboards this month!

This release follows our previous update in November which saw improvements to live word clouds in addition to a couple of important user management and security updates.

Interested to hear what we've got in store for this March update? Here's the essential information:

Release date: 21st March

Who's it for? All users (some features may require a paid license)

Key features: Labels in Q&A & Self-paced quizzes

So, you've got the key info – now it's time to delve deeper into the details on what the new features will mean for you while using Vevox!
Q&A labels

The introduction of Q&A labels will allow you to have plenty more control when conducting Q&A's. With the addition of labels, you can synthesise your Q&A boards much easier while filtering to any label you like that's been added.

Labels can be assigned to any message, and you can assign multiple labels if needed. An example of one-way labelling may be used, is to direct questions to a certain speaker or categorise by topic. By going through and labelling all questions that are relevant for a certain lecturer, employee, or topic, you will be able to then filter to that label instantly, and you'll only show relevant questions.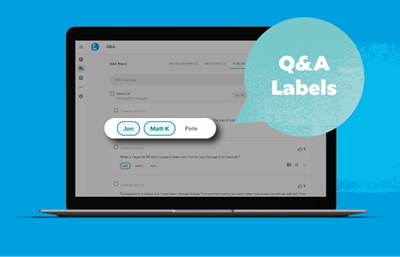 Filtering can be used both by a moderator in the dashboard and while in present view, so it's really efficient and simple to implement. This will stop the need for a moderator to go scrolling through a Q&A to find relevant questions.

Additionally, an icon has now been added in the Q&A dashboard for moving questions to viewed, published, or archived.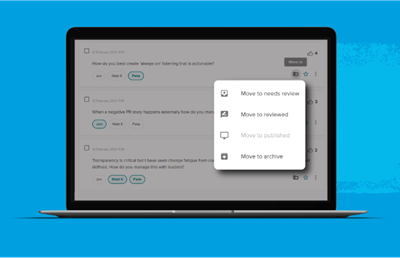 Self-paced quizzes

Separate to the live quiz and leaderboards functionality that's already a feature in Vevox, self-paced quizzes are a new addition that you'll be able to find embedded in the surveys feature.

Here's how they'll work…
To create a self-paced quiz, you'll simply have to do the same as when you'd create a survey but add in a correct answer (and explanation for it if you wish) for each question
Once completed, the quiz answers cannot be changed, unlike a survey
Following completion of the quiz, students will be presented with a summary screen (as shown below), providing instant feedback & their score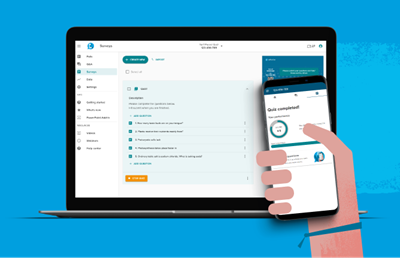 These self-paced quizzes are great for formative assessment and providing an understanding of how students are faring in a specific subject area. Within the self-paced quiz, you'll still have access to various question types, so there's scope to create some intuitive, engaging quizzes.

Importantly these quizzes can be set to identified or anonymous, with scores only being presented back to the individual.
Coming soon…

Account and session analytics:

A feature that will be droppping into Vevox dashboards soon will be account and session analytics - this will allow you to track the usage of Vevox in your organisation. In the dashboard, you'll be able to choose a time frame and track the number of sessions, participants, feature usage and much more! You'll also be able to filter by department and view the most active users in your organisation.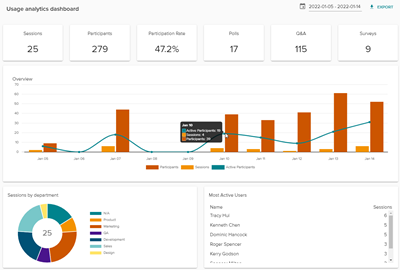 Stay tuned to any future product updates and stay connected across our social accounts to be the first to hear when new features launch!



Got feedback or a suggestion for Vevox?



We're always interested in hearing any thoughts or suggestions from our customers. You can contact us via either your Account/Customer Success manager or through our website.