An early Christmas gift for Vevox users… Improved word clouds, new admin tools, some subtle tweaks and a ready-made Interactive Christmas Quiz to entertain your class/team/friends/family.

This release follows hot on the heels of our September update which saw the introduction of two new hot spot/pin on image poll types, and the launch in October of our new Webex integration.

Regular Vevox users will be aware that we constantly look for improvements and product additions from user feedback, so we are pleased to be squeezing one more update into 2021. Here's the essential info:
Release date: 29th November 2021. Please note - The new functionality will automatically appear in your dashboard by the end of this day, you don't need to do anything.
Who's it for? All users (Some features do require you are on a paid Vevox plan).

What's included...
Improved Word Clouds

Word clouds have long been one of the most impactful and well used features of Vevox in meetings and classes, whether for breaking the ice, checking the mood or to learn more about an audience. We've further fine-tuned and simplified these to maximize participation and deliver accessible and impactful visuals for live display or post session sharing:
Word clouds will now accept single AND multi-word submissions for example 'New York' or 'Pete is awesome'
Accessibility is essential for inclusion and maximum engagement and word clouds have been optimized for this purpose. All default color schemes adhere to accessibility guidelines with displays built to be read aloud by screen readers.

Note, customized branding and theming is still available in just a few clicks on paid Vevox plans.

Meetings and classes are often crossing international borders, so to aid inclusivity word clouds will now accept multiple languages and non-English characters.

Word clouds are super simple to use and can be run through your Vevox dashboard, Present view, or using the Vevox PowerPoint integration.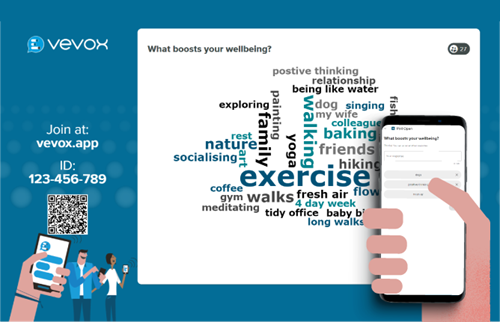 Hyperlinks to supporting content


User Management and Security

Vevox is commonly used by universities campus wide and throughout large businesses, two additions have been made to support these customers.
The new 'departments' feature enables account admins to create departments and allocate their user to them. Helpful for understanding usage, uptake and managing licenses.

Single sign on configuration improvements have been made for user access.
Festive fun!


The holiday season is early upon us, and we're all looking forward to a well-earned break. For a bit of festive fun, we're dropping a Christmas themed quiz into ALL Vevox dashboards* on December 1st. Simply head to the 'polls' section in your dashboard, hit the 'import' button, don your gold sequined jacket and entertain your friends, family or team either online, in person or both simultaneously.

If you've not run a Vevox quiz or seen one in action before here's how our quiz played out last year! Watch video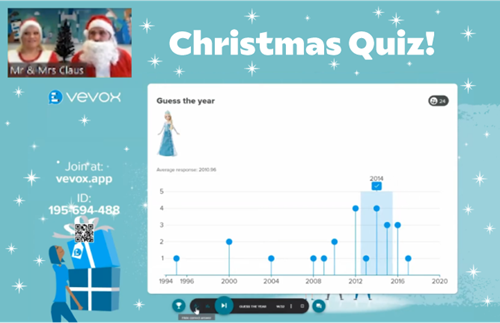 *Note- Round 1 uses poll types included in free accounts, rounds 2 and 3 utilise poll types that require paid plans. The quiz can be edited and questions added to it on any plan.
Head into 2022 a Vevox hero...

Since September we have been offering a popular weekly live webinar for new users, or those that have not used Vevox for some time.

These free 15 minute 'Zero to Hero' sessions run every Tuesday at 3pm GMT/UTC . Designed to give you the essential knowledge you need to use Vevox with confidence with your audience, they also offer plenty of time at the end to put your questions to one of our experts. Register here.
Got feedback or suggestion for Vevox?

We'd be delighted to hear your thoughts or ideas. You can contact us via either your account/customer success manager or through our website.
Further reading:
Visit our comprehensive help site for articles, video and live chat support.
Blog: Tips for running a Vevox quiz
Blog: 5 reasons why word cloud polling is popular and powerful