Vevox has been recognised as a leader for polling and Q&A in the latest independent review report by users on GetApp, Capterra, Software Advice and G2.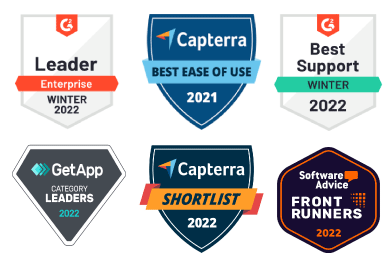 Vevox has also been shortlisted in th

e best pollin

g apps & software report by Capterra. These review sites are free online comparison review services that help organisations find the right software or tools based on trusted feedback from users across the world.



About Vevox: The #1 Polling and Q&A platform

Vevox has acheived an remarkable overall average rating of 4.8 out of 5 on all platforms and is rated 4.9 ouf of 5 on Trustpilot. With over 1500+ reviews, Vevox is also currently rated the 7th best software platform which is inclusive of every type of sofware on the global review platform of Trustpilot.

The sheer amount of 5-star reviews and accolades is why Vevox is rated the #1 polling and Q&A platform on the market today. To have over 1500+ 5 star recommendations from this many users is a incredible milestone and the Vevox team are very proud of this achievement. We also want to thank our users who consistently collaborate with us to provide the best possible platform and experience.

The Vevox Managing Director, Pete Eyre, commented on these achievements by saying: "As the world continues to evolve into focussing on offering the best possible experience for hybrid meetings and classes, Vevox is establishing itself as a highly valuable tool for organisations needing to engage and connect people. From product development through to customer support, the talented team here at Vevox work hard to ensure every touchpoint a user has with Vevox is second to none. Emerging from the pandemic as the #1 polling and Q&A platform globally is of a success of our team and the love our users have for the platform and how they interact with us".

Here's what just some reasons why users choose Vevox, switch from competitors to Vevox and review the platform highly:
Vevox does what you need for a better price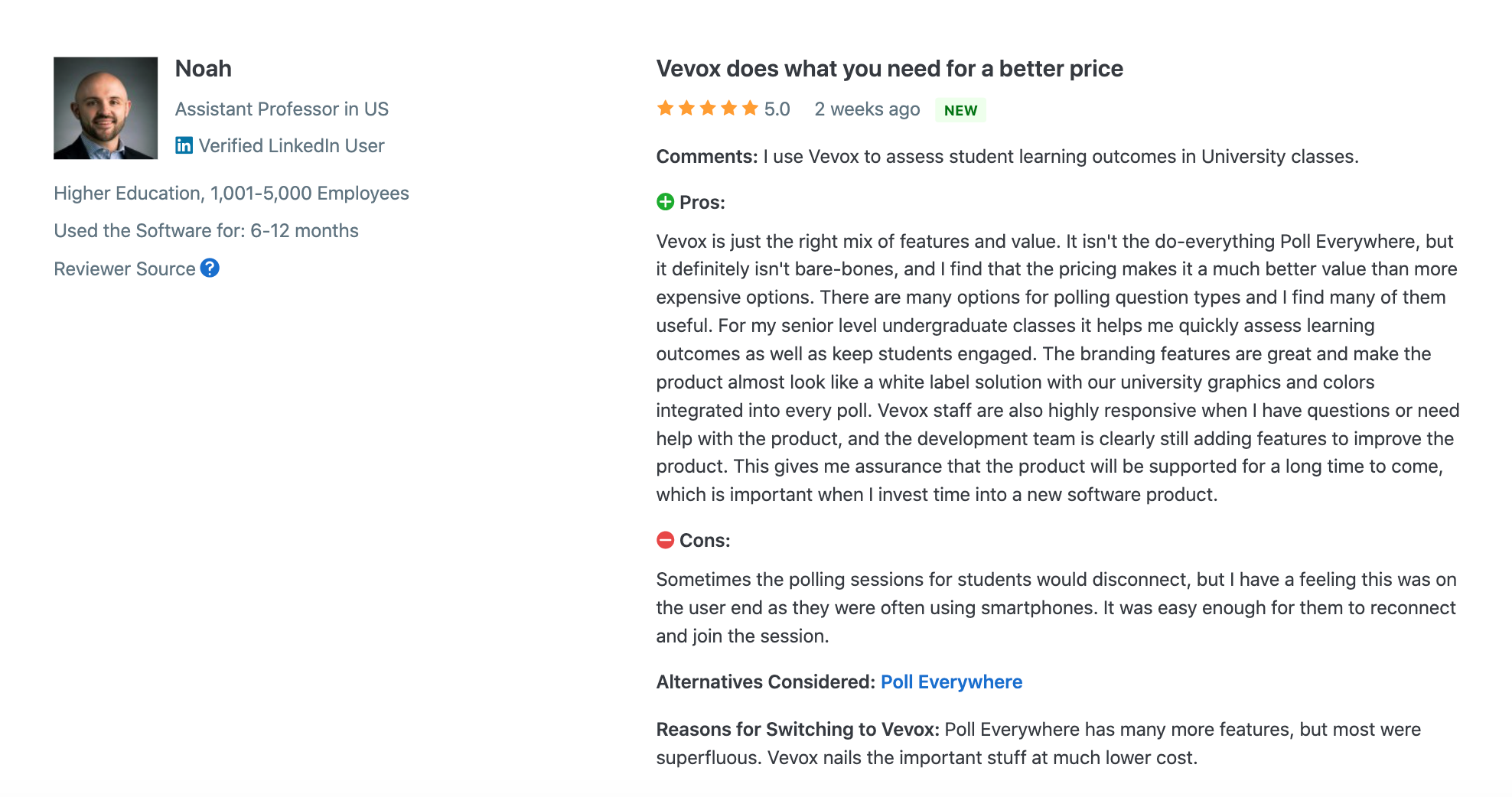 Excellent tool for receiving feedback and engagement of staff

Vevox is really here to stay

Why is Vevox rated the #1 polling and Q&A Platform?
Vevox is rated 'Excellent' on multiple review platforms including G2, Capterra, Software Advice and Trustpilot) with over 1500+ five star customer reviews. You can learn more about the review scores through our comparison page.
Voted the best polling and Q&A platform for ease of use
Voted the best for customer service and overall experience
Voted the best rated for enterprise businesses and Universities
Voted the best platform for features and integrations
Disclaimer:
All review badges including leader badges are a trademark and service mark of Gartner or G2, Inc. and/or its affiliates and is used herein with permission. All rights reserved. Being a leader constitutes the subjective opinions of individual end-user reviews, ratings, and data applied against a documented methodology; they neither represent the views of nor constitute an endorsement by the review platforms themselves.