Classroom response systems, otherwise known as student response systems, audience response systems, electronic voting systems or personal response systems have become an integral tool to many lecturers and higher education establishments.
With nearly all Russel Group universities using Vevox (an SRS) and global universities utilising and embracing tech like this to increase their student success and engagement, it's got us thinking... what are the initial reasons why educators are looking to use an SRS in their lectures?
Through conversations with education customers, digital learning experts and our own research we've established that there are 3 main reasons why educators simply can't afford not to try an SRS in their classes. If you're wanting to see some statistics that prove the positive impact that student response systems can have on students then read our article here.
1. Collaboration
Educators often want students to interpret topics or ideologies in their own way to invoke intellectual debate and develop critical thinking. This popular quote by Clay P. Bedford sums this up well "you can teach a student a lesson for a day; but if you can teach him or her to learn by creating curiosity, they will continue the learning process as long as they live."
A main reason (as cited in many education reports such as the 'What Works HE reports') for students dropping out of University is because they feel isolated and are not engaged in their chosen course. Classroom response systems can play an integral part to making students feel comfortable in lectures by reassuring them of their own progress and encouraging all students to network with their peers through digital Q&A and discussion on their own devices.

A common scenario that an SRS is used for is icebreakers. Icebreaker polls or quiz-style voting can put your class at ease and it forms a greater sense of togetherness in a class, not just between students but also with the lecturer as well. Mick Wood, Learning Technologist for UCLan refers to this point by saying: "We have a responsibility to these students to help them to succeed and SRS tools can play a key part. They can be used during the initial welcome week, maybe to have a quiz or to reassure students that they are doing OK and, if not, as a sign-post to encourage them to get help and advice, they can be used as a revision tool and for many other uses".
2. Student engagement
Maintaining a student's attention can be a challenge, especially if you're facilitating a lecture to over a hundred of them! It's crucial that you focus on making your students 'active learners and participants' instead of 'passive attendees'. The Learning Pyramid Model (Jerome S Brumer - Process of Learning) demonstrates how students remember things better when they are actively participating in discussions and when they take action in classes, see our infographic for more statistics on the importance of student participation.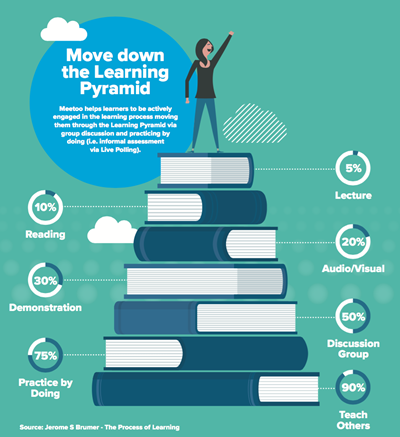 Audience Q&A is a feature that some SRS tools offer like Vevox and is effective for increasing student engagement and allowing students to have a voice. Students can send messages in anonymously through this digital Q&A channel which removes the fear of embarrasement and judgement when being identified or talking out loud in classes. This has shown to be very powerful in large lectures as proven by the University of Chester increasing engagement from "20% to 100% by using this feature in classes of 250 students".
The combination of live polling for quiz questions and testing students alongside a Q&A discussion channel for students to comment through is a great way for maintaining engagement, breaking up lecture content and encouraging students to participate.
3. Student feedback
Understanding your students and adapting your lectures to their needs is vital for student success. If you're wanting your students to have an input on the direction of your lecture content and class discussions, then live polling is the perfect tool for this because of the flawless nature to display instant, live results to an audience. No hassle, no waiting and everyone can have their say. There are two main benefits when collecting feedback with an SRS that can be very impactful and powerful...
Understanding student learning progress: "What topic would you like to focus on?" or "What topic needs more clarification?" are prime examples of how live polling can be used in classes to allow students to vote on subject areas they feel needs more attention. Live polling and mutiple choice quiz questions also allow you to gauge knowledge retention and to see what points might have caused confusion. By clarifying and covering these 'weaker' topics again your students will feel more confident when it gets closer to exams and will retain the information more readily.
Improving the learning experience: Getting honest, uninhibited feedback from your students is best when you offer anonymity. What we've seen with customers using Vevox, is that anonymous live polling and surveys is more effective to collect valuable, reliable feedback and shows a higher participation rate. This means that you have meaningful insightful data to base any decisions or actions on to improve your class content or to know what is working already.
In conclusion... we've found that if student response systems are used effectively to heighten the learning experience it can boost student engagement levels massively and benefit students in many ways. If you want to find out the difference a student response system can make to your University, read our guide on "5 Universities that are making their classes unmissable".