Mentimeter has become one of many useful tools within the education space for making classes more engaging and interactive. Mentimeter has become well-known as a presentation tool for lecturers wanting to turn topics into engaging quiz polls and to share quiz poll templates with ease.

The growing demand to make hybrid classes and meetings more interactive has meant that more audience response systems have emerged into the market. There are now plenty of options for lecturers and meeting presenters when it comes to choosing a polling tool or an engagement platform that offers a wide variety of audience engagement features such as a different polling types, Q&A moderation and live quizzing. The competitive market has meant that there are also different levels of plans that are competitive on what features or functionality you get for your money. For instance, Mentimeter has a very restrictive free plan (currently only two questions slides allowed) where other competitors offer very generous free plans to either utilise longer term or to have a proper trial run with.

Despite the plethora of options, there are a few strong contenders that can offer a similar if not a much better customer experience for those that are looking for specific features or requirements that Mentimeter doesn't offer. Without further ado, let's take a look at four Mentimeter alternatives that users are choosing and why they might be a better option for you.


1.

Vevox

- #1 rated live polling and Q&A platform
Albeit, this is a bit biased by having Vevox in this list... ultimately Vevox is the number one ranked polling and Q&A platform. Vevox is similar to Mentimeter in concept through it's ability to present through a screen and to run live polls, Q&A and more. However, the way that the platforms work and can be run work in two different ways. If you're looking for a reliable and easy to use platform for running a professional Q&A or to pose live polls to an audience, then Vevox is a perfect choice as it's reviewed as the #1 platform for ease of use.

Mentimeter is a good option for quizzing with lots of pre-made templates but there are some strong alternatives when it also comes to other scenarios too such as running professional Q&As, departmental meetings, large classes or townhalls. When comparing Vevox to Mentimeter on the sites of Capterra, Vevox comes out on top for all of the categories of ease of use, value for money, features and customer service and overall rating scores. The customer service and value for money ratings being ahead by some margin. See the table comparison below taken from Capterra.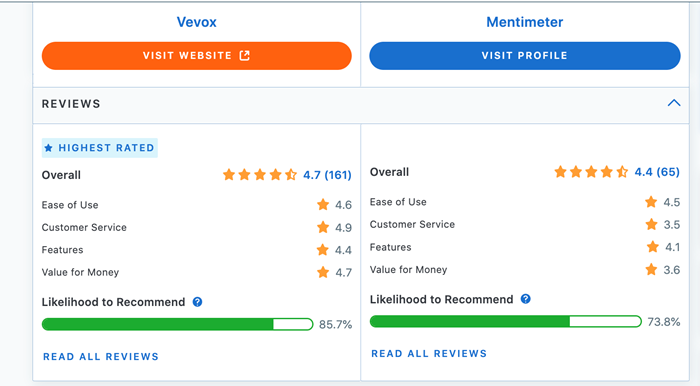 When looking at the comparison of reviews on G2, users stated that Vevox is "easier to use, set up, and do business with overall and meets the needs of their business better". Additionally, users ranked Vevox higher through both qualitative and quantitative feedback for better customer support, product ease and direction and overall experience. See the table comparison taken from G2 below by clicking the image.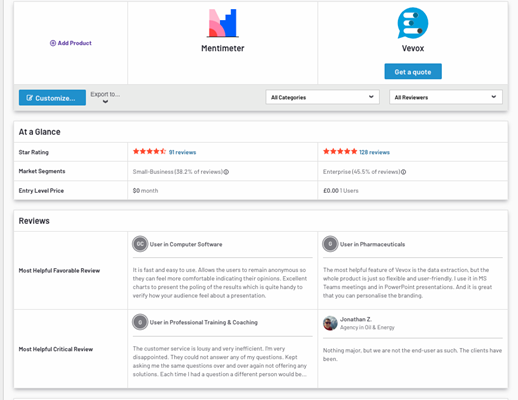 Vevox has over 1500+ verified user reviews on Trustpilot, G2 and Capterra with an average rating of 4.8 out of 5 across the three review platforms. If you are looking for a trusted and solid provider who will partner with you to help you succeed in your goals then Vevox is a wise choice. Vevox works with other well-known organisations such as BP, BBC, University of Oxford for helping them to increase employee and student engagement.

Why users are rating Vevox as #1?
Best for ease of use and slicket product experience
Best overall experience from audience engagement providers
Best support provided
Best platform for seamless integrations & features
2. Aha Slides - A simplistic presentation tool
Aha Slides is a fairly recent audience engagement platform that has come into the market in the last couple of years as opposed to other options such as Mentimeter that have been around for much longer. Aha Slides is similar to Mentimeter as it markets itself as presentation tool that can offer engagement through gamification features such as quizzes, competitive games and polls. Aha Slides seems to have more of a stronger appeal to education users rather business users, who want to have an alternative presentation tool to engage students.

Many reviews say that it's an easy to use tool but because it's a fairly new company, the platform is quite limited and lacks the developed features such as reporting, templates, complete integrations and different SLA options (support level agreements). If you are looking to simply have a quick and easy poll tool for a class or meeting then Aha Slides might be a relatively cheap and simple alternative. There is a free plan but it's very limited at 7 participants with limited features as well, so it can only be used in a small seminar or as a test. If you are looking for a long-term, more advanced solution then other Mentimeter alternatives are probably a better choice here, but as a simple polling tool, this might just do the job for you.
3. Quizizz - A complete quizzing tool
Quizizz is a platform that can rival Mentimeter for its quizzing functionality. It's in their name! Many compare Quizzizz to Kahoot! due to the similar focus on quizzing within education, but it can be an effective tool for quiz type polls. Reviewers on software comparison sites have stated that Quizizz is an easier tool to create quizzes and for assessment style learning. Reviewers on the site of Capterra and G2 have favoured Quizizz for features, product use and support but Mentimeter does offer different functionalities such as Q&A and surveys. Quizizz does offer asynchronous learning through self-paced quizzing and take part in different learning activities. If you're looking for a more complete all round assessment type tool for students, then Quizizz could be a good option to look into.


4. Kahoot! - Endless gamification features
Mentimeter does have a strong emphasis of their quizzing functionality with usable quizzing templates but Kahoot! is a very strong like for like comparison when it comes to quizzing for education purposes. Kahoot! like Mentimeter offers an even more bigger collection of resources including ready to use quizzes. Kahoot! has become well-known within schools for teachers running interactive and fun quizzes. Albeit Kahoot! product is mainly targeted at primary and secondary schools due to its product design, branding, and uptake.

When we compare the two solutions, independent users have shown that Kahoot! is an easier tool to use for both the admin and end user but Mentimeter should be compared to more professional quizzing tools if you are working for a corporation or university. Kahoot! has been determined by reviewers to have better feature updates compared to Mentimeter, but due to the nature of the business setup at Kahoot!, the support is lacking compared to more professional outfits out there. If you're looking for a fun quiz tool that offers even more gamification features or quizzing functionality, then Kahoot! might be a good option for you.
Try the free plans and ask the right questions

Choosing technology can be time-consuming and often overwhelming. But hopefully this list has inspired you to focus on what is important for your requirements for selecting an audience engagement platform. Ensure you select a few of your main contenders, test out their free trial versions and ask all of the right questions that you need to evaluate what tool suits your organisations goals.

Take a look at software comparison sites of G2 and Capterra for some further research of the best top polling and Q&A tools out there today.

Why not try #1 rated live polling and Q&A tool out there for FREE? Sign up to Vevox for free here.