The Vevox Free Business Account allows you to include interactive Q&A, live polling and audience generated words clouds in your meetings instantly. From a set up perspective, it's super simple. Find out all you need to know on how to get your hands on a free account, how to use it and what the license allows in this article here.
Ready to make your first meetings interactive? Then read on for our top 5 tips for getting the most out of a FREE Vevox account…
1. Don't put it off
Is there a meeting you would like to improve? Perhaps one where:
Q&A has been short on time or audience contributions.
You suspect people feel fearful or embarrassed to contribute honestly in front of their colleagues or leadership team.
You would like to measure understanding or the value of the meeting itself?
It's usually just a bit boring!
Employee comms meetings like town halls, all hands meetings and conferences are some of the most common meeting types that Vevox helps and are very easy to implement it in.
Tip: Having a goal for what you would like to improve or learn from a meeting will help you decide which feature(s) to try first.
2. Start simple
If maximum reward for minimum effort sounds good, then the Q&A board is the feature for you! For an engaging Q&A session with no awkward silences, simply ask your audience to contribute their questions at any point through the Vevox app on their phone and devices and to 'Like' any others they would like to see answered.

By default Q&A is up and running, clicking on 'Present' shows joining instructions as well as the incoming questions. It even sorts them to the show the most popular at the top. Not enough time to answer them all? No problem, they're all stored for you to answer through another communication channels such as a newsletter or in a future meeting.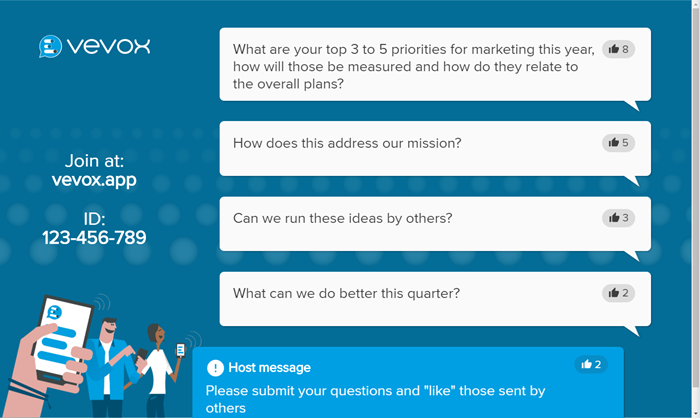 Tip: For the 'pro' look, go to 'theme customization' in the present view menu to add your own logo and colour scheme in just a few clicks.
3. Break the ice with a cloud!
Word clouds are a huge crowd pleaser and make perfect meeting ice breakers. They also provide you with an impressive graphic to use in post meeting reporting or for social sharing. It is one of Vevox's most popular features and it's making meetings more inclusive, engaging and it's very simple to set up.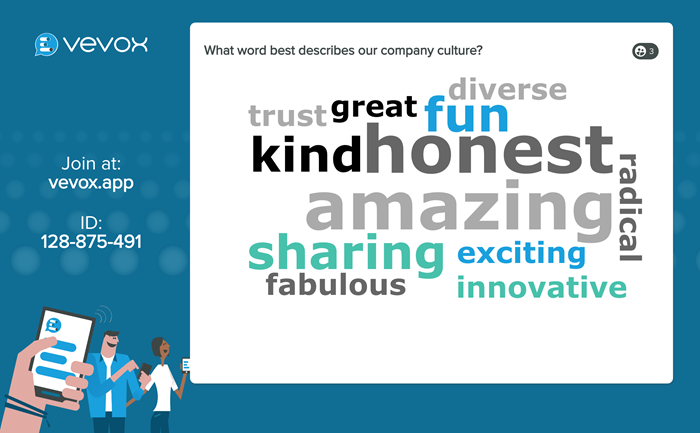 Tip: Make the welcome screen to your meeting a 'live' updating word cloud. As attendees arrive, they join and contribute to it, meaning they are engaged before the meeting even starts.
4. Live polls
Check knowledge, understanding or opinion by running live polls. The multichoice poll format allows you to pose a question to the audience and with a list of possible responses to choose from. The questions and responses are displayed back to their devices, so no need to see another screen. Fantastic for engaging equally with employees attending in person or remotely. Read more here.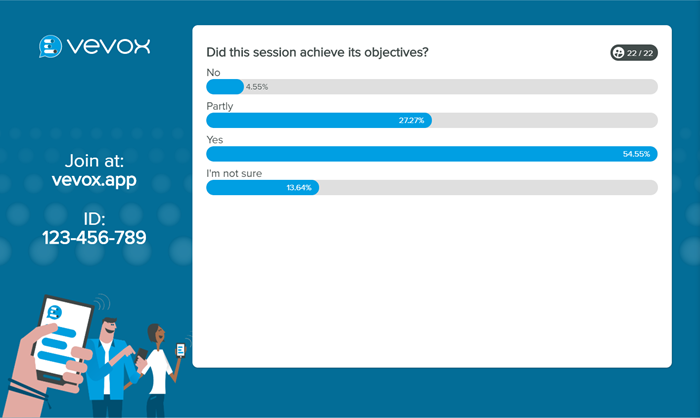 Tip: Not sure what to ask or how to word your questions? Vevox includes a bank of premade questions to import and use, or adapt for your needs.
5. Measure engagement
Click on the data tab in your account dashboard for an overview of engagement in your meeting session and images for the polls and data you have collected.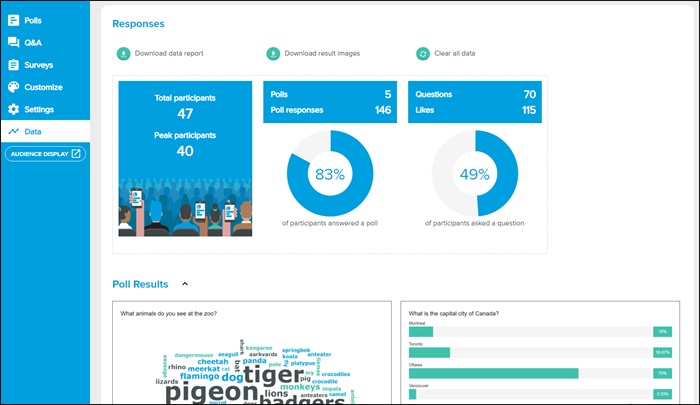 Tip: Ask the same question(s) in regular meetings to help benchmark and compare responses. Fantastic for a regular 'temperature check' of the business, department or team.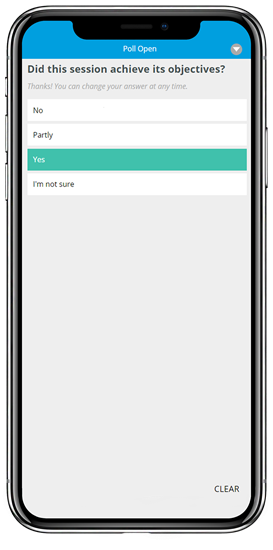 Not sure where to start or got a technical question? The Vevox customer Success team are HERE to help. Our friendly team's second to none support is one of the things we're best known for… Read the reviews.
Further reading:
10 reasons you NEED a polling app in your employee comms meetings…
Top ten reasons customers LOVE Vevox for Live Polling and Q&A…