In our latest product update, due for release on 22nd October, we're bringing you some treats (well, it is nearly Halloween) as we unveil new functionality in our PowerPoint integration and some improvements to the dashboard. So, what's new...?
Easy as 1…2…3 & ABC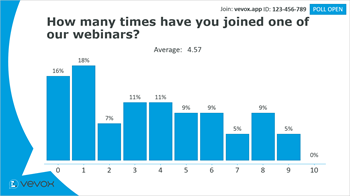 Users of the Vevox PowerPoint integration will be pleased to know that in this latest update we have some enhancements for you. Earlier this year we launched our numeric response question type in the Vevox Dashboard and we are now excited to have brought this question type functionality into our PowerPoint add in.
We know many of you are huge PowerPoint fans and based on your feedback we have also introduced the ability to ask open text questions with a PowerPoint polling slide.
Access and adoption
Security is one of our top priorities. In June we added the ability for users to log in to their Vevox account with Single Sign On (SSO) and now, if you access Vevox via SSO, connecting to your Vevox session/Dashboard with PowerPoint is simple and fast with the new authentication code feature.
A PowerPoint polling session is only successful if your participants join in. With this latest update, each time you create a new polling slide in your deck, the Vevox joining instructions and meeting ID are automatically populated on the slide, ensuring that your audience know how to engage.
Adding joining instructions and the meeting ID has always been high up on our PowerPoint 'Top Tips' list, and now we've automated this for you!
Push the button
The Vevox dashboard is your control hub but we know that many users like to spice up their slide decks with PowerPoint polling. To make accessing the PowerPoint add in even easier, we've now added a PowerPoint button inside the dashboard which takes you to a menu which allows you to learn more about how our PowerPoint add-in works, download the add-in or generate an authentication code to connect your dashboard to your PowerPoint deck.

Your feedback
Our new look dashboard that debuted in June has proven to be a hit, we might be biased but we love it and we're glad you do too! From your feedback one small but necessary tweak we've made is to make the action of creating a meeting clear, beyond any doubt…so now the 'Create Meeting' button sits proudly, ready and waiting for you to press it.
We've also received requests for the ability to you change your Vevox login password. We've now added this option in your profile menu.
Enterprise and institutions roll outs
Our focus on providing the access, functionality and assurances required for Vevox to be the choice of those customer wishing to offer live polling and Q&A throughout their institution or business continues. This month we also announced our partnership and integration with Canvas, a learning management system (LMS) used by universities.
As ever, if you have any questions, don't hesitate to get in touch with us on hello@vevox.com