Whether a team meeting, company 'Town Hall' or an employee conference, they all share the same opportunity to connect colleagues. Attendees will be joining from potentially a wide range of locations and situations. Whatever their method of attendance, all attendees deserve, and will expect an equal voice and equally fulfilling experience. The good news is… there's loads of tools and methods out there designed to enable effective engagement in hybrid meetings.

Here's 10 of the best…

1. Hybrid Ready Meeting Rooms
An AV set up and software for your meeting room designed to ensure those attending online are equally considered as much as those attending in person. A good example of this evolution is Microsoft Teams rooms. They are of course just one example, there are many platforms and businesses out there ready to help set you up. The conference phone in the middle of the room is no longer going to cut it!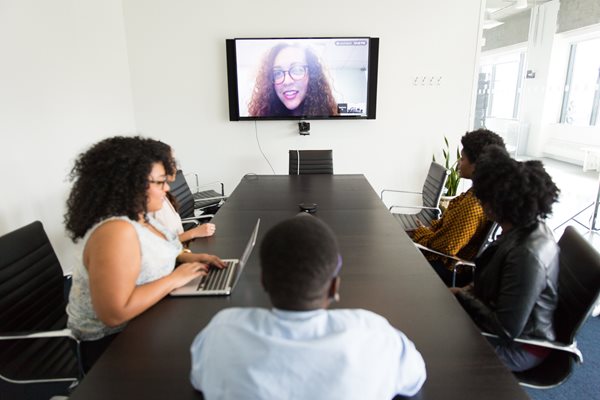 Photo by Christina @ wocintechchat.com on Unsplash

2. Anonymous Q&A
Giving your employees a voice is vital. Hybrid meetings are an opportunity for questions to be asked and addressed 'in the moment'. They're also a fantastic opportunity to remove the psychological barriers that stop people asking them - Primarily fear of judgement from peers or bosses, or of speaking in public. A Q&A app like Vevox allows questions to be asked anonymously, levelling the playing field for all.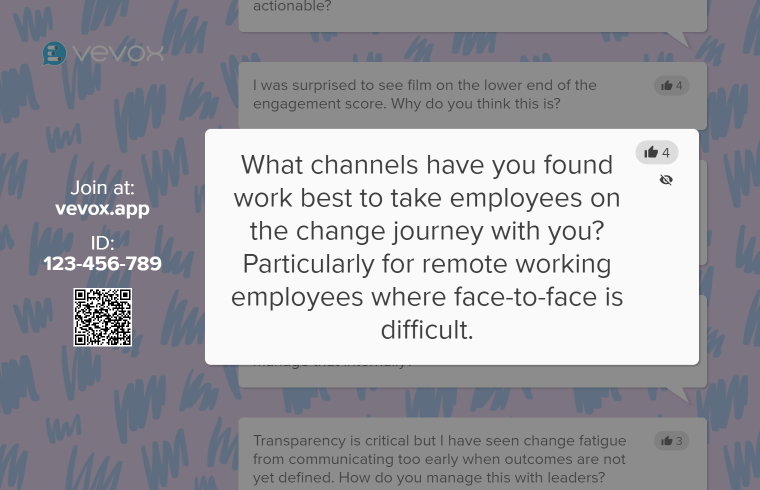 Short on time? Audience members 'Liking' other's questions to vote them to the top of the list ensures presenters can address the most important ones in the time available. Moderation features allow presenters to remain in control of what is shown and shared with participants.

3. Live Polling & Word Clouds
Pre Covid, conference organisers were still handing out audience response 'Clickers' or inviting audience member to answer polls on their phones to ensure engagement. Live polling apps/platforms are perfect for hybrid meetings and offer a simple and effective way to get feedback, measure understanding or in the case of word clouds, measure sentiment and promote collaboration.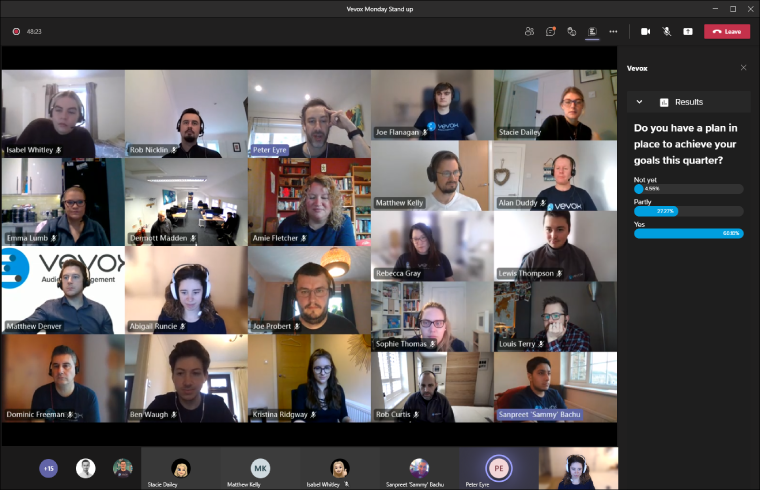 Platforms like Vevox are particularly well suited for hybrid meetings given their flexibility to be used alongside any virtual meeting platform.

4. Microsoft PowerPoint
PowerPoint remains the number one presentation platform out there. It's not only a fantastic tool to share content during hybrid meetings and provide a focus but data, video and live polls can be embedded within it to avoid having to jump between content sources in front of a live audience.

5. Virtual Meeting Platforms
We are ALL now well versed in online meeting platforms, the key for hybrid meeting provision is choosing one that is flexible enough to allow it to work as well for an individual at their desk as it does for in-person groups in a meeting room.

The polling and Q&A app can be embedded or simply work alongside, as long as it allows those attending in person to contribute individually, without the need to log into the full video and audio feed. Microsoft Teams, Zoom, Adobe Connect, Bluejeans, Webex, Google Meet and GotoWebinar are all common hybrid meeting platforms.

A good example of the polling app being fully integrated AND being available separately working particularly well for hybrid meetings is with Microsoft Teams. Individuals using Teams on their laptop can simply click the Vevox icon to respond to live polls and ask questions, whereas those watching on a big screen in the meeting room an access Vevox independently by following the instructions on the main screen to join at Vevox.app on their mobile device then enter the meeting session ID.

6. Gamification
It's human nature to like to compete. Competition keeps us focussed and provides a stake in proceedings. Applying scores or rewards somewhere within the fabric of your meeting or event can be hugely beneficial in holding attention, creating competition, and simply generating discussion.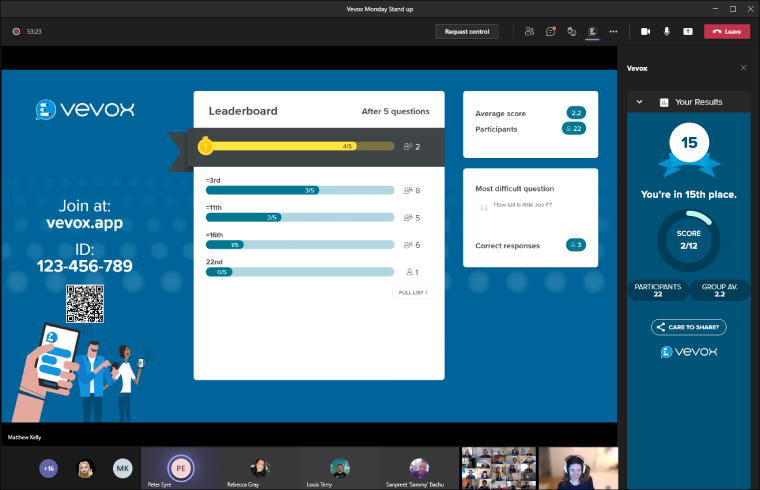 Attribute scores to some of your live polling questions related to your content and show a scoreboard during and at the end of the meeting to hold engagement. This works well even with anonymity - personalised scores and placings are displayed back to each participant.

7. Physical Disruption
Use the tools available to you, and the differences between audience locations to bring people together. A simple method is to ask everyone to take a break mid meeting, go outside and take a photo of where they are and post it on the meeting platform chat. Simple, interesting, and effective. Another impromptu activity is the scavenger hunt or drawing challenge… First one to find or draw and certain object and show it on camera gets a prize/kudos…

8. Attendees' Phones
Hybrid meetings will be attended by remote attendees via a laptop/PC and viewed via a shared screen for those attending in person. The attendees' smart phone is an excellent tool to enable individual interaction, particularly for those there in person. Whether for live polling, receiving their individual quiz scores (see tool 6) or to capture a picture to share with the group (see tool 7).

9. Pulse Surveys
Get assistance from your employees in setting a relevant agenda for the meeting. What do they want to learn from or get out of the meeting? Posting a couple of survey questions for anonymous feedback prior to the meeting means organisers and attendees alike are entering a meeting they are already invested in. You might use your company intranet or comms channel for this, if you are using a polling app, use the survey feature and post the link in the relevant channel.

10. Video Capture
Recording a meeting used to be impractical and feel imposing… its now the norm and as simple as clicking 'record.' You then have a record of video, audio, and slides all captured and ready to refer back to or distribute the moment the meeting finishes. Post it on your intranet for those that could not attend (and see why they should want to attend 'live' next time) and use it as a record and reference.
Engaging hybrid meetings are a brilliant opportunity to inspire, engage and support your employees in a post covid world. I hope the tools mentioned are useful, and if you would like to learn more or to use Vevox simply request a free 30 minute demo/training session or  Sign up for a free Vevox account .

Further reading:
9 reasons you need a polling app in your hybrid meetings
Vevox Polling and Q&A for Microsoft Teams and PowerPoint users

How BCH Police make everyone comfortable asking questions