Microsoft Teams has announced Vevox as their App of the week!


The Vevox in Microsoft Teams integration makes it easier than ever to harness the power of your audience and make those voices count. Watch our short one minute video below to see how easy it is to use and subscribe to our YouTube channel for more Microsoft Teams audience engagement tips. See how to run live word cloud polls in MS Teams like in the video below.



We all know what it's like to be bursting with great ideas but not have the platform to share them. We all want to be heard, appreciated, and valued, wherever we are located, whether we are in an office or classroom, or attending virtually. Vevox's ethos is that ALL opinions and questions are valid, that inclusion is essential, and that a collaborative effort generates the best results. And it all starts with Vevox on Microsoft Teams. Don't just take our word for it... Look at our user feedback!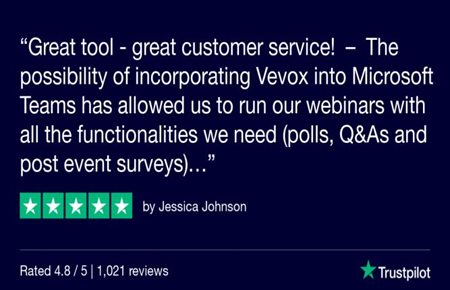 Find out more about the power of Microsoft Teams and Vevox combined.

Check out our dedicated Microsoft Teams integration page.

Read our top 10 tips for running engaging hybrid meetings.

Subscribe to our YouTube channel for useful videos to maximise your Vevox account.

Don't just hear those voices, listen. Why not give Vevox a go and sign up for your free account, or book a no obligation free 30 minute demo/training session and transform how you engage with your audience.