As we enter into the summer months here at Vevox and begin to look forward to a well deserved break, there's no letting up for our team who are putting the final touches onto a hot new release of features, with a new product update coming on the 7th June!

As always, a big thank you to YOU, our users for consistently sharing your feedback, ideas and reviews with us. This allows our team to tailor our updates and features releases to exactly what users have requested.

Of course, this release comes after our previous product update in February, which brought in various improvements to Q&A and some important accessibility features.

We've received some fantastic feedback to these additions since the release back in February, which is lovely for us to see. We always love to hear success stories from our customers!

So, what's included in this release? Here's the essential information you need to know:
Release date: 7th June
Headline features: Further Q&A improvements & changes to account management
Who's it for? All users, however, Q&A announcements and the update to Q&A replies will be exclusive to those on certain plans
We'll now run through the details of all the new updates and features that'll be dropping into your Vevox dashboards – and will outline what these updates will mean for your use of Vevox - including some added comment from Vevox Product Manager, Matt Kelly.
Q&A announcements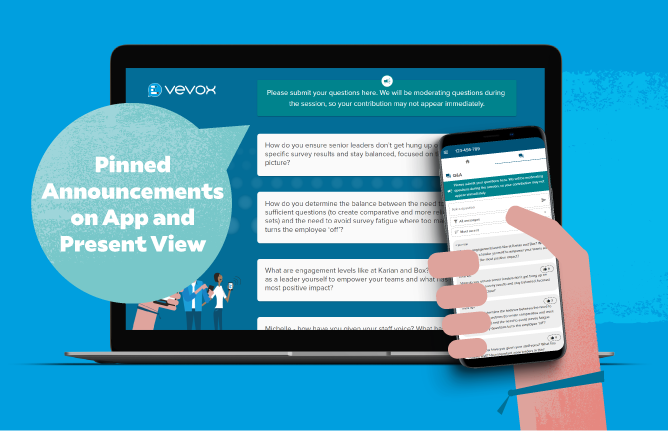 The addition of Q&A announcements will allow for more flexibility and customisation for Q&A management, allowing users to now create their own custom announcements that can be published and pinned at the top of the Q&A.

Once created, the custom announcements will be saved and can be used again and again.
Product Manager Matt Kelly explains:
We have listened to your feedback and are pleased to bring through some changes and additions to messages sent by session hosts to the Q&A board. This comes in the form of our Q&A announcements feature.  

You are now able to alter the text you want to appear on an empty Q&A board to personalise your instructions to your audience, fix announcements or topic headers to the top of the Q&A board and prepare multiple announcements in advance so you can publish them quickly and easily at any point in the session.

We know reporting on things after the session is important to so all announcements published throughout the session also appear, time stamped, in the data report so you can easily see which part of the session peoples questions were sent in or what topic they were addressing.
Please note: This is a feature that will be available exclusively to those on presenter plans and above.
Q&A replies in present view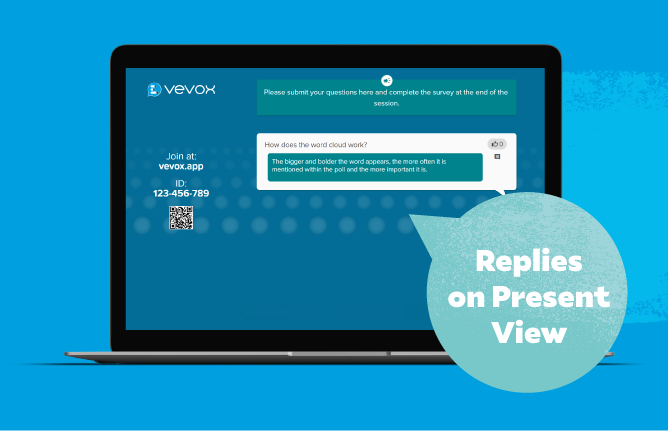 Q&A replies was a feature added into dashboards in our previous update in February, and has been incredibly well received by users. This new update will now bring the optional visibility of the Q&A replies into present view.

Product Manager Matt Kelly adds:
In our previous update we brought in the Q&A replies feature and this time round we have expanded upon that with some additions to visualising those replies in present view so you won't need to address a question twice if it has already been responded to by another co-host.
Please note: This is a feature that will be available exclusively to those on pro plans and above.
Co-hosts now NOT able to delete sessions

Only the host of a session will now be able to delete it.

Matt Kelly said:
One of the smaller additions we have brought in and also based on feedback people have sent in, we have tightened things up a little on what a co-host of a session is capable of.
 
Now only the owner of a session has the ability to delete sessions, so you can share your session safe in the knowledge that the people you share it with won't accidentally delete the content you have created.
Changing session owner

Users will now have the ability to change session owners – this is an update that'll help when an owner of a session no longer needs or has access – potentially if they've now left the company.

Matt Kelly explains:
For those of you in larger accounts with multiple users we have now also brought in the ability to change the owner of a session, perhaps someone has left you company but the Vevox sessions they were running were valuable, well now you can change the owner of sessions so that even if someone in your team does move on you can continue using the content they created whilst they were part of your team.
AI and what's coming next?

Like running engaging quizzes but don't like researching, writing and inputting fresh questions into the platform? Then you'll LOVE Vevox's new inbuilt AI Quiz question generator! See how this Chat GPT integration works, and get early access here.
The work doesn't end there, we are continuing to look into more and more exciting things throughout the summer.  Keeps your eyes and ears open for more news on how we are using AI to improve your Vevox experience and we'll be looking at even more features to make the lives of account managers in larger organisations easier.
Matt Kelly
More information and latest news

For further information about the new features and help with all things Vevox, visit our help site! What's more, make sure to stay up to date with the latest Vevox news by staying connected on our social accounts, and through subscribing to our monthly newsletter.

You can also subscribe to our YouTube channel where you'll find weekly videos!
Get in touch

The team here at Vevox are always open to suggestions and feedback! We love hearing what our customers have to say – you can contact us via either your Customer Success/Account Manager or through our website.