The summer has now drawn to a close here in the UK, and as we enter into the chillier, darker autumn months we've got some news to brighten your spirits – an exciting announcement of new features and improvements that are now LIVE in the Vevox dashboard!

The Vevox team worked hard getting the new features ready for this release, and as always we'd like to say another big thank you to YOU, our customers for consistently sharing feedback and suggestions – these don't go unnoticed and the feedback allows the Vevox team to tailor new updates to exactly what customers are requesting.

This release follows our most recent June product update, which saw the introduction of Q&A announcements and various positive changes to account management. We've received a brilliant response to the introduction of these features which we are so pleased to see. We absolutely love hearing all of the wonderful success stories our customers have using Vevox!

So, what's included in this release and what's the essential information that you need to know?
Release date: 24th September
Key features: Improvements to both session & user management
Who's it for? All users, however an update to re-using sessions will be exclusive to those on presenter, pro and enterprise accounts.
Session management

We've made some changes to the way you manage sessions in your Vevox dashboard, that will vastly streamline the process. Finding a session out of a long list was previously something that could take a while to do, however these improvements will now make this a simple, quick and easy task!
Improved search: Search for a session by session ID
Improved filter: Filter sessions into different groups, for example ' my sessions' or 'shared with me'
Improved labelling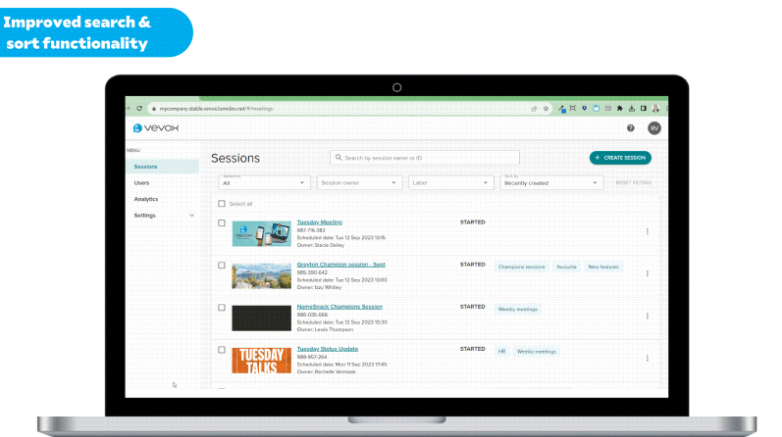 Product Manager Matt Kelly explains:
As people use Vevox more and more the number of sessions in accounts increases.
We are introducing a number of changes all geared around the easier management of sessions for an individual and for account administrators. Our focus has been around improving the searching, sorting, labelling and filtering of sessions to ultimately make finding the session you want quickly and easily.
User management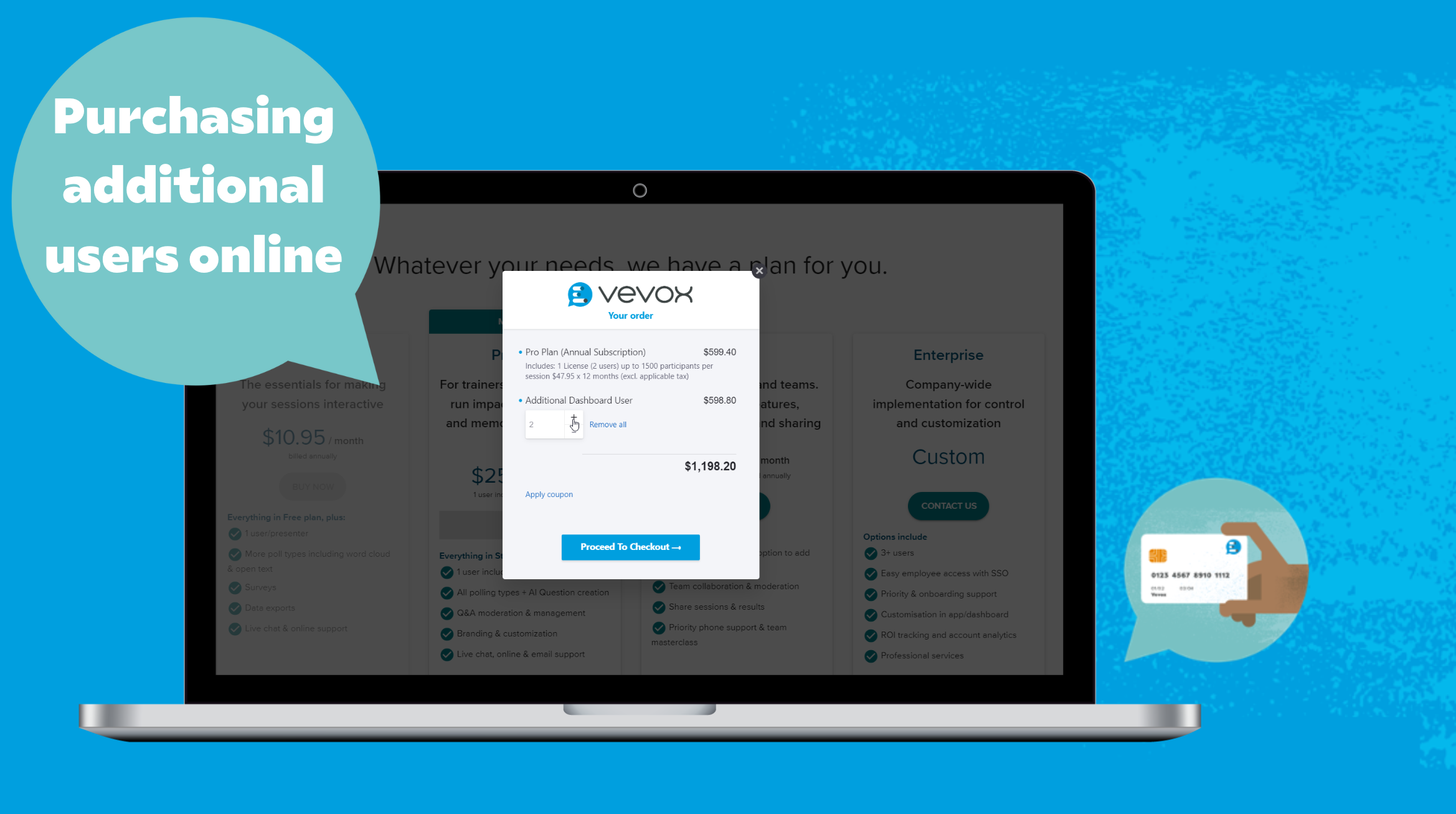 The changes that are to be made to user management will ultimately make it much easier to manage your users when you either need more, or when people leave or change roles. You'll now be able to purchase an additional user straight from the dashboard, and inviting & removing users will now be a much more simple task.

Product Manager Matt Kelly adds:
As with our improvements to session management we have done similar improvements to managing users.
We are putting more power into the hands of user managers by allowing you to do more yourselves without having to contact us at Vevox for help with something (but you are still more than welcome to do so).
This includes easier management of users and the ability to purchase extra users quickly and easily from your dashboard.
Reusing sessions

You will now be able to reuse your Vevox sessions again and again – without the need for duplication – meaning there will be no worry about losing old data, you will be able to archive data and restart the same session afresh.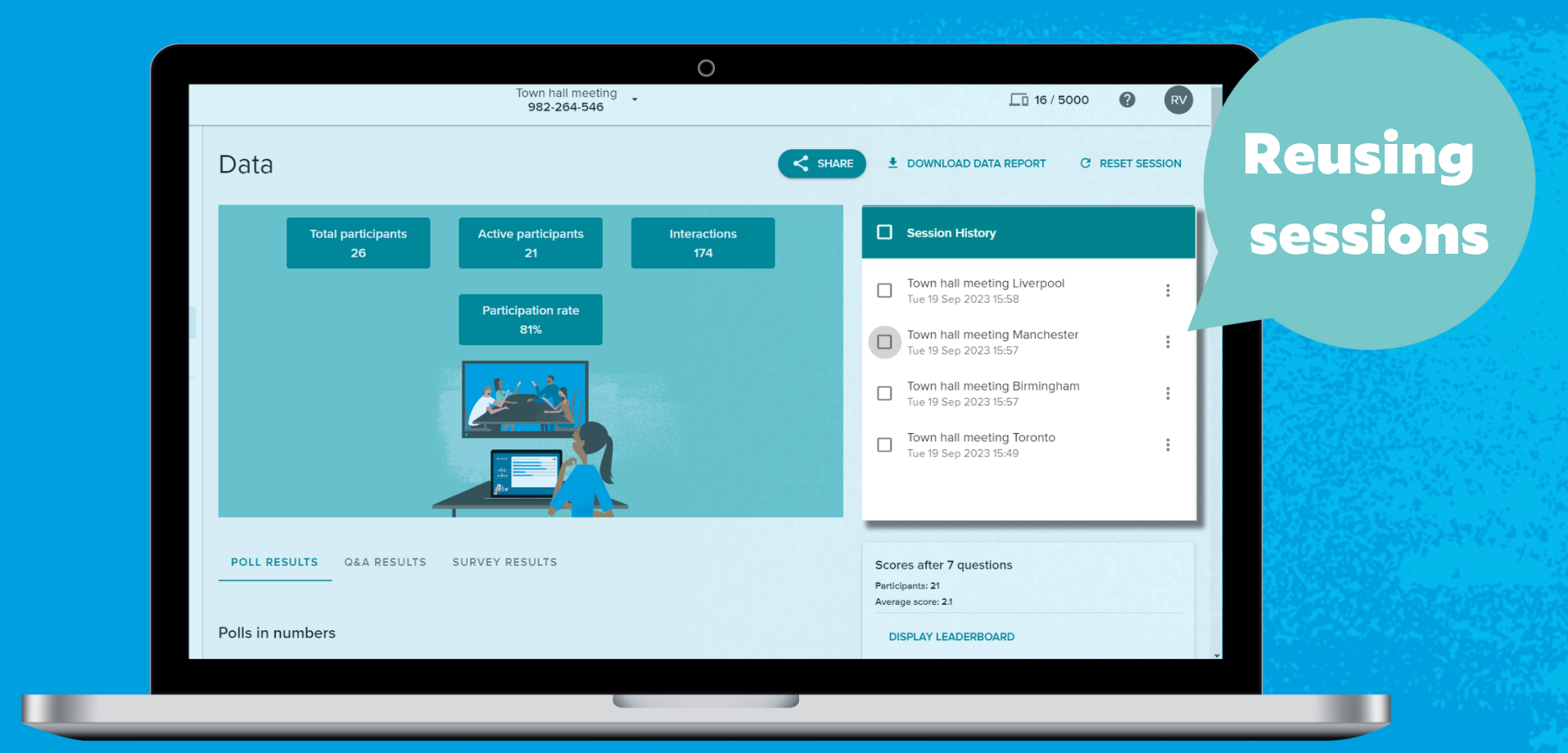 Product Manager Matt Kelly adds:
One thing we have found is that people love to reuse their Vevox sessions over and over again.
For a while we have had the ability to duplicate Vevox sessions to create multiple instances of the same content. Whilst this satisfies many people there are lots out there that would prefer to keep using the exact same session over and over. This has always been possible but now we have removed some of the concerns about doing so.
Our new session history feature will automatically backup any of your old data. Each time you reset your session to use it again your data is stored inside the session history and can be downloaded at any time in the future.
Please note: This is a feature that will be available exclusively to those on presenter, pro and enterprise plans.
More information and latest news

For further information about the new features, visit our help site! What's more, make sure to always stay up to date with the latest Vevox news by staying connected on our social accounts, and subscribing to our monthly newsletter.

Our AI Quiz, which has up until now been fully available to all Vevox users on any plan, has been greatly received and we're so grateful for all the positive feedback. From the 8th October, the AI Quiz will become a feature exclusively for those on a presenter, pro or enterprise license – with only a limited trial of the AI quiz available on free and starter plans.
Upcoming webinars

Next month, our Pedagogy Webinar Series is returning, and we'd love for you to join us for what are sure to be some super informative and engaging sessions - hear from top educators who will be outlining various ways they use Vevox within their teaching to enhance engagement and boost interactivity. You can find out more about the content of the sessions and how to register, here. If this sounds of interest to you, have a watch of one of our brilliant past pedagogy webinars below!


The second of our seasonal roundup webinars will also be running on the 12th October – join to find out all of the latest Vevox news, including details of new features, updates and also some handy tips and tricks to help you when using Vevox. Find out more and register here.
Get in touch

The Vevox team are always open to suggestions and feedback! We love hearing what our customers have to say – you can contact us via either your Customer Success/Account Manager or through our website.