Live polling and audience Q&A via an app is now commonplace for internal meetings, classes and conferences. Way before smartphones, a combination of 'clicker' devices and custom software was the only way to enable audience voting. Now things are MUCH simpler, and cheaper. Audiences respond with the device in their pocket (otherwise known as 'BYOD') and meeting organisers can manage polling and Q&A with the software already on their laptops i.e. a web browser or PowerPoint.
More than half of Vevox's clients choose to run their live voting through PowerPoint so it's something we have lent significant attention to over the years. As the reviews show the Vevox PowerPoint Polling add in is now considered a best in class product and commonly cited as the primary reason for customers choosing Vevox.
So… there's a few providers out there offering a PowerPoint Polling solution, 'what makes yours so special?' I hear you ask!
The following four points explain what sets Vevox's PowerPoint polling integration apart, however the most important piece of advice we can give is simply to 'try before you buy'. The approaches, and therefore user experiences of PowerPoint polling software vary hugely. You will be relying on this software, potentially under pressure so cannot afford to put your trust in a solution that you are not comfortable with.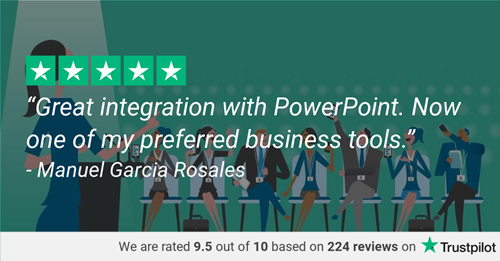 1. Simple & Seamless
Our vision was to create a product that was part of PowerPoint and therefore straightforward enough for anyone with a basic understanding of PowerPoint to be running Polls within minutes. We've achieved this by:
Offering the PowerPoint add-in free to install and use. No complications or license required.

Once the add-in is installed it is embedded within PowerPoint, appearing on the menu ribbon.
Running a poll is as simple as, well the same as advancing through a normal presentation. Simply press enter on the keyboard or next with a remote control. No overlaid web pages or links to third-party software requiring separate controls.
All formatting of fonts, colours and layout is achieved through standard PowerPoint formatting and editing tools.
Polling questions AND responses are stored within your PowerPoint slides, meaning no separate files and content can be shared with anyone with PowerPoint, whether they have the Vevox add in or not.
The above might sound obvious or basic but some PowerPoint polling software is hard work before you've even started. This is why trying them is essential, the marketing messages can be very different from the actual user experience.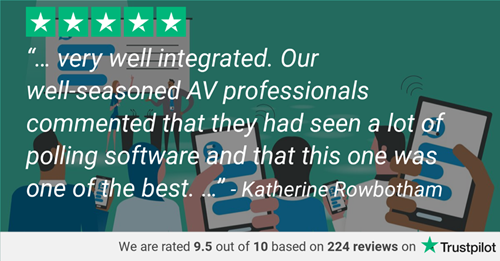 2. Fit for purpose feature set
We continue to work very closely with our customers to provide a feature set that delivers on their needs. It includes:
Live Polling options including multiple choice polls, single answer polls and star rating questions.

Text based polling option to create fantastic looking Word Clouds.

A 'vote counter' showing how many participants are connected and have submitted a response.

An automatic back up of all poll response data to your Vevox online account dashboard. Lose your presentation and your data is still stored and safe.

Display options for running polls including hiding poll results, showing percentages or real numbers and even funky countdown clocks and animated icons for correct answers.

Database comparisons. Run a question twice and compare the results instantly.
3. Time Savers
Being well established and truly integrated within PowerPoint means other convenient features and support are possible:
Instant 'Log in' instructions for your audience. Simply click on 'instruction slide' in the ribbon and not only do you have a ready-made instruction slide but it's auto- populated with your Vevox meeting ID.

A direct link to Vevox's online knowledge base containing support materials and video tutorials.

A direct link to your Vevox dashboard to manage Q&A, surveys or customise the participant app

Get creative… from animations to adding hyperlinks to create a 'choose your own adventure' presentation, the way Vevox integrates means the possibilities are endless.

Did a trial run or want to re-run a presentation? Simply select 'clear results' and you're ready to go again.

For convenience, many like to have the PowerPoint add-in ready to use on every laptop in their organisation. With Vevox, that's fine… a key difference between Vevox and other solutions is that a license subscription is only required to use it live with a large audience, all other functionality is license free. For enterprise installs we also have an MSI installer.

​4. Back up and peace of mind
The polling software you choose is important of course but only part of the solution. You're also choosing a business to work with.
Meeting and classes are generally scheduled events, i.e. the deadline is not flexible! Therefore, in the event you have a request, question or run into difficulties it's essential that two key support functions are available (and effective):
A comprehensive and easy to use support site. The Vevox knowledge base is easily navigable and packed with the written information and help guides you would expect. What Vevox have also invested heavily in and get great feedback for are our video resources, also available on our YouTube channel.

The ability to speak to a REAL person, who knows what they are talking about. Yes, a regularly updated support site should answer most queries but there maybe times you just want to speak to someone. Perhaps a meeting or class is looming, you'd like to explore an idea, or would just like to discuss the subscription options.
The Vevox Customer Success team's mission is to ensure our customers achieve their desired outcomes, every time. Contact us via phone, email or live chat with ANY question and we'd be delighted to help.
In conclusion… we, but more importantly our clients, believe that there is no better PowerPoint polling solution on the market today. The best way for us to stand by this claim and for you find the solution that suits your requirements is simply to recommend you try Vevox AND any other PowerPoint polling solutions you are considering before you buy.
Good luck and we hope to be working with you soon.
More PowerPoint polling tips and tricks…
Blog: 5 tricks to become a PowerPoint polling pro
Blog: The 6 mistakes you're making with your PowerPoint slides
VIDEO: Ten tips that will make you a PowerPoint Guru!