Let's face it, the end of 2020 and the start to 2021 probably isn't the experience any of us planned for at home, but at the virtual Vevox HQ, the product and development team have been carefully crafting an experience that we really hope you and your participants will enjoy.
Before we dive in, if you didn't already know, we have launched our Microsoft Teams integration, so if your organization or university uses MS Teams, check out our fully integrated Teams and Vevox experience.
Here's what you can expect from our next Vevox update, due on the 8th March 2021.
Updates to our web and native apps:
In our last product update of 2020 we let you know that the Vevox dashboard was now using updated technology, and now our web, iOS and Android apps are also benefitting. Our web app (found at vevox.app) can be used on any device with a mobile browser, but with so many more people now accessing the web app on desktop devices, our developers have made some updates to enhance the participant experience for desktop use. The native iOS and Android apps haven't been left out and these have had the same treatment to make sure the mobile experience is also optimized.
As well as upgrading the technology, we've also made some more obvious in-app improvements:

Sort by 'likes' - Sorting questions or comments by likes on the Q&A board has been available in Present view for a while now. Whilst this is really helpful for the presenter to see what's most popular, giving the participant the choice to see the view they prefer, most liked or most recent on their app, helps to improve their experience, especially in more lively sessions where comments and questions might be coming in at a faster pace. Having control of their own experience on their device also improves participant engagement as it helps them to feel part of the action.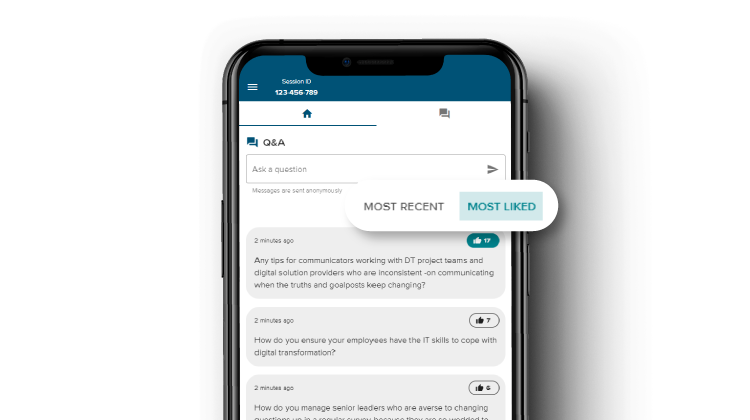 Word cloud results - Vevox users have been hopeful that this improvement would arrive, and here it is! Until now, the word cloud results could only be displayed to your participants when using Present view (and sharing this screen if your session is happening remotely), or on a PowerPoint slide if using PowerPoint polling. Now, the word cloud results will also be pushed to the participant app too, just like our other poll types.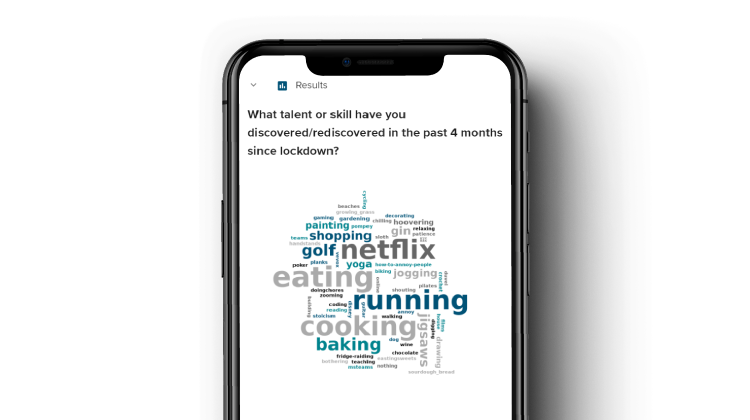 Improved survey flow - Vevox users tell us that surveys are a fantastic way to get feedback from employees or for asynchronous learning activities with students. With this update, participants completing a survey can see how many questions they have answered and continue to edit or change their answers until the organizer closes the survey, which then removes it from the app. The survey tab will no longer be visible in the participant app unless there is a live survey for them to complete. A Vevox survey is created using our polling question types and now, instead of submitting each answer to a survey question individually, participants have a more intuitive final submission button to send in all their responses once they have finished. It's so satisfying to hit that button!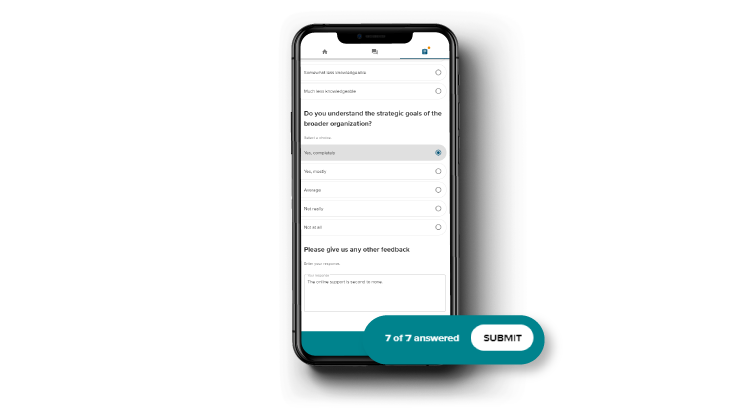 Security settings:
SAML based single sign on (SSO) - As you already know, security is a big deal for us and we're always working with our customers to understand their security requirements. Single sign on is a secure way for institutions and organizations to allow people wanting to use Vevox in their sessions, to log in to their Vevox dashboard securely. For our customers that have Enterprise and Institution plans with us, you can now ask us to turn on SAML SSO for your account, which means Vevox users can login and be authenticated with their organization's credentials, making access centralized, secure and easy.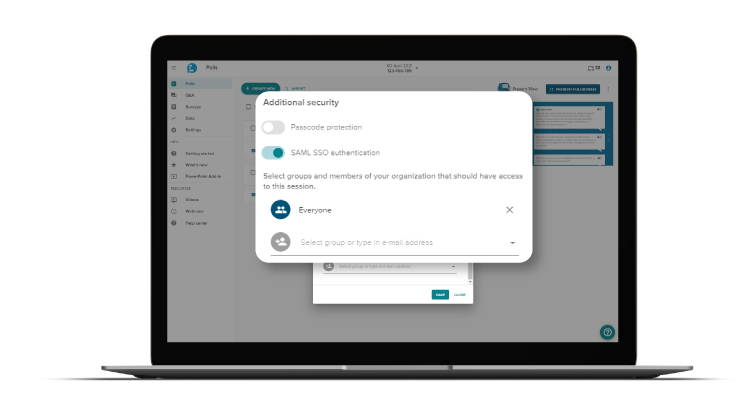 Identity settings - As usage of Vevox expands rapidly, we are also learning more from our customer stories about how people like to use Vevox. From police forces and local authorities to medical training and music lectures, we have expanded our range of participant identification options to include:
Anonymous mode (for sessions with or without passcode protection)
Identified (participants names are displayed)
Identified (participants names are not displayed but are captured)
Participant's choice – (Participants choose whether their name is displayed)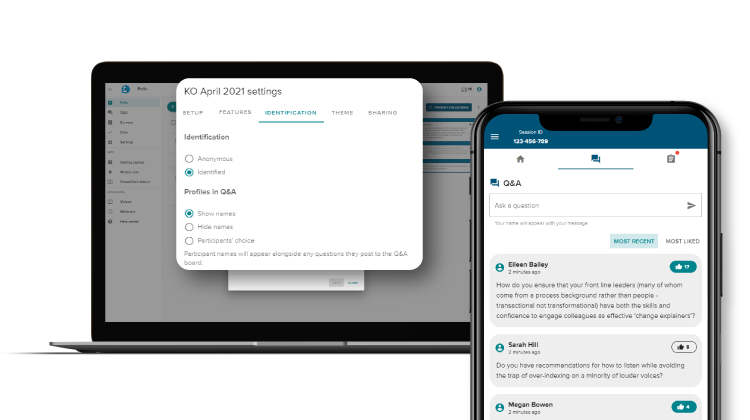 These options allow session organizers to decide what setting is most beneficial on a per session basis, which offers flexibility and security at all times, whatever your Vevox session is being used for.
These new features will be available from 8th March and as ever we will be running a webinar on 17th March at 2.30pm GMT – Register here to attend or receive the recording.