Loughborough University
Learn more about how Vevox has been used to boost engagement rates in classes & understand how it can be seamlessly integrated into online learning.
Loughborough's partnership with Vevox

Loughborough University educates over 18 thousand students a year, and as a University it boasts unrivalled sporting achievement, internationally acclaimed research and outstanding teaching.

With an institutional license to Vevox, all lecturers have the full feature set of Vevox at their disposal to use in any of their online, hybrid or in person classes.

One of the most useful tools that I have used in lectures, in particular within the last few years, is called Vevox.
Dr Laura Jenkins, PhD is a University Teacher in the School of Sport, Exercise and Health Sciences at Loughborough University and an experienced Vevox user. In recently published articles, she shared her experiences of the benefits that increased student engagement brings, and provides her guide for integrating live polling into online learning.



Discovering interactive teaching tools



Through her experience of teaching for 10 years, Laura has seen various changes to the way teaching occurs and as a result, has discovered various interactive teaching tools.

Laura shares with us why she uses Vevox as her preferred audience engagement tool, and outlines the main benefits that Vevox has in the classroom.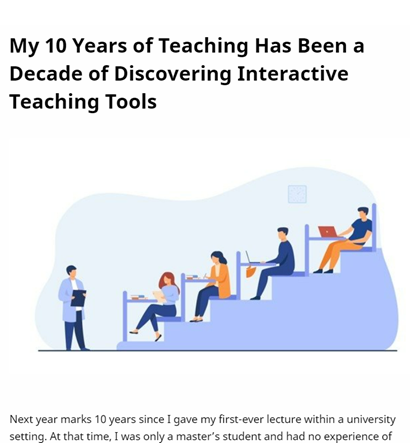 Read Laura's full article here.



Integrating Vevox into online learning



Laura shares a clear, comprehensive guide with detailed discussion as to how you should integrate Vevox Polling into online learning. This guide provides a background to the use of polling apps, a thorough description of best teaching practice and an evaluation of the use of Vevox Polling.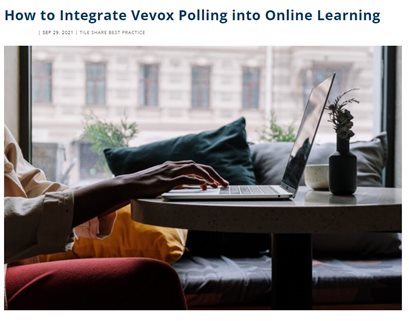 To learn more about Vevox Polling and how you can use it within your teaching, read Laura's full guide here.

The use of Vevox within PowerPoint is also discussed, and you can learn more about the Vevox PowerPoint add-in here.