The popularity of communication and collaboration platforms, such as Microsoft Teams, has been rapidly growing, even before the mandatory remote working around the world came into effect.

Microsoft Teams has become one of the main tools for schools and institutions to create collaborative classrooms, connect in professional learning communities and workplaces, communicate with school staff, coordinate research across institutions or more easily facilitate student life efforts like societies or extracurricular activities.
Integrating with Microsoft Teams to make the learning experience even more powerful and seamless
Vevox is an audience response system that is already supporting universities with student engagement and learning in virtual, hybrid or in-class formats. As educators and workplace managers are keen to maintain this engagement and interactive learning during these times, we've been asked by universities and organisations about how Vevox can work with the Microsoft Teams platform.

As such, if your university or organisation is using Microsoft Teams as your collaboration hub and to communicate with your students, anyone can now use the Vevox Teams App from within Microsoft Teams to further enhance the student learning experience. Learn how the University of Warwick is utilising Vevox with Microsoft Teams in this article by Robert O'Toole.
Enhance the interactive learning experience with the Vevox Teams App
The Vevox Teams integration increases engagement through anonymous Q&A that enables students or employees to give honest, uninhibited feedback or ideas. This feedback can be shared instantly giving you an accurate gauge of how everyone is feeling and what they are thinking, which is vitally important when you're lacking in being able to see body language and any noticeable live audience reactions. The Vevox Teams App also makes your teaching more dynamic by enabling you to moderate live interactive Q&A and to focus on the questions that are voted the most popular or by grouping questions together. Your participants will feel like their input truly does matter.

By utilising the Vevox Teams App, you can have all the benefits of Vevox but within your dedicated Teams channel, so your participants can have a seamless experience. You can add more fun with live polls and quizzes, increase student participation and capture live feedback for your own insights. This is a great way to also liven up your video calls and to really understand if your students are engaged with your class content and help to improve the overall learning experience.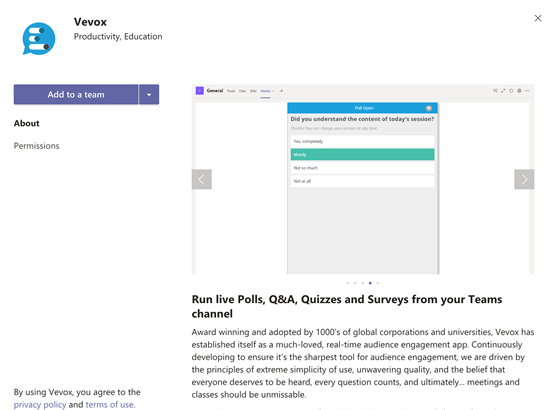 Getting Started with the Vevox Teams App
Simply add Vevox as a tab in your Teams Channel or Group Chats to allow your participants to submit questions, brainstorm ideas, vote in polls, increase learning from live quizzes and to answer surveys.

If you would like to know the steps on how to add the Vevox App to your 'Teams Channel' or 'Chat' for live polling, Q&A or quizzing, then please read the step-by-step guide on our help article here.