Please note: Prior to 21st March 2019, Vevox was formerly know as Meetoo.

In our previous blog "Falling out of love with your audience response system" we shared the background behind clickers and how the physical handsets, once sold in their millions around the world for student and audience engagement, are now fading away into the past as universities move to more modern and functional solutions.
Through conversations on public forums, at major events and with customers of these tools (including current and ex-clicker customers) it's clear that a turning point has been reached where the balance of debate weighs heavily in favour of the software-based system.
In this article, we share the 4 main reasons why polling software is now unrivalled compared to the old clicker based student response systems. We also reference some examples of the key drivers behind institutions switching from clickers to the highest independently-rated polling solution on the market that is Vevox.
1. Cost
One of the main reasons that customers are switching to an app solution is because clicker pricing models are outdated and often work out to be very expensive. Pricing can vary depending on the supplier but usually there are maintenance costs for clicker batteries and license fees per handset across a yearly contract. If your organisation has several thousand handsets this can be very costly! Also, because you often need to have enough clickers for the maximum number of participants and a few spares this could mean that you're paying for more than you're actually using.
Polling software solutions such as Vevox are much more cost-effective and have up-to-date pricing models that are simple and fair. With no hardware to support as students use their own devices, savings are significant. In addition, we always make sure that our pricing is fair as we base it on the usage of the system and we discuss usage reports with our customers to ensure they are happy with the estimated usage/quoted price. Feel free to contact us if you are interested in learning more about our fair pricing or making the transition from clickers to a software based solution.You can try polling for free with Vevox here.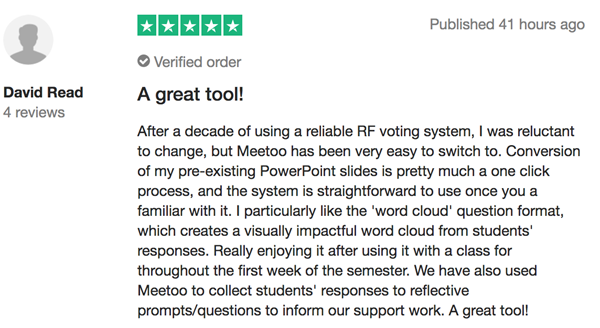 2. Logistics
One of the main challenges that customers face with physical clickers is the logistical nightmare of setting them up, charging them, carrying and distributing them to the right place at the right time. Not only can it be a burden to hand out and collect clickers in large classes or training sessions, it can also be very time-consuming to go through the setup process.
Vevox customer, Mick Wood from the University of Central Lancashire (UCLan) sums up his experiences of using clickers: "Collecting and then charging up handsets from our student response system used to take hours. We then had to carry the kit around the university on a trolley. As the campus is a mile from end-to-end, this was no easy feat".
Clickers also have the associated risk of being lost or damaged. We've heard many a story about clients going to collect clickers at the end of the session and not having the same amount as before. This means more unnecessary costs for replacements. The logistics involved in using clickers is not practical; Software is so much easier to manage, is always accessible, intuitive and there is minimal setup, so clearly it is a no-brainer!
Vevox customer and Learning Technologist, Will Moindrot from Liverpool John Moores University concludes, "Vevox does what the staff need it to do with minimal setup and fuss enabling them to concentrate on teaching".
3. Functionality and Adaptability
Just like other older technology (pages, old MP3 players) as given examples in this blog, clickers have become outdated as they feel and look like they are stuck in the 90s. Not a great look for an institution. App solutions are now what students expect to use, not only in their down time, but during their learning experiences too. When speaking about the Vevox app, Mick Wood, Learning Technologist from the University of Central Lancashire said "Students love the mobile functionality and modern styling. Staff love the inclusivity and instant insights. It's a win-win for us."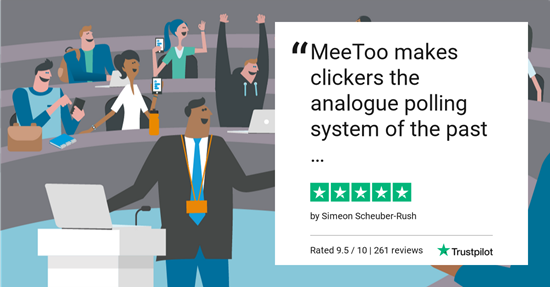 Clickers are also very one-dimensional as they are excluded from most future improvements and developments. They also lack a rich feature-set that allows users to utilise different polling types and other effective audience engagement features like Q&A boards and surveys. Software alternatives offer much more intuitive and interactive features that enable users to engage their audience with ease, display real-time results and collect valuable feedback. These software applications can of course be developed over time and have improvements made to them very quickly, unlike a physical response system.
Another reason customers prefer Vevox to physical response systems is that they can be easily used with presentation tools such as Microsoft PowerPoint, as Adam Warren from University of Southampton says, "A great tool to support teaching - I've looked at many online voting systems to help my UK university choose a 'student response system', and found that Vevox provided the features that academics use most. The PowerPoint add-in works well and is a real plus."

4. Accessibility
Those using clickers also have the problem of limited accessibility as the handheld devices only facilitate live polling in one location, if you wanted to run a virtual meeting or class, then this would not be possible with clickers. Web and app-based polling means that you can enable remote attendees to participate in live polling and discussions as if they are in the room. Participants can use any device with a mobile browser as their response device or a desktop or laptop computer with internet access to support those with additional physical accessibility needs. A software solution is so much more versatile and accessible than physical handsets.
If you're thinking it's time to make the transition from clickers to Vevox joining the likes of University of Central Lancashire, University of Southampton, University of Oxford, Liverpool John Moores University, University of South Wales, University of Loughborough and more then contact us to discuss your options.
If you're wanting to learn more about how other customers have switched from clickers to digital polling apps like Vevox, then download our guide "From Clickers to the Cloud".