GSK
Learn about how GSK achieved higher levels of engagement and accountability with transparent communication using Vevox. Camilla Campbell, Head of Communications, Global Tech at GSK, shared her story.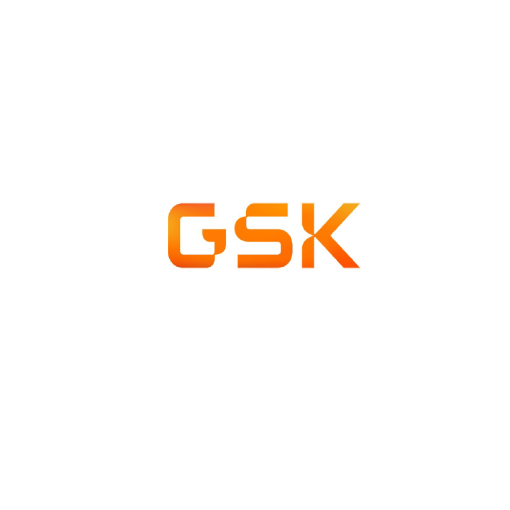 Global Insights Internal Communications Conference

Camilla recently shared her story at the Global Insights Internal Communications Conference, talking about her experience using Vevox within GSK and the journey that GSK Tech are on as a business.
One of the great features that Vevox offers is access to data following calls.
GSK's Tech Transformation

GSK is a science led global healthcare company that help improve the lives of millions of people around the world by discovering, developing and manufacturing innovative medicines, vaccines and consumer healthcare products. They are currently embarking on a huge journey as the company is to be split into two separate companies.

GSK initially started their tech transformation 3 years ago, when Camilla joined the company. However, when the COVID-19 pandemic started in 2020 – tech was thrust into the headlights virtually overnight.

Before Camilla joined GSK, a new Chief Digital Technology Officer had joined the company and they had had a horrible experience at one of the company townhall meetings. Participants were asking lots of questions that were being unmoderated and although the host of the event was asking the most popular, highest voted questions – the questions unfortunately turned nasty and personal.

Understandably, following this the CDTO was sensitive about hosting these events. So, GSK needed to find a way to create more inclusive, helpful townhalls that engaged everyone involved, while ensuring leadership felt comfortable answering all questions put to them.
GSK's lockdown townhall

During lockdown, GSK had a townhall with the entire leadership team and worked with Vevox to ensure that the questions coming through during the townhall were all identifiable, and not anonymous. Camilla hosted the townhall and would moderate the questions coming in, asking the most popular questions that the CDTO could already see on screen. This gave the CTDO time to gauge what was being asked and compose herself.

GSK wanted to focus on their culture, and create an environment of psychological safety. Making all questions identifiable was a big shift in the message GSK were sending out to their employees, but something they felt was needed, and that would help improve engagement and accountability in their townhalls.
How did it go?

Initially, Camilla received a lot of pushback. She was now moderating all questions that were coming in, and ensuring no personal or nasty questions were published. She was able to control the output seen by leadership, ensuring that they had time to prepare for every question being asked.

Through coaching with the leadership team at GSK, it was decided that those answering would mention every person that asked a question's name, and thank them for having the courage to ask a question. The key element behind this was empathy, and ensuring that leadership understood the emotional intelligence behind each question. Through taking that small pause to thank participants, there was time to reflect on the emotion behind the question, before answering it.

This meant that GSK, through their use of Vevox, were able to create an environment where they encouraged people to speak up and ask questions even when they were identifiable – as the participants knew they were going to have their questions answered with full transparency – this had a really positive impact.

Camilla reaffirms that this shift in feeling within the company does not happen overnight, as it takes time to build a culture of psychological safety – something that she feels GSK still have a lot of work to do on, however this townhall meeting was a great starting point on that journey.
How do GSK maximise their use of Vevox?

GSK have 14k+ registered Vevox users, with around 50k+ participants per month. As discussed, Vevox is used by GSK in their company townhall meetings to help improve engagement and increase the transparency level between leadership employees – however this is only one small way that GSK use Vevox to boost their engagement rates.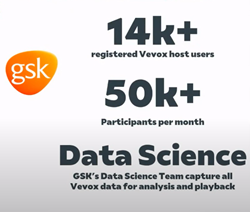 At the end of every company townhall, GSK use
Vevox to run a sentiment poll – just 3 short questions that usually get around 250 responses.
This is a great, quick way of seeing how people feel with instant feedback.

Camilla also outlined how GSK use the word cloud feature to gain a sense of how employees were feeling at the start of 2022, opposed to the end of 2021.
Within the word cloud, words shift and change around depending on the most popular responses. For GSK, this was fantastic in allowing leadership to gauge the general mood amongst the business.

GSK also make use of the ability to access data following the calls. Their data science team capture all Vevox data for analysis and feedback – and in the case of their company townhall, this allows them to provided a 'you said, we did', clearly highlighting the issues raised in the meeting, and how GSK are going to action those issues or key themes.

In 2020, the year GSK delivered their most transformation – their engagement score lept up by 9%. This highlights the positive impact the changed GSK made have had, and underlines how impactful Vevox can be when used effectively within company meetings and townhalls.
GSK's partnership with Vevox

The Vevox team worked hard behind the scenes to aid GSK in their change of approach and have been working alongside GSK's tech, security, and legal compliances teams to ensure GSK's use of Vevox always runs smoothly.

The relationship between Vevox and GSK is really strong, and Camilla believes:
This is a great example of how tech and people can work together, get people on the right side of a change curve in an open, transparent and safe environment.