Communication tools are now part and parcel of the modern workplace, as they continually replace the need to communicate via long email threads and other traditional, ineffective formats. The McKinsey Global Institute reported that "productivity improves by 20-25% in organizations with connected employees". Communication apps and tools are now expected in the modern workplace because they have shown to have a positive impact on employee engagement and communication in the workplace. According to the PwC 'millennials at work report', "78% of millennials said that access to technology they like to use makes them more effective at work". Organisations that are not providing the right communication tools for their employees are now falling behind as their workforce becomes more disengaged, unmotivated and less connected and informed.
Workforces are becoming more reliant on effective communication technology because of the increasing rate of remote employees and dispersed workforces around the globe. Staying connected in the workplace regardless of location is vital to maintaining team morale and integral to day-to-day business operations. Organisations of all sizes are realising that communication in the workplace needs to be a number one priority as Salesforce states in in their infographic that "86% of corporate executives, employees and educators say that ineffective communications is a big reason for failures in the workplace".
Indeed, there are lots of communication tools out there in the market and lots of them help in different scenarios and have unique features. From video conferencing for remote broadcasts to file sharing, private discussion channels, team and project collaboration tools to audience engagement apps, there are many reasons why you might use multiple communication tools. Some tools work really well as standalone tools and others might compliment the current suite of tools that your organisation already use, but it's important to consider what you need the tool(s) to do to overcome the company challenges that you face and to figure out how you can use the tool effectively to ultimately benefit the organisation.
To help you on this process to figuring out what tools you might need, we've compiled a list of the most popular internal communications tools that are highly rated and used by thousand of organisations to help create more productive and engaged teams.
1. Slack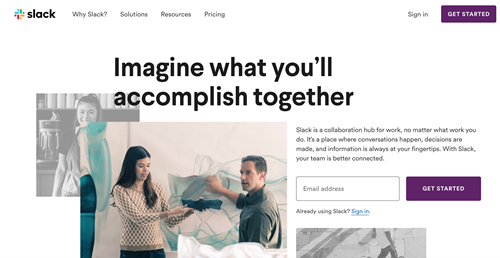 Slack is a internal communications app and collaboration tool that is designed to make everyday workplace discussions and conversations more efficient. Thus reducing the need to send endless email communications and to help make team conversations more productive. Slack allows organisations to create private channels for different teams to communicate within, to share files and to connect with each other. You can also send direct messages and files to individual contacts. The simplicity of the inline thread messaging helps to display the progress of conversations rather than being lost in an email discussion thread.
Feature list: Channel creator and discussion channels, direct messages inbox, file-sharing, in-line messaging, API and app integrations, screen sharing, video/audio calls, admin and project management, notification and activity tracker, customisable with company branding (please see the company website for the full feature list).

Platforms: Web, iOS and Android applications to work on any device/desktop.
Integrations: Salesforce, Slack for Outlook, Zoom, JIRA, Google Drive, Trello, OneDrive, GoToMeeting, Twitter, Zapier, Asana, Adobe Cloud, Skype, Zendesk and many more!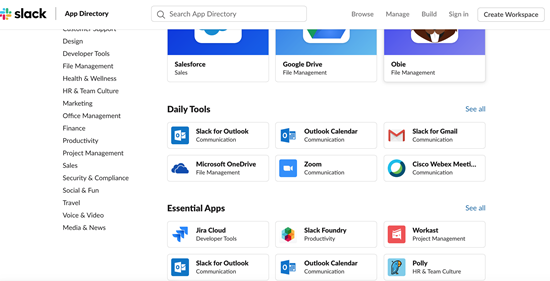 Pricing: Slack offers a free account setup for getting started with the tool and to learn the basics. The standard paid plan starts at £5.25 per user/month with other options being the plus account which includes SSO and other benefits and the enterprise plan for organisations wishing to use the tool company-wide. See all pricing plans here.
2. Microsoft Teams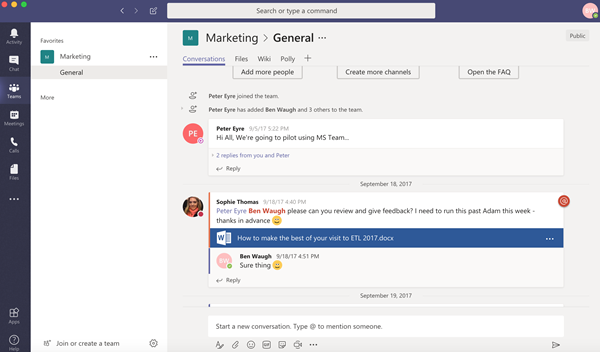 "Teams" is a chat application that allows you to message your colleagues instantly, share files or resources and call them directly via a video or audio call. As shown by the image above, we have been using Microsoft Teams internally for over 2 years now and we find the tool very easy to use to connect everyone through this shared workspace. What makes it appealing is that it is an application within the Office 365 store and integrates well with the systems we already use such as SharePoint, OneDrive and other apps in the 365 store. Personally, I do like the ease of use of the application to quickly start a call and create personalised private channels for starting group conversations. It's definitely helped us to save space on our email inboxes and to be more connected.
Feature list: Audio and video calling, conference calling, chat-based collaboration, one-to-one private chats, group channels and discussion forums, animated GIFs and sharing photos or files, customisable notifications, open API and integration with other applications (please see the company website for the full feature list).
Platforms: Web, iOS and Android applications to work on any device.
Integrations: Microsoft Powerpoint, Microsoft Office 365, Microsoft Planner, Yammer, Microsoft Excel, JIRA cloud, Evernote, Microsoft OneNote, Microsoft Word, Zoom meetings and many more!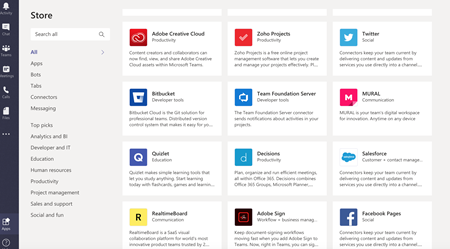 Pricing: Plans for teams start at $5.00/month and are included in the Microsoft office 365 plans offered here.
3. Zoom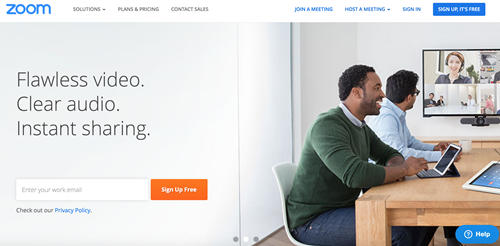 Zoom is a video conferencing system and meeting tool that allows you to host any kind of meeting over a video/audio call. The system can be used for virtual meetings, live webinars, online training and teaching, video demos and for many other purposes. Zoom is similar to other tools like GoToMeeting, Skype and Microsoft Teams. Zoom allows hosts to give live broadcasts and present to attendees across multiple regions. Tools like Zoom are really helpful to organisations that have employees that work remotely and in different locations, so they can easily communicate with anyone and help to keep everyone informed in the same way.
Feature list: Live video and audio conference calling, live messaging, meeting management and email invitations, user management, corporate branding and customisation, screen sharing, reporting & statistics, live video recordings, file sharing and content syncing, partner app integrations (please see the company website for the full feature list).
Platforms: Web, iOS and Android applications to work on any device.
Integrations: There are lots of apps that integrate with Zoom, some of these include: Google Drive, JIRA, Microsoft, Outlook, Salesforce Sales Cloud, Slack, Zapier, Zendesk, YouTube, LinkedIn.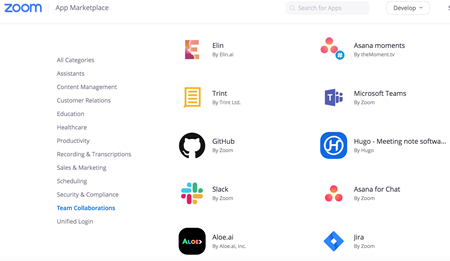 Pricing: You can sign up to a free plan to test Zoom and to access the basic feature set. Paid plans start at £11.99 per meeting host. You can find all the pricing plans here to see what each plan includes.

4. Vevox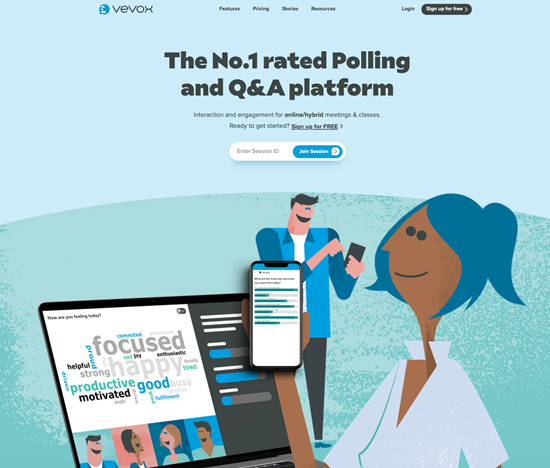 Vevox is a real-time audience engagement app for virtual, hybrid and F2F meetings and classes. Vevox brings out the best in presenters and audiences, giving everyone an equal chance to have their say and be heard. Honest uninhibited feedback is received through intuitive live polling, text Q&A and self-paced surveys on any mobile device.
The Vevox app can be used in any meeting type to engage your employees and to share ideas or feedback live in the moment. Real-time polling and Q&A helps senior management teams/presenters to understand what the audience is thinking in that moment in time. Polling, surveys and Q&A messaging can all be anonymous meaning that there are no barriers to employees leaving feedback or feeling judged. Vevox's Q&A can also be moderated should you want to have some more control over what appears in the display of the app and on screen in the meeting, giving you peace of mind when it matters most.
Feature list: Live polling, real-time Q&A, self-paced surveys, anonymity, PowerPoint polling, word cloud polling, reporting & analytics, moderation, in app customization and branding, present view, ready to use live polls and surveys (please see the company website for the full feature list).
Platforms: Web, iOS and Android applications that will work on any device. The polling, Q&A and surveys is managed and controlled via an online dashboard.
Integrations: Vevox has a PowerPoint polling integration that allows you to run polling in your presentations seamlessly with just a click of a button. It is available on the Microsoft Office Store and can be downloaded here. Vevox can also be whitelabelled and integrated into other solutions, please contact Vevox here if you would like to know more about this option.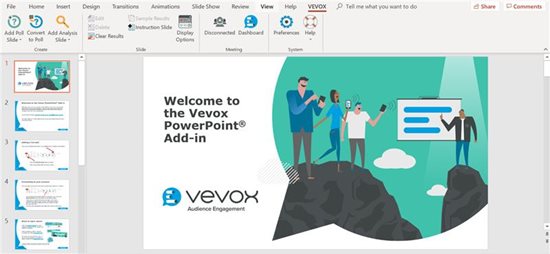 Pricing: You can sign up to a free Vevox account here to test the features of the application and to get started with the tool. An annual subscription is £66 per month (billed annually) and offers all the features of Vevox. There is an enterprise option which is tailored more to organizations that are in need of a more customisable plan and are likely to require multiple user dashboards and user analytic reports. See all the pricing plans here.
5. Office 365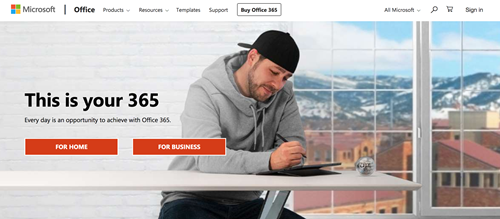 Office 365 is suite of Microsoft applications that can help your team to be productive, collaborative and to connect with each other on day to day tasks. Some of these tools listed in this article are part of the Office 365 package such as Microsoft Teams and Yammer, but there are many other tools that are well known that are useful for day-to-day tasks and work with ease due to the seamless integrations in the Office suite. These other tools include SharePoint which is a collaboration tool to store and send resources to different teams, create web pages for company or departmental information and to share notes or presentations through other office applications such as Word, Excel and PowerPoint. There is also a announcement section to keep teams informed with the latest news.
Feature list: Cloud collaboration, voice and video calls on teams, file storage and sharing, social networking, shared calendars and note applications, instant messaging and networking (please see the company website for the full feature list).
Platforms: Most Office 365 applications are available on web, iOS and Android devices.
Integrations: DocuSign, Salesforce, Zapier, Dropbox, Leadmaster, Slack, Jive and more.

6. Poppulo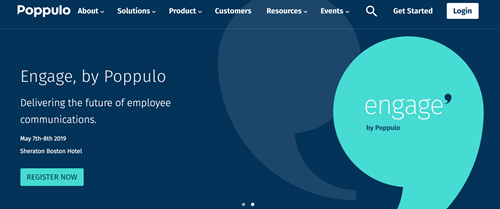 Poppulo is a communications platform that allows you to manage internal newsletters, email communications, mobile notifications, communication and feedback campaigns all from one place. The tool is useful for measuring the effectiveness of your internal communications and to see what digital channels work best for your company and different internal staff, as well as evaluating what content resonates the most throughout the organisation.
Feature list: Mobile application, customised content for internal audiences, reporting and analytics, email communication platform and builder, campaign tracker and builder, employee surveys, event management, integrations (please see the company website for the full feature list)

Platforms: Poppulo is available for web, iOS and Android devices.

Integrations: SAP, Oracle, PeopleSoft, Workday and more.

7. JIRA Cloud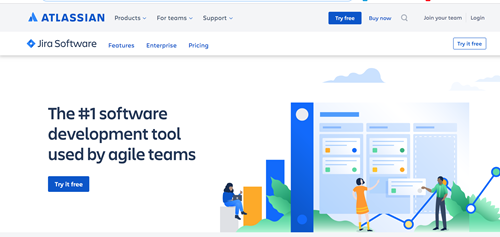 JIRA cloud
is project management tool that allows teams to track the progress of issues, tickets and tasks. Teams can monitor each project to see what jobs are outstanding and to see the current status. Users can share files, update tickets, submit comments and give details on the reporting of each project. Notifications can be displayed in the software and in other communication tools (such as Outlook) to alert relevant users to the progress of each task or project. Project plans can be displayed in different formats and boards to suit the needs of each team.
Feature list: Scrum boards, kanban board, agile reporting, roadmaps, ticketing and project management, developer tool integrations, linked to confluence file sharing/storage, mobile apps, APIs, workflows, filters, 3000+ apps.
Platforms: JIRA is available for web, iOS and Android devices.
Integrations: Microsoft Teams, BitBucket, Confluence, Bamboo, Salesforce, outlook and many more.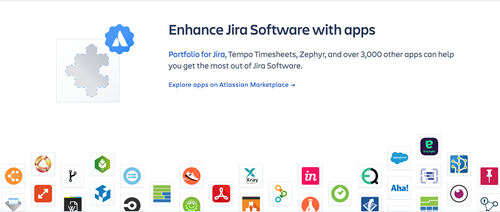 Pricing: JIRA software is based on how many user licenses you have. There is a price calculator on their site and you can view all the pricing options here. There is the option to have JIRA self-managed and to run the data on your own servers which has different options as well.
8. Interact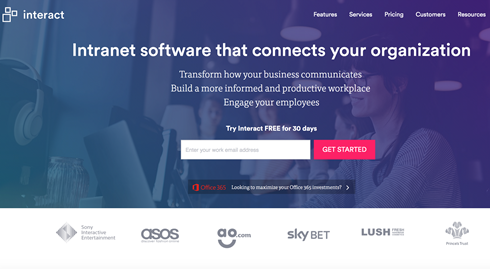 Interact is an intranet that allows organisations to inform and engage their employees through several features such as forums, team discussions, personalised content, live broadcasts and more. The intranet software can be the hub of your workplace and to bring all your tools, content, communication campaigns, engagement methods and reporting into one place.
Feature list: Mobile applications, widget builder, themes, rich content builder and manager, quizzes, recognition, gamification, onboarding homepages, organisation chart, media manager, notifications, live broadcast, integrations, calendars, events, blogger tool and much more (please see the company website for the full feature list).

Platforms: Interact is available for any device and is both on the iOS and Android stores.
Integrations: Office 365, Slack, Trello, Salesforce, Zendesk, JIRA, SharePoint, OneDrive and more.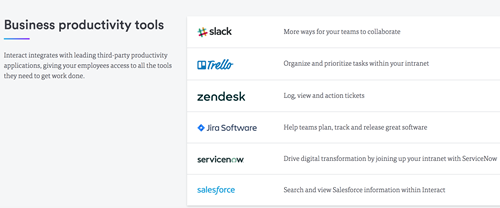 9. Yammer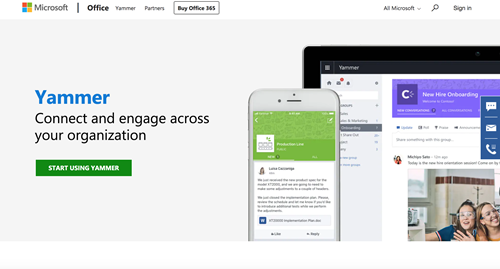 Yammer is a collaborative tool that allows you to share news or resources, start conversations and to see relevant company messages through the discovery feed. Yammer is an Office 365 application that allows you to connect with people across your organization through this messaging platform, so you can discuss ideas and network with colleagues around the globe.
Feature list: Enterprise microblogging, private or public groups, share files, links, and images, message and content tagging, automatic notifications, collaborative workspace, task tracking, to-do list, file transfer, prioritizing, document management, user management, data import/export, email notifications, archiving & retention, secure data storage, employee communities, activity dashboard, and instant messaging.
Platforms: Web-based and available on iOS and Android devices through the Yammer mobile app.
Integrations: Works with other Office 365 applications including SharePoint and Skype. Salesforce, Zendesk, Zapier.

Pricing: Yammer is available through Office 365 plans. The essential plan starts at $5.00/user/month with the more features/software available on both the basic plan at $8.25/user/month and the premium for $12.50/user/month. You can find all the information on the plans here.
10. Workplace by Facebook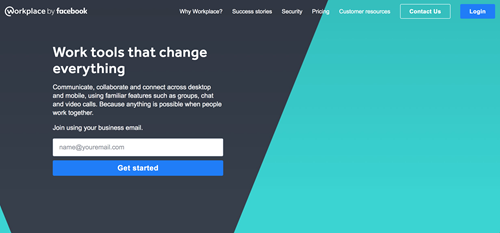 Workplace by Facebook
is similar to the Facebook that we all we know very well, but the features are more customisable and focussed on delivering effective team collaboration in the workplace. Employees can chat instantly on any device via instant direct messages or through audio or video calls. You can also create groups for separate team conversations for different departments or smaller teams. The newsfeed can also be used to keep employees up-to-date with company updates, news and live videos or scheduled announcements.
Feature list: Workplace chat, instant messaging, audio/video calls, group channels, org chart, Facebook features of comments/likes, file-sharing, event planning, company alerts, pages and live video broadcasts
Platforms: Web and available on iOS and Android devices.
Integrations: Trello, JIRA, HubSpot, Amplify, SharePoint, Salesforce and more.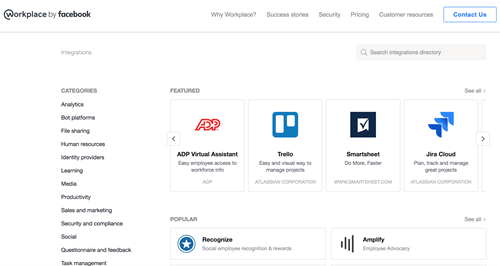 Pricing: The standard free account includes the communication features of the tool. The premium plan includes all productivity, enterprise and support features and costs $3 USD per active user/per month. For more user accounts (5000+) there are more customisable plans with different prices, see here for all pricing plan details.


11. Filestage

Filestage is the enterprise-ready online proofing software that helps busy teams to get their work reviewed and approved faster. The tool enables colleagues and clients to comment and annotate files in real-time to collect and discuss feedback. Furthermore, Filestage streamlines collaborative work with task automation, customizable workflows and in-built versioning of files. The tool offers your colleagues and clients a simple and stress-free way to communicate and give feedback. With Filestage you can easily manage all your review processes in one place, speed up approvals and complete projects faster by eliminating back-and-forth email chains.
Feature list: comment and annotate files, share files, download files, one-click approvals, customizable projects, task and workflow automation, in-built versioning of files, unlimited reviewers, @mentions, private comments, real-time collaboration, threaded comments, due dates, email notifications, task lists, custom branding.
Platforms: Web, iOS and Android applications to work on any device/desktop.
Integrations: Google Drive, Dropbox, Slack, Trello, Basecamp, Asana, Fleep, Jira Software, Smartsheet, Wrike, Zoom.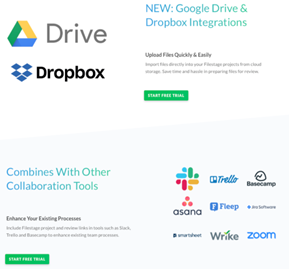 Pricing: Filestage offers a free trial for every plan. The starter plan costs 89 € per month and is best for small teams that like to keep things simple. Teams that need more capacity for projects and advanced project structure can choose the Pro plan for 291 € per month. The Enterprise plan is best for large teams that need a maximum of flexibility and control. All plans offer an unlimited number of uploaded files and invited reviewers.

12. Troop Messenger




Troop messenger is a messaging, calling, conferencing platform, and more! Let all these happen between your teams across the same messaging platform for exchanging work conversations with Troop Messenger. The super admin can play around with the features of this application by customizing it to the users. With this internal team communication and collaboration software, the users can share all kinds of files, can filter them by type, customize notifications and auto-text suggestions, enable a team meeting with video conferencing, etc.
The work interactions happen faster in Troop Messenger due to its specially built search filters. The users, groups, guest users, images, videos, text files, flagged messages, URLs, and others are refined separately, thereby saving the time of the users.
Feature List: This SaaS-based application has all the required team collaboration features and in fact more. Apart from the basic one-to-one and group messaging features, it provides various other styles of messaging facilities like self messaging, audio messaging, high-volume, and confidential messaging. It has many time-saving and productive features such as advanced search filters, quick to use admin dashboard, group calling, integrations, 24/7 help and support, and more.
Platforms: Troop Messenger is available across all platforms. The users can exchange chat conversations via Windows, Mac, Linux, Android, iOS, and the web.
Integrations: Google Drive, Dropbox, Mailtrim, AD/LDAP are some of the integrations that it supports. Jira and Github are yet to join the pool.
Pricing: The users can register its enterprise free trial for 7-days and explore the features of it. Besides, it offers Premium at $1/per user/per month and Enterprise at $5/per user/ per month. It also supports the on-premise deployment model at $5+.
Hopefully our list gives you some inspiration and help for exploring what internal communication tools might be useful to your workplace. There are of course many other communication tools to choose from that can help increase workforce collaboration, productivity and engagement. If you have any other suggestions to add to our list then please feel free to let us know.

The important thing to note is that not all internal communication tools should be seen as a "like for like" as some applications work really well in different scenarios and as standalone tools. We advise that you carefully consider your use case for these tools and think about what features you need the most for your workplace communications and meetings. Set a criteria that you need the tool to achieve and assess your options with your team.