Before the pandemic Vevox was well used to engage audiences but not widely known outside of the events industry, but things changed fast...
As the pandemic hit and everyone moved online, take up and usage of Vevox grew in order to add real time collaboration and engagement with online audiences. Live polling, anonymous Q&A and ad hoc quizzes became an essential part of employee meetings and university lectures.
Now with restrictions easing, hybrid meetings and classes have become the focus and provide Vevox with an even more critical role...
Celebrated this week as Microsoft Teams 'App of the week' (Something we would have not foreseen less than 2 years ago) here's the 8 key moves and milestones that paved the way to this point…
1. Hybrid working become the 'New normal'
Hosting meetings and classes to accommodate both individual online attendees and in person groups is here to stay, and offers huge benefits. It increases attendance, allows more people to contribute, and mitigates the risk that people may not be able attend. Vevox is designed to support both types of audience, at the same time. However the meeting is joined, every individual has a common connection and ability to be heard.
2. Hitting number 1
Vevox had always received fantastic user reviews on Trustpilot (also Vevox clients!) so we knew our customers were happy but we were not present on the two highest profile B2B review sites G2 and Capterra. So… we got on the case and 18 months later we are rated No.1, with the highest ratings and number of reviews in our space. Something the team are super proud of…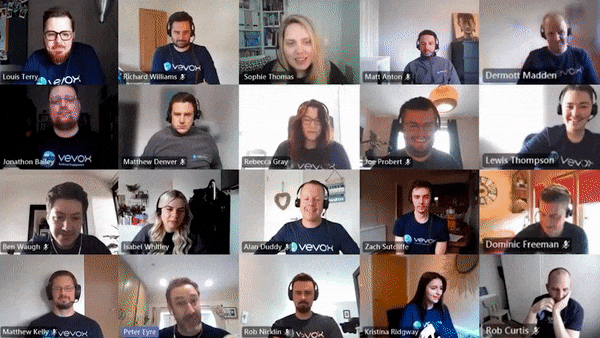 3. Integrating with Microsoft Teams and inclusion in the Office store
Whilst Vevox can work alongside any video platform, and independently of it (a critical feature to accommodate the different attendee types associated with hybrid meetings) we wanted to make things even simpler and more accessible for both presenters and participants. So, in partnership with Microsoft in late 2020 a full integration was released and Vevox inducted officially to the office store.
4. Simplicity and accessibility
The dev team have been VERY busy. The last 18 months has seen regular platform updates focused on improving the simplicity, functionality and accessibility of the platform for online and hybrid meetings. Our customers fed back and we keenly listened and responsed. LaTeX support, leaderboards, customisation and branding, integrations, a new look, optimisation for mobile AND desktop audiences, SSO access… to name a few. The platform continues to evolve to meet users needs.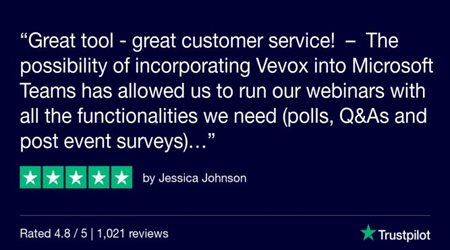 5. Higher education goes hybrid
Universities have had a rough ride since the pandemic having had to adapt fast and deal with great uncertainty. Vevox is very proud to now be a critical component of the 'tech stack' for many University institutions across the UK (Including University of Oxford - see image below), Ireland and increasingly the rest of the world. With so much uncertainty and change Vevox provides not only real time interaction and engagement but the security that interactive classes can be scheduled and run however the students might attend them.

6. Corporate ESG (Environmental, Social and Governance) goals
The value of businesses is now judged on more than just the money it makes. Focusing on employee engagement and the employee experience especially with dispersed workforces has fast worked it's way up the corporate agenda. Vevox helps by assisting in the collection of honest uninhibited feedback and data from employees and students without bias or fear of judgement.
"It is a great way of taking everyday bias out of everyday encounters, and in a business context, it is a very practical way for organisations to evidence they are including people in the conversation and taking a diverse range of views on board when making decisions. It gives introverts the space to contribute and it gets different cultures the space to be heard."
Daniel Danso – Global Diversity Manager, Linklaters
7. Enterprise roll outs
As corporates raced to adopt live Polling and Q&A for an increasingly broad range of meetings types enterprise roll outs have become commonplace providing anyone within an organisation the ability to use Vevox. Aside from the easier access, enterprise plans offer custome settings, branding options, SSO (Single sign on) and more. bp recently shared some interesting insights as to how and why they made this move.
'Our organization has used it to help measure sentiment amongst our employees in a time of unprecedented change both internally and externally'
Andrew Carne - Workplace Procurement Advisor – Events and Collaboration - bp
8. Customer success
From day 1 we've been committed to the goal that Customer Success should be at the heart of everything we do and our service second to none. Our team have not let us down, their approach to customer onboarding, training and support is why customers stay with us, their usage grows and the reviews keep rolling in…

Ready to engage and empower your hybrid audience?


Further Reading: