As organisations across the world have had to make the shift to remote working and teaching, it's meant that we've all become reliant on virtual communication tools like Microsoft Teams and Zoom. Vevox has been helping to bring engagement to meetings and classes for years now, and with the recent world-changing events, we're exploring how and why Vevox is being used in conjunction with these tools to facilitate optimum engagement in meetings and learning environments.
Many organisations and universities are facing the reality that remote audience participation is here to stay, with some establishments already announcing that lectures or meetings will be virtual for the remainder of 2020 and leading into 2021. Offering flexibility and versatility with options for both in-person or virtual attendance will be key going forward, which means that a lot of meetings and classes will potentially become hybrid.
Why should I use Vevox with Zoom or Microsoft Teams?
Meetings and classes of all formats still need to be engaging and interactive; Each presenting format brings its own challenges, as online presentations make it hard to gauge any physical reaction from the audience, whilst face-to-face or hybrid sessions might be too reliant on verbal communications in the room.
Whatever the format (F2F, hybrid or online) our customers have found that it's essential to have a live audience engagement tool like Vevox that allows you to gain real-time feedback and interaction in all these scenarios. In this highly-dispersed world, it's important that your audience feels included and has the opportunity to engage.
Vevox allows you to do this through its easy-to-use features of live polling, anonymous Q&A, live quizzing, surveys in conjunction with other video technology such as Zoom and Microsoft Teams, so you can really understand what your audience is thinking, to gauge learning and opinions in real-time.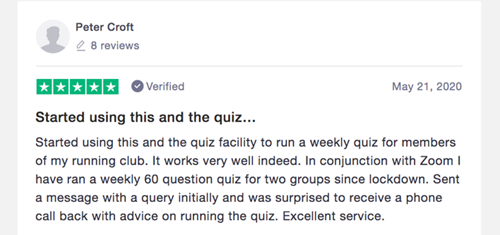 With Microsoft Teams and Zoom now an almost inevitable part of our daily lives, what role does Vevox play and how can you use it to support your learning or meeting environment?
With online communication etiquette suggesting that participants should be muted unless it's their turn to speak, it can be challenging to involve everyone and to know if your audience is engaged. Both Zoom and Microsoft Teams identify participants, so being able to get anonymous feedback in real-time enables the audience to contribute without fear and for you to gauge what your audience thinks or understands in that moment in time. If you prefer more control over your Q&A during a Zoom or MS Teams session, using Vevox instead of the native chat functionality of your chosen conferencing tool allows you to use moderation settings. This means you can collect questions or comments and group them effectively, so you can choose how and when you provide answers. Vevox's anonymity also increases participation as your audience will feel less inhibited and that their input is valued.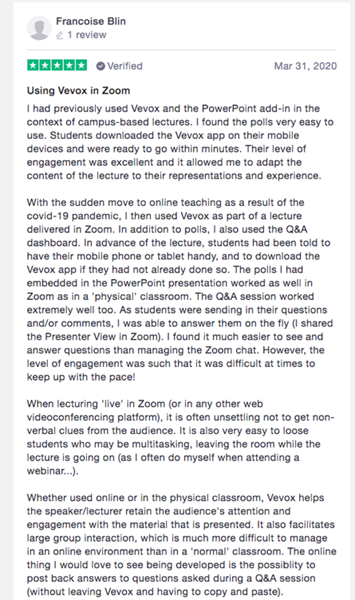 Vevox works very well in parallel with platforms like Zoom and MS Teams, as after your session is over, by using Vevox you have instant access to your reporting data including all the poll, quiz and Q&A results captured. This data can help inform future sessions and is a useful record to reflect on your session.
How are others using Vevox with Zoom or Microsoft Teams?
Vevox can be utilised for online audiences to increase interaction, facilitate online live learning and to capture feedback. Here are just a few examples of how customers are already using Vevox with Zoom or MS Teams:
Large or small online lectures for both synchronous and asynchronous learning

Workshops, seminars and webinars

Virtual townhalls, all-hands meetings and live broadcasts

Teams and internal comms meetings

Virtual quizzes and events
If audience interaction and feedback is important to your meeting or class, then Vevox is an essential tool to use for your online session.
Remember, as Vevox is web-based software, the set-up is the same for face-to-face and hybrid or online sessions. All the benefits of one easy to use platform, that's flexible to the
needs of your setting!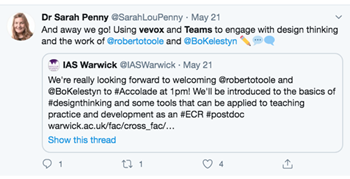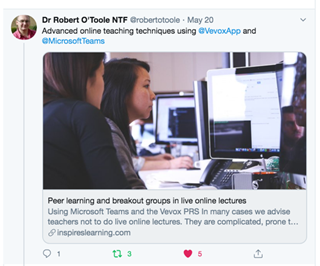 How do I start using Vevox with Zoom or Microsoft Teams?
To use Vevox for your online meeting or class, first all of you will need to sign up for a free Vevox account so you can get access to the Vevox platform.

Once you have an account there are a few ways you can use Vevox with your chosen live video communication platform, but a very simple way to use it is to use Vevox in Present view mode and share your screen, here's what you need to do:
Start your Vevox session and open the Vevox Present View in full screen or use the Vevox PowerPoint integration if you're running everything on PowerPoint.
Start your video call.
Share your screen to all participants.
Run live polls, Anonymous Q&A and quizzes for all to see and participant in.
See how it works in this video here: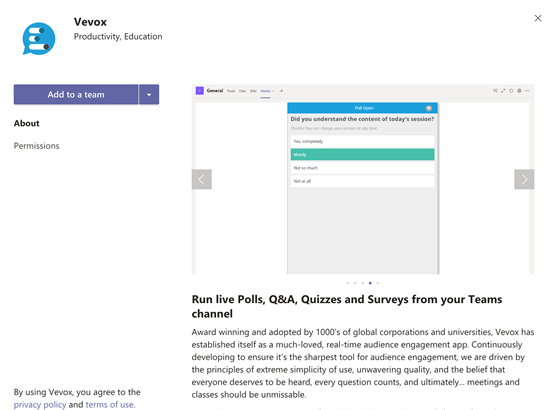 To find out more about our development on an integration with Zoom, please contact us.
Hopefully this has helped to show you that whether your meetings or classes are virtual, hybrid or a mix of both, Vevox is a simple way to encourage engagement and participation with your chosen web or video conferencing platform.
If you have any questions or need further advice check out our help guide or email hello@vevox.com.